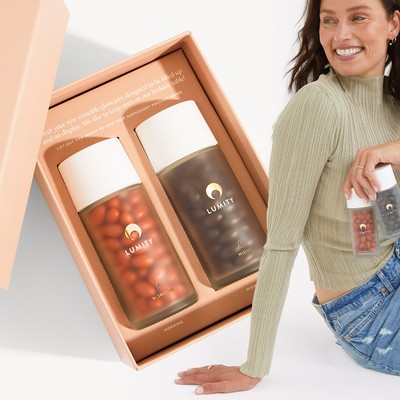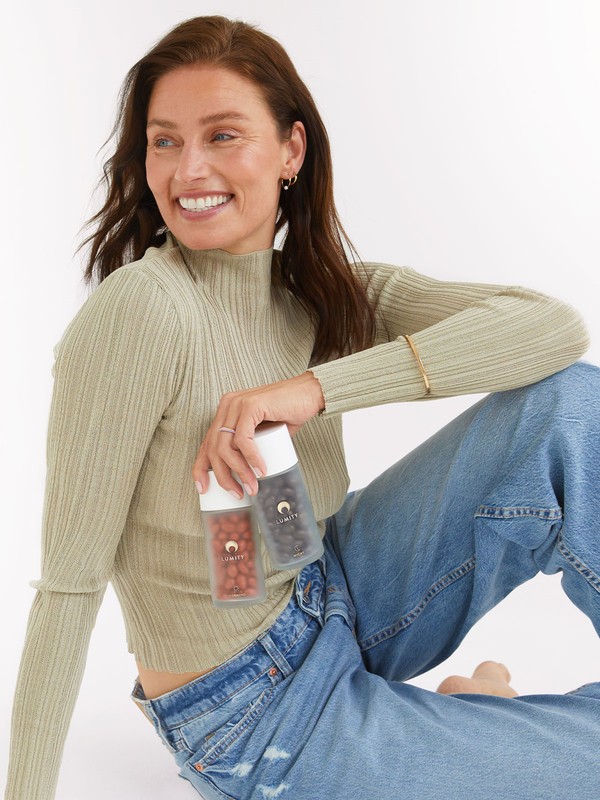 The Anti-Ageing Supplement The A-List Swear By

With so many supplements on the market, it can be tricky to know where to start. Fortunately, Lumity has you covered. With science at its core, Lumity's innovative Morning & Night supplement works at a cellular level to optimise your overall health and wellness. Promising enhanced energy levels, deeper sleep and mental focus – as well as better immunity and hormonal balance – it's no wonder so many A-list names swear by it...

Created in partnership with Lumity
It's Rated By Experts & Big Names Alike
Kate Moss, supermodel
"I'd reached a point in my life where I wanted to be more in control and more grounded. I take a daily supplement called Lumity."
Helena Christensen, supermodel
"I love that Lumity is a low-commitment health and beauty secret that meets women where they are in their lives. Lumity supports your overall beauty routine, and makes everything you're doing work more effectively. It doesn't require a lifestyle overhaul, but instead gives the extra energy support we need to do the things we set out to do each day."
Dr Harper, perimenopause expert & founder of The Harper Clinic
"Morning & Night has been game changing. My skin looks brighter and more hydrated, with fewer breakouts, and my nails stopped cracking within two weeks. The nutrients have also helped me sleep better."
Yasmin Le Bon, supermodel
"I noticed that with Lumity I was sleeping better and feeling calmer. I am very hormonal, but I've been on a surprisingly even keel, more so than I have ever been, which is extraordinary."
Hannah Strafford Taylor, fashion influencer
"I have no idea why it took me so long to start taking Lumity. I feel remarkably more energised and focused. My sleep is better, and I feel my general wellbeing is much improved. Totally hooked."
Here's Why It Gets Our Seal Of Approval
It's Formulated By Scientists
The result of years of scientific research, Lumity was founded by a Cambridge-educated PhD biologist and research scientist who became fascinated with finding a solution to low energy and the early signs of ageing in her mid-30s. The brand's hero product – Morning & Night – isn't your average supplement. The vitamin, mineral, amino acid and omega-rich formula provides round-the-clock support to repair and protect everything from your skin to your immune system. The results speak for themselves: after a 12-week independent clinical trial, 92% noticed a significant improvement in the condition of their skin, 84% felt improved energy levels and 84% noticed increased immunity and fewer colds.
It Delivers A Constant Supply Of Nutrients
What makes Lumity's Morning and Night softgels stand out is their ability to provide targeted nutritional support precisely when you need it. The intelligent formula supports your circadian rhythm – the internal clock that keeps your body on track – while the softgel capsule delivery ensures maximum absorption so the nutrients can get to work where they're needed. Four capsules in the morning will boost energy, reduce oxidative stress and strengthen hair, skin and nails, while the evening dose supports metabolism and immunity while you sleep. Lumity is the only supplement brand that works to support the circadian rhythm in this way.
It Delivers A Lit-From-Within Glow
The secret to healthy, radiant skin isn't so much what you put on your skin, as what you put into it. The right supplement can keep the body in balance and support skin, hair and nails at a deep level, but Lumity goes a step beyond. The sophisticated formula contains antioxidants to counteract inflammation, iodine and vitamin A to enhance radiance, vitamin C to support collagen production, and selenium to contribute to hair and nail health.
The Morning & Night softgels are formulated with powerhouse ingredients proven to reduce fatigue and support cognitive health throughout the day – think vitamin C, magnesium and coenzyme Q10. Keeping you firing on all cylinders, the science-backed formula leaves you in a more positive and balanced frame of mind.
It Promises A Wellbeing Boost
Whether you're concerned with the first signs of ageing, want to build a stronger body or feel you're burning the candle at both ends, Morning & Night is a good place to start. The innovative formula is designed for anyone with a busy lifestyle who feels they could benefit from a wellbeing boost and to combat the negative effects of ageing by supporting the body's natural processes. It's also a must-try for those looking to streamline their supplement routine – Lumity's advanced formula is an easy and effective formula to fit into your daily life.
It'll Support Your Health In The Long-Term
You'll likely see the benefits in a matter of weeks, but Lumity recommends a minimum commitment of 12 weeks for the best results. With continued use, these benefits are sustained, leading to healthy, youthful skin, a stronger immune system, improved strength and stamina, and a more balanced mood. For this reason, Lumity offers a subscription model. Your initial order comes with luxury reusable glass bottles, and each subsequent order comes in plastic-free refill pouches, so you're looking after yourself and the planet. 
Discover more and experience the benefits for yourself at LumityLife.co.uk. SheerLuxe readers can get 20% OFF sitewide using ULTIMATE20.
DISCLAIMER: Features published by SheerLuxe are not intended to treat, diagnose, cure or prevent any disease. Always seek the advice of your GP or another qualified healthcare provider for any questions you have regarding a medical condition, and before undertaking any diet, exercise or other health-related programme.
DISCLAIMER: We endeavour to always credit the correct original source of every image we use. If you think a credit may be incorrect, please contact us at info@sheerluxe.com.