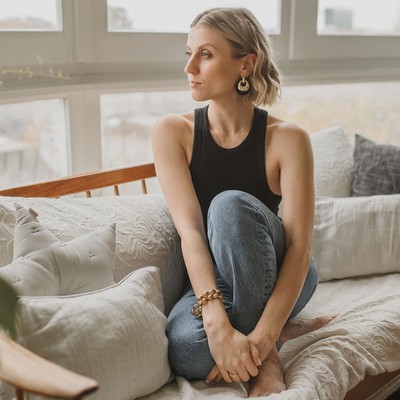 Catie Miller: My Food & Fitness Regime

A former competitive dancer turned professional showgirl, Catie has been dancing since she was just three years old. In 2012, she opened Xtend Barre in Marylebone, which quickly became known for its unique Pilates-dance fusion, and has just launched Oona Series, an online fitness platform with a holistic edge, offering barre and other low-impact classes alongside workshops designed to support mental health. From how she fuels her mornings to her go-to supplements, here she shares her food and fitness regime…

Mornings are dedicated to clients. My 5:45am alarm never gets easier, but I try to hold onto the feeling of how good things feel once I've trained. I have my first client on Zoom at around 6:30am, and fuel beforehand with a banana and a large glass of water. I always tell my clients to remember why they signed up to the session because for me, the pride I feel for my body and mind after a workout also gets me motivated to get going. By the time I've finished training, my boys – aged one and seven – are in the kitchen having breakfast. While they are rubbing their tired eyes, I'm the mum bouncing in with endorphins. It might be fun now they're little, but I'm not so sure how they'll feel once they're teenagers.
Movement is a huge part of my life. Once the morning sessions are finished, I teach multiple Pilates and barre classes throughout the day. Each week is different, and my clients range from prenatal, postnatal and performers to models and athletes. At times, my own personal practice is incorporated within these sessions. During lockdown, I learned to keep my motivation and discipline strong. I move to feel good and I move every single day. 
Breakfast at the weekend is a more relaxed affair. When I have the time, I love an acai bowl with dragon fruit, banana, berries and vegan granola. I also love a traditional fry-up. My husband is great at making this for breakfast and we sometimes have it for dinner, too. It's a feel-good meal, especially during the winter months.
When it comes to supplements, I'm a creature of habit. I've been taking Welleco Super Elixir Greens for two years now and the difference in the clarity of my mind and gut is truly remarkable. It contains 40+ natural ingredients, including wholefoods, herbal extracts, vitamins, minerals and probiotics. Over the last few months, I've also been taking vitamin D every day as well as manuka honey. I recently discovered Natalia Botanicals' Goal Digger, which really boosts my brainpower – it was a go-to during the testing months of lockdown. 
In our house, we're real foodies. My husband is a fantastic cook and we both share the same food philosophy – colourful plates with lots of veggies and balanced protein and carbs. Some of our favourite dishes include grilled prawns with strozzapreti pasta, tomato and basil sauce, courgettes, onions and peppers; sweetcorn fritters with bacon and roasted tomatoes; and braised beef short rib with brown rice and homemade coleslaw. If we're entertaining, it's all about Ottolenghi. My favourite dish for friends is his roasted sweet potatoes topped with olive oil, goats' cheese, figs, chilli, balsamic glaze and sea salt. 
Prior to lockdown, we used to eat out a few times a month. Some of our favourite spots include Osteria Basilico, Dinings, Scalini, Meraki, Delamina and Murano. We don't tend to order takeaways, but if we do, it'll be sushi from Jin Kichi in Hampstead. 
I love a snack. My go-tos include vegetable crisps, pistachios and cashew nuts. If I have the time, I'll make a smoothie – my favourite combination is coconut milk, strawberries, blueberries, cashew butter, lettuce, hemp seeds and cacao nibs. 
You'll always find a fresh loaf of bread in my kitchen. I buy sourdough when I can – it's packed with protein, vitamins, minerals and probiotics. It's particularly rich in B vitamins, which help regulate your metabolism, explaining why you feel less sluggish after eating it compared to normal bread. Cucumber and avocados are also a weekly staple, as is apple cider vinegar (great for salad dressings) and melon, which I chop up at the beginning of the week and store in the fridge for a quick snack.
I now seek to find sustainable, long-lasting habits. I enjoy food and want my relationship with food to be a source of energy and joy.

I buy organic and local when I can. Sometimes it's not always possible, but there are items I'd forgo if I couldn't find organic, such as milk, meat, eggs, vegetables and fruit.
I've been lactose intolerant since childhood. I drink a lot of oat milk but haven't cut dairy out completely as I love cheese and gelato. Our favourite family outing is to Venchi, which has the most incredible gelato flavours. The café is located on the doorstep of my sons' school, which means these treats are more often than not. I'm a big believer in all things in moderation.
When it comes to alcohol, I enjoy the odd vodka and soda. I recently discovered I am allergic to wine, which was sad but after discovering this and cutting it out, I feel less bloated and more balanced. A vodka with soda and fresh lemon is a great substitute - I enjoy this on occasion with social plans.
I'm a fiend for crisps and chips. I recently discovered Mr Free'd Tortilla chips, which are gluten-free, vegan, high in fibre and made with minimal ingredients. They taste incredible with homemade guacamole and salsa. 
The Detox Kitchen Bible cookbook is a must-have. It's a real source of creativity, inspiration and knowledge – I highly recommend it if you're looking for healthy, nutritious recipes. 
I'm not an advocate of crash diets. I've tried juice cleanses and omission diets in the past, and while I came out feeling great, the minute I started re-introducing things back in I would feel lethargic and my metabolism was affected. I now seek to find sustainable, long-lasting habits. I enjoy food and want my relationship with food to be a source of energy and joy. 
Exercise isn't all about the physical. From dancing professionally to being at university, moving countries, starting a business and having children, I've seen my mind and body need nurturing not only in the physical sense. I now have a deeper focus on the physical, emotional, spiritual and social aspects of exercise. When one of these areas falls short, we tend not to feel well. I'm a constant work in progress, but I'm enjoying the process. 
Motherhood has changed my sleeping patterns. I used to be a great sleeper, but with two kids I now feel I sleep with one eye open. I try to get to bed as early as I can, but this can be a challenge.
Booking in me-time is so important. The energy of London is incredible, but it can be gruelling at times. Restrictions permitting, I love visiting the countryside, art galleries or just my favourite coffee shop. Life happens in the in-between moments and even a short stroll around the block without your phone can help realign the mind. 
Osteopathy helps me recover. I book in for a session at least once a month with Boniface Verney-Carron, who is based in Marylebone. His holistic therapy combines techniques in adjustments, gentle manipulation, soft tissue work, cranio-sacral osteopathy and pre- and post-natal care. 
My words for the New Year are 'new beginnings'. 2020 challenged us all on so many levels and the human spirit did a lot of pivoting and trusting in the unknown. My focus for 2021 will be to continue the momentum of my goals and be okay with changing them when they need to shift. The process of acknowledgement and adapting is such a powerful tool and when we lead with positive reactions the shift in energy is dynamic. 
 
Visit OonaSeries.com
DISCLAIMER: We endeavour to always credit the correct original source of every image we use. If you think a credit may be incorrect, please contact us at info@sheerluxe.com.