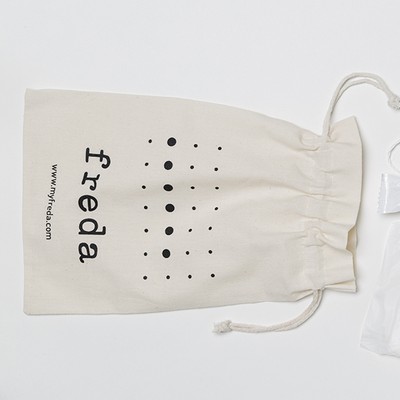 This Feminine Care Subscription Service Is Helping To Eradicate Period Poverty

After years of being a shameful secret, periods are finally having their moment: tampon tax is changing and women are allowed time off for painful cramps. So it makes sense companies are bringing innovative ideas to the table when it comes to our periods, placing sustainability and practicality at the forefront of their ethos – and promising affordable sanitary wear to the women who need it most.

Freda is the UK's first eco-friendly period subscription service that delivers a bespoke box of tampons and pads to your door right before the first day of your bleed. The company also support a number of non-profit organisations – Bloody Good Period, A Bloody Good Cause and The Red Box Project Hackney – who all benefit from Freda's give-back pledge, providing each one with free pads for homeless shelters, women's refuges, refugee centres and underprivileged UK schools.
We spoke to Freda Founder, Affi Parvizi-Wayne, about her inspiration behind the brand and how we can help eradicate the stigma still surrounding periods.

Why did you decide to set up Freda?
Freda was set up during the refugee crisis. Coming from a refugee background, all those images on the news struck a chord with me. I found out the women don't have access to period products, and they aren't included in the hygiene kits provided by the UN and relief organisations – societal taboos and stigma have caused the menstrual needs of women to be overlooked, in refugee camps and in all public spaces.
The more I looked into it, the more I became frustrated with the impact of this stigma; not just on access to these products, but on how they're made – with cheap unnecessary chemicals that don't legally have to be disclosed. So I want Freda to represent something new in this stagnant industry, both in terms of the product itself, and what we stand for.

What's the inspiration behind the name?
Freda comes from Freya, the Nordic goddess of fertility, which seemed appropriate for us given the nature of our product, and also because our suppliers are in Scandinavia.

Your products are eco-friendly and organic – why should this be important to women?
We're not saying these should be priorities for every woman, but for those who care about the environment and want to know what they're putting in their bodies, we felt it's time this choice was available to them. That, for once, what was on the box was in the box.

You're using AI to make sure your customers get their product on time for their periods – how does that work?
We worked with my husband, a consultant gynaecologist, and a small group of his colleagues to develop an algorithm we've called the Period Calculator. We're using a simple formula, similar to those of fertility apps, but using it differently to ensure that delivery is synced to our customers' cycles.

What is period poverty and why is it important?
Shockingly, UK women and girls in 2018 are being forced to stay at home while they're on their periods as they cannot afford pads and tampons. Due to the widespread shame and embarrassment around periods, this largely goes undiscussed. It's an issue that has only recently started to be addressed in the media and is still yet to be tackled by the government in any meaningful way.

How can we all help to remove the stigma surrounding periods and menstrual products?
We can all do small things to normalise periods. If we have cramps, let's not claim that it's a headache or food poisoning. And why hide the tampon you're bringing to the loo with you by shoving it up your sleeve? It's something that happens to half the population each month, so the more you think about it, the more absurd it is that it's not openly acknowledged.               

How do you feel about the way sanitary products are advertised, and what makes your advertising different?
I find a lot of these advertisements quite patronising. It's also quite unhelpful to have ads depicting women roller-skating, horse riding, and clubbing. As I say, at Freda we're not prescriptive. Periods can be rubbish, and it's OK to just curl up in bed with a box set.

Do you think schools could do more to teach both boys and girls about periods from a young age?
Definitely. When children are taught about puberty, they're often separated by gender, with periods not even bought up in the boys' sessions. This all contributes to the perception they're a secret to be ashamed of, rather than simply acknowledged as a matter of fact.
 

Fancy trying the eco-friendly approach your next period? Here are some more products that will make you feel good even when you're feeling really bad...
"Bleed red, think green" is the ethos behind Dame's reusable tampon applicator. The entrepreneurial company are doing their bit to save the world by creating the applicator after it was revealed that for every kilometre of UK beach there are nine plastic tampon applicators. Switching to Dame means you would prevent around 12,000 pieces of single-use plastic being disposed of in the sea. Made from medical grade mediprene and antimicrobial technology ensure these applicators are hygienic and economical.

There's nothing worse than having to constantly change your tampon – especially when there's not a bathroom in sight. Flex is a safe alternative to normal sanitary wear that can be worn for up to 12 hours. But keep an open mind: this menstrual disc doesn't sit in your vaginal canal and isn't used to plug your flow in the same way tampons are. Instead it fits into your vaginal fornix – a 'cul-de-sac' where your cervix and vaginal canal meet. Flex has been approved by gynaecologists and is reported to significantly reduce cramps.

When they discovered mainstream brands weren't required to list product ingredients, Totm decided it was time for transparency, clearly listing all the ingredients used in their sanitary wear. Their cruelty-free, vegan products are made with non-GM organic cotton and wrapped in eco-friendly biofilm. And for each box sold, they donate 10p to Endometriosis UK.
DISCLAIMER: We endeavour to always credit the correct original source of every image we use. If you think a credit may be incorrect, please contact us at info@sheerluxe.com.