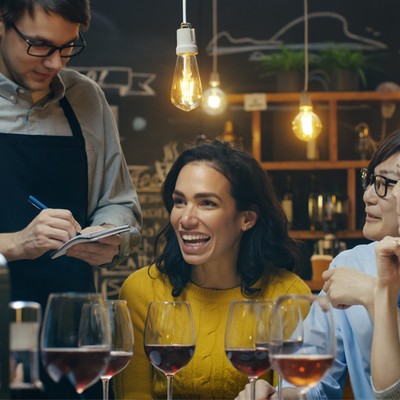 A Guide To Calorie Counts In The Most Popular Chain Restaurants

Ever wondered how many calories there are in your go-to side at Nando's, but hate to be 'that person' asking the waiter for a nutritional breakdown of a bowl of mash? In a bid to make life somewhat easier, we've scoped out the calories in some of the most popular high street food chains and created a convenient calorie guide. Take notes – and be mindful that a salad may not always be the healthiest option...

Nando's
Under 300 Calories
Macho Peas: 141cal
Sweet Potato Mash: 242cal
Mediterranean Salad: 288cal
Three Chicken Wings: 280cal
¼ Chicken Leg: 279cal
Coleslaw: 268cal
 
Under 500 Calories
Sweet Potato Wedges with PERi-PERi salt: 323cal
Fresco Burger: 495cal
Halloumi Sticks & Dip: 441cal
Grilled Chicken Pitta: 381cal
Mediterranean Salad With Chicken: 417cal
Chicken Butterfly: 310cal
Sweet Potato & Butternut Burger: 429cal
 
Under 600 Calories
Beanie Burger: 545cal
Supergreen Wrap: 586cal
Supergrain Salad with Chicken: 516cal
Quinoa Salad with Chicken: 588cal
Grilled Chicken Wrap: 523cal
Double Chicken Pitta: 510cal
 

Ask Italian
Under 300 Calories
Zucchine Fritte: 281cal
Mixed Salad: 190cal
Zucchini & Rocket Salad: 159cal
Italian Olives: 204cal
 
Under 500 Calories
Rosemary & Sea Salt Bread: 499cal
Bruschetta: 321cal
Calamari (1 Serving): 476cal
Pea & Pecorino Croquettes: 423cal
Butterfly King Prawns: 416cal
Pollo Milanese: 480cal

Zizzi
Under 300 Calories
Prawn and Zucchini Bites: 270cal
Non-Gluten Toscana Soup: 274cal
Non-Gluten Soul Breads: 124cal
Vegan Beetballs: 235cal
Rocket and Riserva Salad: 133cal
Bufala Mozzarella, tomato and Basil Salad: 248cal
Fried Herby Potatoes: 222cal
 
Under 500 Calories
Bufala Caprese: 380cal
Calamari (small): 313cal
Seabass Fillet (no sides): 351cal
Skinny King Prawn: 487cal
Non-Gluten king prawns: 430cal
Non-Gluten Super Zucca Salad: 500cal
Ravioli Di Capra: 494cal
Risotto Funghi: 439cal
King Prawn Linguine: 498cal
 
Under 600 Calories
Skinny Primavera: 502cal
Risotto Pesce: 520cal
Risotto Pollo Funghi: 537cal
Spaghetti Pomodoro: 551cal
Spaghetti Bolognese: 508cal
 

Wagamama
Under 300 Calories
Wok Fried Greens: 181cal
Lollipop Prawn Kushiyaki: 142cal
Chicken Steamed Gyoza: 223cal
Prawn Gyoza: 232cal
Beef Tataki: 165cal
Edamame With Salt: 280cal
Wok Fried Greens: 181cal
Yasai Steamed Gyoza: 210cal
Raw Salad: 108cal
 
Under 500 Calories
Chicken Ramen: 476cal
Tamam Squid: 388cal
Tofu Harusame Glass Noodle Salad: 437cal
Bang Bang Cauliflower: 480cal
Sirloin And Shiitake Salad: 434cal
Chicken Harusame Glass Noodle Salad: 441cal
Tofu Harusame Glass Noodle Salad: 437cal
Pad Thai Salad: 342cal
Mixed Mushroom + Panko Aubergine Hirata Steamed Buns: 385cal
 
Under 600 Calories
Chilli Chicken Raman: 590cal
Yasai Yaki Soba With Rice Noodles: 564cal
Seared Nuoc Cham Tuna: 517cal
 

Costa
Under 300 Calories
Tuna Niçoise Salad: 219cal
Fruity Crumble (Gluten Dairy Free, contains GF oats): 282cal
Stem Ginger Biscuits: 248cal
Fruit & Oat Biscuits: 224cal
Almond Biscotti: 77cal
Chilli And Lime Mix: 204cal
Fruit And Nut Mix: 204cal
 
Under 500 Calories
Roast Chicken Salad Sandwich: 396cal
Smoked Salmon & Soft Cheese: 372cal
Free Range Egg: 342cal
BLT: 405cal
Roast Chicken Salad Sandwich (Gluten Free): 355cal
Sandwich Selection: 436cal
Feta & Tomato Pasta Salad Roast: 472cal
British Ham & Cheese Panini: 427cal
Wiltshire Ham & Mature Cheddar Toastie: 409cal
Halloumi & Roasted Pepper: 411cal
Focaccia Chicken & Pesto Toastie: 411cal
Roast Chicken Fajita Wrap: 428cal

Starbucks
Under 300 Calories
Super Scrambled Eggs, Tomato & Spinach: 211cal
Butter Croissant: 255cal
Mango & Lime Fruit Pot: 87cal
Berry Crunch Pot: 250cal
Berry Good Bircher: 253cal
Five Grain Oatmeal: 285cal
California Chicken Wrap: 292cal
Vegan Wrap with Falafel & Slaw: 261cal
 
Under 500 Calories
Smoked Salmon Bagel: 472cal
Tuna Panini: 496cal
Butternut Squash & Kale Risotto: 408cal
Mushroom & Spinach Risotto: 347cal
Pulled Pork Pasta: 368cal
Banana Bread: 381cal
Italian Pasta Salad with Grilled Veggies: 477cal
House Chicken Salad: 330cal
Croque Monsieur Panini: 460cal
Eggs Sandwich: 388cal
 
Under 600 Calories
Gluten Free Chicken Pesto Panini: 562cal
Five Cheese Toastie: 509cal
Hickory Ham & Cheese Toastie: 561cal
Veggie New Yorker Sandwich: 522cal
Ultimate All-Day Breakfast Roll: 511cal
 

Pizza Express
Under 300 Calories
Caesar Salad Without Dressing: 238cal
 
Under 500 Calories
Dough Balls: 396cal
Buschetta Originale: 362cal
Coleslaw: 330cal
Calamari: 504cal
Leggera Superfood Salad: 446cal
Nicoise Salad No Dressing: 366cal
Leggera Superfood Salad with Anchovies: 497cal
Lemon & Herb Chicken Wings: 556cal
Polenta Chips: 454cal
 
Under 600 Calories
Al Forno Peperonata: 542cal
Leggera Superfood Salad with Chicken: 593cal
Leggera Pollo ad Astra: 591cal
Leggera American Hot: 548cal
Leggera Padana: 587cal
Leggera Vegan Giardinera: 556cal

Carluccios
Under 300 Calories
Insalata Verdi: 251cal
Marinated Olives: 103cal
Spinach: 191cal
Insalata Di Mozzarella: 295cal
 
Under 500 Calories
Tortelloni Di Cervo: 384cal
Stuffed mushrooms: 319cal
Tortellini With Mushrooms: 355cal
Insalata Niçoise: 498cal
Pasta E Fagioli With Focaccia Bread: 477cal
Bruschetta: 304cal
Zuppa Di Funghi Con Pancetta: 399cal
Asparagus Risotto: 493cal
 
Under 600 Calories
Sea Bream: 518cal
Cozze E Vongole (Mussels & Clams): 525cal
Insalata Di Mare: 502cal
Fritto Misto: 537cal
Pasta Al Puttanesca: 559cal
Linguini Ai Fru Ti Di Mare: 507cal
Uova E Pancetta: 563cal
DISCLAIMER: We endeavour to always credit the correct original source of every image we use. If you think a credit may be incorrect, please contact us at info@sheerluxe.com.