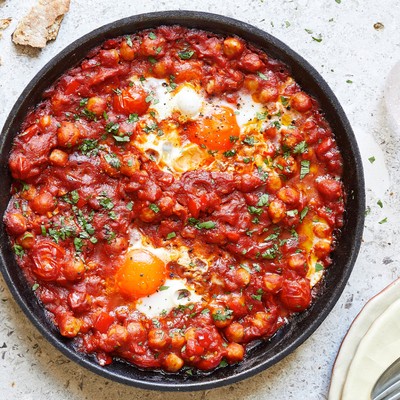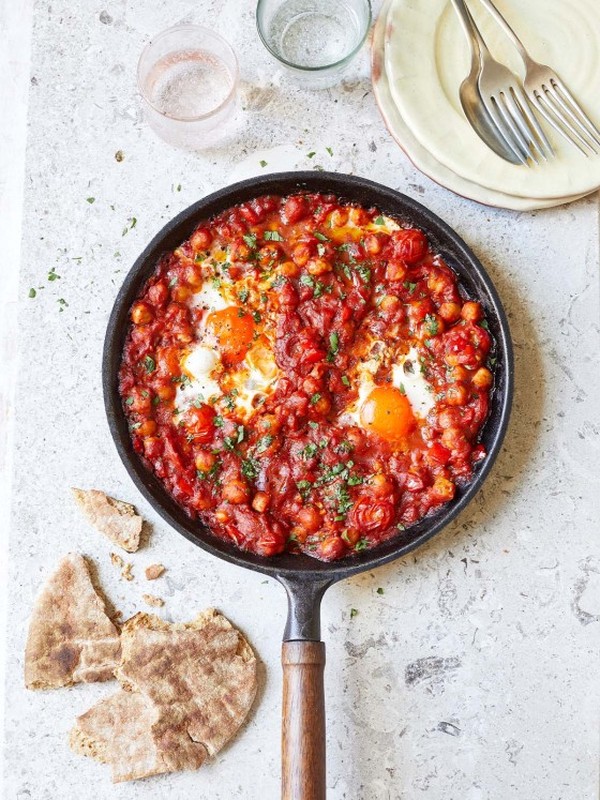 How To Add Protein To Your Breakfast

Whether you're looking for more consistent energy levels and better focus or fewer cravings and a leaner body, upping the protein in your first meal of the day is key. From simple swaps to the products to stock up on and the recipes to try, this is what four nutritionists recommend…

By Tor West
All products on this page have been selected by our editorial team, however we may make commission on some products.
Aim For At Least 20g Of Protein
"Our glycaemic response is sensitive in the morning. We've fasted overnight, we're dehydrated, and we have a natural surge in cortisol (the stress hormone), so what we do in the morning can either optimise energy levels and metabolism for the day, or set them on a rollercoaster. A protein-rich breakfast will regulate hormones and support optimal energy. If you don't eat enough protein first thing, you'll experience fatigue, anxiety, a lack of concentration and headaches. Aim for at least 20g of protein, or nearer 30g if you're active. Eggs, smoked salmon, protein shakes, peanut butter and Greek yoghurt are the most obvious choices, but oats, nuts and seeds can quickly add up, too. Greek yoghurt can be a great base – a large serving can provide 25g of protein. Add nuts, seeds and oats and you'll be nearer the 35g mark." – Rhian Stephenson, naturopath & founder of Artah
Try A Savoury Breakfast
"A savoury breakfast is one of the simplest ways to start your day on a good nutritional note. One egg contains 7g of protein, so a couple of eggs is a good starting point, but you'll need to add to this to reach your 20g goal. Try an omelette with feta, peas and smoked salmon; two poached eggs on seeded bread with a glass of kefir; or shakshuka with black beans and brown toast. If you're not a fan of eggs, other savoury options include smoked mackerel fillets on toast; cottage cheese on toasted rye bread; peanut butter on toast with banana slices and chia seeds; or a chia seed pudding made with Greek yoghurt. Stock your kitchen – a tub of peanut butter, a pack of hemp seeds, a dozen eggs or a jumbo pack of oats are great, protein-rich staples." – Lauren Windas, nutritional therapist & naturopath
Think About What You Can Add
"The best way to increase nutrients in your breakfast is to focus on what you can add, not take away. Be proactive about adding new and varied ingredients to your breakfast for doses of both nutrients and protein: mixed bags of seeds to sprinkle on yoghurt and porridge; hemp, chia and flaxseeds to stir into overnight oats; packets of raw nuts work well added to oats and granola; and a variety of nut butters to have on your favourite seeded toast. Adding a pinch of ground cinnamon to sweet breakfasts has also been shown to balance blood sugar. Variety is even more important if you follow a plant-based diet – aim for two sources of plant protein at breakfast to ensure you're getting enough amino acids (the building blocks of protein). Think nut butter on rye bread, or cooked quinoa and flaxseed added to your porridge." – Jess Shand, naturopathic nutritionist 
A PROTEIN-RICH BREAKFAST will regulate hormones and REDUCE CORTISOL LEVELS that tend to be high on waking.
Combine Protein With Carbs & Fats
"Eating around 30g of protein first thing is especially important for women. A protein-rich breakfast will regulate hormones and reduce cortisol levels that tend to be high first thing. To keep hormones and mood balanced, prioritise protein but don't forget about carbs and fats. Adding healthy carbs and good fats to a source of protein is the secret to steady and prolonged energy that will last all day." – Clementine Campbell, naturopathic nutritional therapist 
Make Simple Swaps
"Instead of instant oats, use whole jumbo oats with added nuts and seeds – this will take your breakfast from less than 3g of protein to over 12g. Using buckwheat instead of oats is also a good way to up your protein intake. If you love pancakes, revamp them using ground almonds and eggs instead of flour; and if you can't live without bread, find a recipe for a seeded or keto loaf that you can make in bulk and freeze in slices. These will pack far more fibre and protein than typical store-bought options. You can then get creative with toast toppings – ditch jam and honey for eggs and salmon or a high-protein hummus made with peas, extra sunflower seeds and tahini for additional protein. If you love peanut butter and jam on toast, use berries instead of jam." – Rhian 
Invest In A Quality Protein Powder
"If you follow a plant-based diet, you'll need to give your breakfast some more thought. A quality protein powder is a great way to get a decent dose. I rate Wild Nutrition Vegan Protein & Superfood Powder – as well as 16g of protein per serving, it contains a blend of super greens, hormone-supporting mushrooms, and vitamin B12 for energy and immunity. Try adding to oat flour, peanut butter, plant milk and an egg to make healthy peanut butter pancakes. It also works well in smoothies alongside frozen berries, plant milk, almond butter, kefir yoghurt and ground flaxseeds." – Jess 
---
Start your day the right way with these nutritionist-approved recipes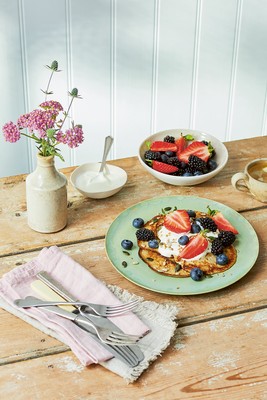 Green Banana Pancakes
"These protein-packed, flourless pancakes can be made without the collagen, though the extra hit of amino acids in the morning is ideal for muscle building and hunger control. When bananas are green, they contain less sugar – so decide how green you want to go." – Pauline Cox, nutritionist
Ingredients
1

tbsp

collagen peptides (optional)
Coconut oil, or ghee, for frying
Method
Step 1
Add the banana to a blender with the eggs, collagen (if using) and cinnamon, then combine to create a smooth batter.
Step 2
Heat a small amount of coconut oil or ghee in a frying pan, and when the pan is hot, add 3-4 spoons of batter to create 3-4 mini pancakes. Cook for 2-4 minutes until golden in colour before flipping over to cook on the other side.
Step 3
Serve with natural yoghurt, fresh berries, chopped nuts and seeds for extra goodness.
Extracted from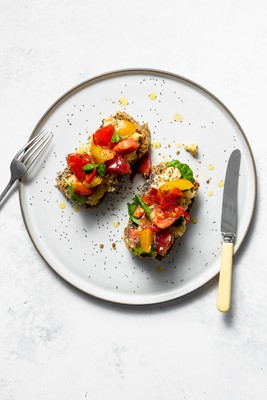 Mashed Chickpeas On Toast
"This is a great breakfast if you fancy something savoury. Both the chickpeas and tahini are rich in nutrients and protein. Served with a fibre and seed-rich bread, this contains around 20g of protein per serving. Try making your own loaf with quinoa, buckwheat, oats, flax and pumpkin seeds." – Rhian
Ingredients
1

tsp

of white balsamic vinegar
Tomatoes of choice, chopped
Method
Step 1
Smash the chickpeas with tahini, vinegar, lemon, salt and pepper.
Step 2
Transfer to two slices of seeded bread – buy the best you can find or make your own.
Step 3
Chop the tomatoes and place on top of the chickpeas, drizzling with olive oil and seasoning with salt and pepper to taste.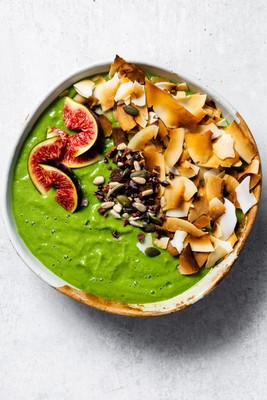 Green Smoothie Bowl
"This is a great high-protein option that doesn't rely on animal-based proteins. It has 25g of protein and is packed full of plant nutrients. When it comes to hitting your plant diversity target of 30 different varieties per week, you're getting more than ten in just this one bowl as well as more than 9g of fibre. The lemon and ginger keep the flavour fresh and vibrant, too."  – Rhian
Ingredients
2

handfuls of spinach or dark leafy greens
1

over-ripe, frozen banana
Unsweetened almond milk, to your desired consistency
To top – coconut flakes, mixed seeds, fruit slices
Method
Step 1
Add everything to a blender (apart from the toppings), and blend until smooth.
Step 2
Drink from a glass or serve in a bowl with the additional toppings.
Extracted from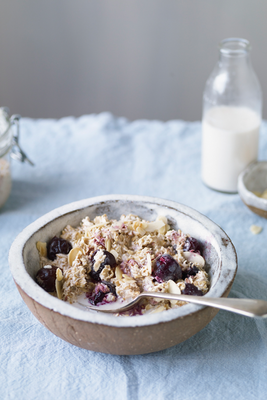 Bakewell Bircher
"Flaked almonds, oats and almond butter make this a protein-rich start to the day. The combination of oats and cherries can support the production of melatonin, which is important for regulating your sleep-wake cycle. Both are also an excellent source of fibre for our gut microbes." – Eve Kalinik, nutritional therapist
Ingredients
15g

frozen unsweetened cherries
75ml

of unsweetened almond milk, plus extra if needed
Method
Step 1
Preheat the oven to 180°C (Fan). Line a baking tray with baking parchment. Spread the flaked almonds on the baking tray and bake for 20 minutes. Leave to cool and then store in an airtight container.
Step 2
Prepare the bircher the night before you want to eat it. Mix all the ingredients together in a bowl (except the toasted, flaked almonds). Cover and leave in the fridge overnight.
Step 3
In the morning, remove from the fridge and leave for ten minutes to come to room temperature. If it has set too thick, you may want to add a little more almond milk.
Step 4
Top with the toasted flaked almonds.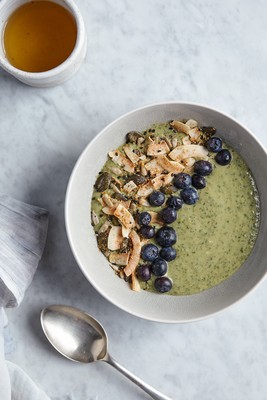 Popeye's Smoothie Bowl
"Having your smoothie in a bowl makes it more likely you'll sit down and eat it with a spoon rather than just knocking it back from a glass. This green machine of a recipe uses kale, spinach and avocado, which are packed with antioxidants to support gut and brain health. You will need to activate the seeds for the super seed mix, and this must be done at least 24 hours in advance, but you can make bigger batches and store them to use in other recipes or as a snack." – Eve
Total Time
5 Minutes
plus 15 minutes for the nuts
Ingredients
1

handful of spinach leaves
1

handful of kale, stalks removed
1

tbsp

of unsweetened coconut yoghurt
½

tbsp

of almond nut butter
100ml

unsweetened cashew or almond milk
For The Super Seed Mix

30g

of activated sunflower seeds
30g

of activated pumpkin seeds
3

tbsp

of activated sesame seeds
3

tbsp

of ground activated flaxseed
Method
Step 1
Start by making the super seed mix. Preheat the oven to 150°C (Fan). Mix all the seed ingredients in a bowl and spread over a baking tray. Bake for 15 minutes, then remove from the oven and leave to cool. Store in a sealable glass or ceramic container in the fridge for up to four weeks.
Step 2
For the smoothie bowl, put all the ingredients into a blender and blend to a creamy consistency.
Step 3
Pour into a bowl and serve with two tablespoons of the super seed mix and a handful of blueberries.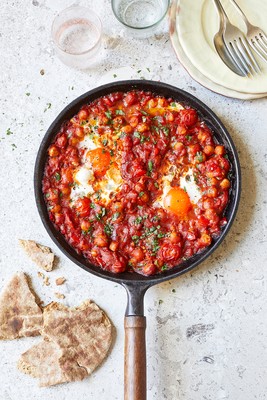 Chickpea Shakshuka
"This flavoursome dish is high in antioxidants and chickpeas are a good source of plant-based protein and iron. Don't be put off by the long list of ingredients – chances are you already have most of these in your fridge and cupboard – it's the perfect weekend brunch." – Ro Huntriss, dietitian & nutritionist
Ingredients
1

red pepper, deseeded & diced
1

garlic clove, finely chopped
½

tsp

of ground coriander
400ml

of passata, ideally from a glass jar
6

cherry tomatoes, halved
380g

carton of chickpeas, drained & rinsed
Handful of coriander leaves, chopped, to garnish
Wholemeal pitta breads, toasted, to serve
Method
Step 1
Heat the oil in a lidded saucepan or deep frying pan over a medium heat. Once hot, add the onion and red pepper and fry for five minutes.
Step 2
Add the garlic, paprika, cumin, coriander, cinnamon and cayenne pepper and stir to coat the vegetables in the spices.
Step 3
Pour in the passata and add the cherry tomatoes, chickpeas, salt, and lemon juice. Bring to the boil, then reduce the heat and simmer for 10 minutes.
Step 4
Make two wells in the mixture and gently crack an egg into each hole. Cover and cook for five to eight minutes.
Step 5
Garnish with coriander leaves and serve with pitta bread.
Extracted from
DISCLAIMER: Features published by SheerLuxe are not intended to treat, diagnose, cure or prevent any disease. Always seek the advice of your GP or another qualified healthcare provider for any questions you have regarding a medical condition, and before undertaking any diet, exercise or other health-related programme.
DISCLAIMER: We endeavour to always credit the correct original source of every image we use. If you think a credit may be incorrect, please contact us at info@sheerluxe.com.