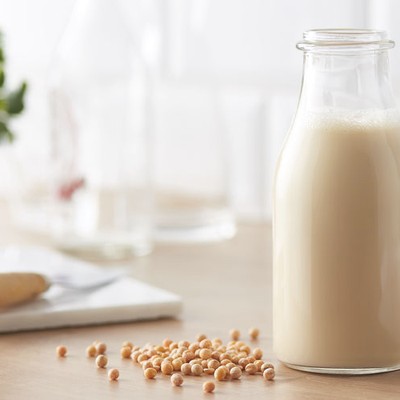 Kefir: Why It's Gone Mainstream

Kefir has been high on the wellness agenda for a while now, a permanent fixture in all our favourite supermarket aisles. Here's why you should give it a try, if you haven't already…

Back to basics: What is kefir? 
It's fermented, probiotic milk packed with valuable vitamins, minerals and easily digestible proteins, which work to clean out your body. It provides balanced nourishment and the large amounts of bacteria eat up lactose, so for people with an intolerance, it's easier for them to digest. You can find it in a variety of flavours from pomegranate blueberry to vanilla, and it's been spotted in the form of coconut milk, water and yoghurts. 
So why the sudden rise in popularity?  
This is down to the ever-growing trend for clean living, combined with people becoming savvier about their gut and digestion health. Pinterest reported a recent 68% increase in searches for kefir, and because of its numerous health benefits, we're not surprised.   
What are these key health benefits kefir offers? 
Not only is it great for digestion, it helps maintain regular bowel movements while supporting both the immune system, and bones with calcium. The bacteria friendly probiotics in kefir help restore balance in the gut, as well as working to ease symptoms of IBS such as bloating and cramping. It's also been proven to lower cholesterol and balance out blood sugars.  
But does it actually taste nice? 
The taste may not be for everyone – it can be quite tart and tangy – and the consistency is similar to drinkable yoghurt. If you're not a fan, there are now yoghurt kefirs, which are gaining popularity for their delicious flavours. If you notice a slight fizz to some of the drinks, don't be alarmed, this is due to carbon dioxide – the end product of the fermentation process.  
Kefir and yoghurt seem similar. What's the difference?  
Yoghurt is the fermentation of bacteria in milk while kefir is a combination of bacteria and yeast fermentations. This combination is called 'kefir grain' and is what sets the two apart. Many people consider kefir to be the healthier option because the active yeast it contains is reported to have more nutritional benefits.   
Is there a set time of day to drink it? 
Experts claim the best time is at the beginning of the day, so you start with a good dose of probiotics to ensure everything afterwards will be better digested. It's also known to coat the stomach with a protective layer, making it great for those who drink their morning lattes on an empty stomach.   
Seven of the best kefir drinks and yoghurts, tried and tested:  
DISCLAIMER: We endeavour to always credit the correct original source of every image we use. If you think a credit may be incorrect, please contact us at info@sheerluxe.com.