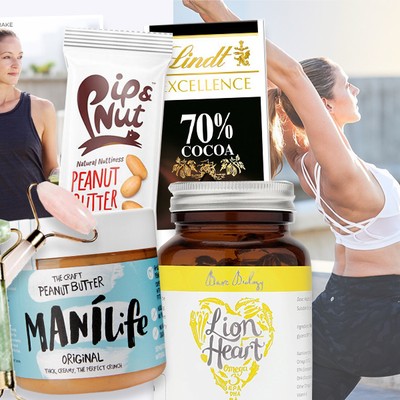 Louisa Drake: My Food & Fitness Regime

From getting the low-down on how they work out, to discovering how they maintain balance in their diet, here's the latest instalment in our series where we ask industry experts to share the ins and outs of their weekly food and fitness regimes.

When it comes to fitness, there isn't much Louisa Drake doesn't know. Since founding her eponymous method back in 2015, the London-based trainer and former professional dancer hasn't looked back. Having trained under Tracy Anderson, and with clients including Victoria Beckham, Gwyneth Paltrow and Felicity Jones, it's no wonder the Louisa Drake Method – a fusion of yoga, Pilates, ballet and strength training – is one of the hottest workouts around. Here, she tells us what an average day-in-the-life looks like, and how she keeps her mental health in check. 
My day starts at sunrise. I often start teaching at 7am so I'm up by 5am. I'm a coffee fiend and couldn't live without my bean to cup coffee machine – there are no decent coffee shops open near me at this time so I couldn't be without it. I keep breakfast light – either a protein shake made with Supernova Living powder (which contains vegan protein and adaptogens), or a banana with a handful of nuts. 
I try to incorporate a little self-care into my morning routine. I use my stone facial roller with an aromatherapy facial oil and if I have time, I'll body brush too. A couple of minutes of deep breathing also helps calm my mind and puts me in a more positive mindset for the day. 
I'm a big snacker. I always carry small pots of fresh berries, slices of apples, nut butter sachets and oatcakes in my bag. If I'm out and about, I'm also a big fan of Ape's coconut snacks, Brave's roasted peas and Deliciously Ella's energy balls.
I go through phases of meal prepping. If I'm in the mood and have the right ingredients in my fridge, I'll make a quinoa-based salad and box this up for the week with avocado, a side of protein such as chicken, and a side dressing. I absolutely love avocados – open my fridge and you'll always find some in there, along with Oatly Barista milk, bananas and blueberries. 
I buy organic where I can. Organic eggs, dairy, fish and meat are a must for me, but I'm a little more relaxed when it comes to fruit and vegetables. If something is grown underground or has a soft skin, I'll buy organic. If not, it doesn't matter so much. 
I'm lucky my boyfriend is an amazing cook. It's usually pretty late by the time I get home from teaching in the evening, and he has always has something ready for me. During the week it's always something light – our staples include roast sweet potatoes with lots of fresh salads and some fish, or homemade soups and stews in the winter months. 
I love a Sunday roast. Sundays are the only day I have off during the week so it's an opportunity to treat myself. I'm a dab hand at knocking up a hearty Sunday lunch – my Parmesan parsnips and roast potatoes are always popular – but I also enjoy making pasta dishes. I love courgette and mushroom linguine or fresh pasta with chilli, dill and prawns. I'm also a sucker for an almond croissant on the weekends (Miel in Fitzrovia do the best ones) or a cinnamon bun from Fabrique, also in Fitzrovia. I try not to think of these as treats so much, but have a little of what I fancy with no regrets.
I always come back to a sustainable and seasonal approach to nutrition, eating a balanced diet and buying the best I can afford.
I'll have the odd takeaway, too. I love Indian, Thai and Mexican food. I have a great family-run local Indian near my house, which I'm fond of – they do more authentic dishes that taste home-cooked. When I'm out and about during the day, you'll find me at all the usual healthy hotspots in London – Leon, Wholefoods, Plant Organic, Raw Press, Farm Girl and Detox Kitchen.
I'm prone to sugar cravings, especially when my hormones are raging. Good-quality, dark chocolate is my go-to, but I also find cinnamon tea really helps to curb cravings. However, my guilty pleasures are all savoury – I absolutely adore mac and cheese, hot, buttered sourdough toast and truffle fries. 
I enjoy a good glass of wine. I also make a mean espresso martini and am a big fan of a good G&T. Non-alcoholic offerings from Seedlip and Cedars are also a good alternative for those evenings I am trying to be good, or have an early start the next day. 
I've dabbled with various diets over the years. However, I always come back to a sustainable and seasonal approach to nutrition, eating a balanced diet and buying the best I can afford. If I feel overindulged, I'll balance my diet accordingly, using ashwagandha (an adaptogen) and golden chlorella to support stress and energy levels and boost the immune system. 
I'm a supplement junkie. As I'm very active, I'm conscious of the need to maintain adequate vitamin and mineral levels. Whilst I try to take a 'food-first' approach, I'm currently taking Bare Biology's Omega 3 Fish Oil Capsules, vitamin D and Bare Biology's Skinful Collagen Powder – collagen is great for muscle strength, joint health, bone mass and glowing skin. One thing I don't take is probiotics, instead making sure I eat more probiotic foods like yoghurt, miso, sauerkraut and kombucha. 
When it comes to fitness, no week is the same. I teach classes throughout the week and train with a mix of clients so adjust my personal training weekly to honour my schedule. Like everyone, I have stronger and weaker areas of my body so I incorporate a mix of mobility, strength and conditioning techniques.
Sometime I need a helping hand to switch off in the evening. A hot shower using magnesium-based products usually does the trick, and I've also become a recent convert to Aime's Sleep & Glow Drops, a gentle blend of melatonin and ashwagandha. They really help regulate your body clock – I always feel so refreshed the morning after using them. 
Regularly escaping from London is essential for my wellbeing. I try to head to the coast or other green spaces when I can – it's where I find calm from the city. 
I am grateful for my little black book of wellness practitioners. From nutritionists to therapists specialising in sports massage, osteopathy and cranial-osteopathy, I know I'm in good hands and treat myself when I can. I particularly enjoy a traditional deep tissue massage – it's the ultimate way to aid recovery and ease tension.
Follow @louisa_drake
Visit LouisaDrake.com
INSPIRATION CREDITS: Instagram.com/Louisa_Drake
DISCLAIMER: We endeavour to always credit the correct original source of every image we use. If you think a credit may be incorrect, please contact us at info@sheerluxe.com.