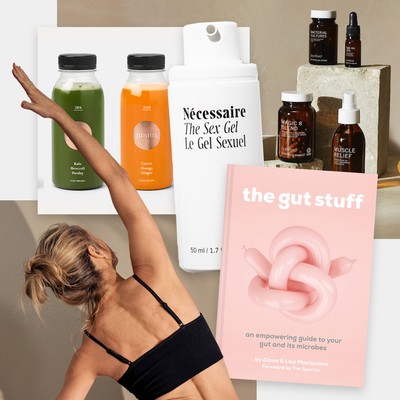 This Month's Health & Fitness List

From the plant-based supplement range everyone's talking about to nutritionist-approved meals for your freezer, here's what you need to know about in the world of health and wellbeing this February…

Bamford Supplements 
Two years in the making, Bamford's first ever supplement range is one to try. Whether you're looking to ease sore muscles or give your immune system a helping hand, each plant-based formula has been specially formulated to get to work where it's needed. Stars of the line-up include the Magic 8 Blend, concentrated with eight organic mushroom extracts to support immunity and mood; Liquid Boost, a clean-tasting green liquid packed with chlorophyll that you add to water to kickstart flagging energy levels; and Muscle Relief, a magnesium oil that's perfect for post-workout recovery. The entire range is also gluten, dairy and wheat free, as well as being free from preservatives, synthetics, binders or fillers.
Visit Bamford.com
Heartcore at Home
Whether your motivation is waning when it comes to home workouts or you feel overwhelmed by the sheer choice of what's out there, cult London studio Heartcore's new platform is one to download. Launching mid-February, expect a timetable of 30 live classes per week, spanning yoga to mat-based Pilates. An online workout first, each class will also have two cameras, enabling participants to better understand the moves and improve technique and form; and there will be constant communication between you and the instructor. Whether you're looking to tone up before an event this summer or determined to get to the bottom of your back pain, the experts at Heartcore have you covered.
Visit WeAreHeartcore.com
The Gut Stuff
Identical twins Alana and Lisa were first introduced to the benefits of gut health through the Twin Research Department at Kings College. Despite having 100% identical DNA, their guts only have 40% of the same microbiota, which has led to their bodies behaving in different ways. Spurring on a lifelong fascination with the gut, the twins launched The Gut Stuff back in 2018 and their first book is a comprehensive guide into the workings of your microbiome. Delving into the science behind the gut and how it impacts everything from the skin to your brain, the book offers fad-free insights, tips and recommendations in a digestible format.
Visit Waterstones.com
Field Doctor
The brainchild of a dietitian and a Michelin-trained chef, Field Doctor is putting a healthy spin on frozen meals. Using ingredients from sustainably focused producers, meals are flash-frozen to lock-in goodness, made in small batches in Somerset and contain at least two of your five-a-day. Expect classics with a twist – think barley-based risotto, chicken laksa made with wholegrain noodles, beef ragu with added lentils and Asian-inspired curries loaded with superfoods and quinoa. There's also the option to filter by health priority, and the range also contains low-FODMAP meals for those suffering from IBS. Ticking the box on sustainability, all packaging is biodegradable, and delivery is carbon neutral, too.
Visit FieldDoctor.co.uk
KARVE
If your regular Zoom workouts are getting a little repetitive, shake things up with KARVE's on-demand workouts. An endurance-based method with Pilates at its core, the NY-inspired KARVE method focuses on building slow-twitch muscle fibres to increase body strength and drive the metabolism. Gentle on the joints and suitable for all fitness levels, all you'll need is a pair of gliders, some resistance bands and light hand weights, and your first seven days are free. Once restrictions are lifted, KARVE will be opening a seriously high-tech studio on High Street Kensington – you heard it here first. 
Visit Karve.club
Sambucol
Supplements promising to boost immunity are ubiquitous these days, but Sambucol, supercharged with immune-supporting black elderberry and vitamin C and zinc, may be one to keep on your radar. In fact, it's now the focus of a new NHS study being carried out in East Kent Hospitals as a treatment for coronavirus. The clinical trial will assess how black elderberry liquid impacts progression and reduction of symptoms in people with Covid-19. While by no means a miracle cure, early studies do suggest Sambucol can significantly improve recovery from flu, making it one to stock up on for when the winter sniffles take hold. 
Visit Boots.com
Nécessaire Sex Gel
Everything about Nécessaire – the clean body line from Nick Axelrod, co-founder of Into The Gloss, and Randi Christiansen, previously at Estée Lauder – is chic, modern and clean, and its cult Sex Gel is no exception. A favourite of Rosie Huntington-Whitely, this luxe lube incorporates organic aloe for slip that's non-sticky, and it's water-based, meaning it's safe to use with condoms and toys. We love the minimalist packaging and elegant pump-top bottle, which can sit in plain sight alongside your skincare.
Visit Goop.com
Indoor Forest Bathing
Forget tablescaping – bathscaping (aka making your bath beautiful) is the new trend to try, and the business of bathtime is only getting bigger. Quite possibly the definition of peak self-care, juice cleanse brand Purearth is now offering virtual bathing experiences – you lie in the tub while breath expert Richie Bostock performs a guided meditation via Zoom (having the camera on is optional). Prices start from £22 for a session, which also includes Purearth juices, a face mask and Epsom salts, as well as a discount code for Happy Houseplants should you wish to elevate your bath. 
Visit Eventbrite.co.uk
Junius
If your multivitamin is gathering dust on your bathroom shelf, get your health fix in a different, juice-focused way. Serving up nutrient-packed, cold-pressed juices, Junius was founded by a nutritional therapist and will deliver juices and shots directly to your door. Designed to be consumed alongside your diet as opposed to a stand-alone cleanse, you'll find everything from blends designed to reduce stress levels to those formulated to soothe a sensitive tummy. We recommend ordering the Mixed Juice box – the ultimate fridge fill for dark winter days.
Visit WeAreJunius.com
DISCLAIMER: Features published by SheerLuxe are not intended to treat, diagnose, cure or prevent any disease. Always seek the advice of your GP or another qualified healthcare provider for any questions you have regarding a medical condition, and before undertaking any diet, exercise or other health-related programme.
DISCLAIMER: We endeavour to always credit the correct original source of every image we use. If you think a credit may be incorrect, please contact us at info@sheerluxe.com.