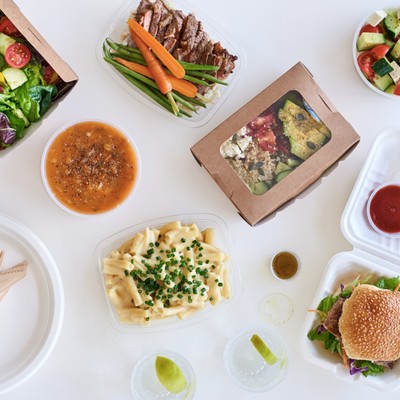 A Nutritionist's Guide To Navigating Deliveroo

Whether you can't face cooking after a busy day of Zoom calls or are looking for a weekend treat to plug the eating out gap, there's a time and place for Deliveroo. But it's no secret takeaways can be laden with fat, calories and carbs, so is it possible to order something even remotely healthy? Here, four nutritionists share how.

Choose The Right Cuisine
"As a general rule, avoid restaurants that only offer fried food. This may sound obvious, but it's a top tip to ensuring a healthier takeaway. When looking through Deliveroo, some of the healthier cuisines to look out for include Mediterranean varieties, including Greek, Lebanese and Italian. These cuisines tend to have a better variety of plain dishes and vegetable side dishes. For example, you can order a grilled salmon with a side of sauteed spinach from an Italian or Greek restaurant, or you can order grilled chicken, rice and a grilled vegetable dish from a Lebanese – Alwaha on Westbourne Grove is great. You can even add a note to your Deliveroo order to ask for no dressing on your meals so you can add your own at home. Restaurants like Cocotte, which just serve chicken and salads, are also great low-carb options." – Paola Langella, integrative nutrition health coach
Be Careful With Sushi
"Asian food, which focuses on fresh ingredients without the use of dairy, can be a good option if you make the right choices. Always steer clear of fried dishes and sugary sauces, and approach sushi with caution. Sushi rice is packed with refined carbohydrates, often prepared with sugar, and is very low in fibre, making it easy to overeat without noticing. If you love sushi, see if there's the option to swap the rice for brown rice, and order a vegetable side with it, so you can eat half the portion of sushi and more veg. Roka is now on Deliveroo and is one of my go-tos – The Sushi Shop, Eat Tokyo, Sticks n Sushi, Arancina and Busaba also get my vote. Feng Sushi in Notting Hill also offers brown rice sushi, which can be tricky to find." – Paola
Swap Your Noodles
"When ordering from restaurants like Wagamama, always swap the noodles, which are usually made with eggs, for rice noodles. Also be careful of what you order – lots of noodle-based dishes are loaded with eggs, chicken and fish mixed together, with a very small number of vegetables. Instead, decide which one protein you want to eat and then order a meal with just that protein. It also goes without saying you should avoid fried starters, instead opting for edamame beans, raw salad and steamed dumplings." – Paola 
Be Savvy With An Italian
"There are plenty of healthy options on the menu at an Italian restaurant although my top tip is to avoid overdoing the starters. Opt for one starter, maximum two, and always share them. For your main, if you enjoy pasta, order spaghetti with fresh tomatoes and basil – this dish is so simple, healthy and delicious, containing only four ingredients: spaghetti, tomatoes, basil and extra virgin olive oil. Another good pasta option is one that contains fish, such as spaghetti vongole. Avoid lasagne and other pasta dishes with meat. If you like cheese, it's better to have a caprese for your starter (mozzarella is a lower-fat cheese) and then add a small amount of parmesan to your pasta, the flavour of which goes a long way. In terms of Mediterranean restaurants which offer good, healthy options, try Mediterraneo in Notting Hill. Basilico is also great and they do gluten-free pizzas." – Paola
Make Your Own Starter
"Have some carrots, fennel, celery and cucumber crudites in a bowl in your fridge ready to snack on once you've ordered your food. This will mean you're less likely to snack on the free prawn crackers or similar that often come for free with a Deliveroo. If you can find Holy Moly guacamole, it's worth stocking up on, too – it's dairy free and tastes homemade. Natoora's turmeric hummus is also one to try." – Paola
Create Your Own Buddha Bowl
"If you're really stuck for something healthy, consider ordering any two raw salads or plant-based sides, and then add your own canned chickpeas, lentils or even soft-boiled eggs. If you're looking to cut back on your meat intake but still want something healthy, this is a great idea for a balanced meal." – Paola
Avoid American Food
"When browsing through Deliveroo, avoid any restaurants that come under the 'American' category – these tend to offer very calorie dense, less healthy options. That said, a burger can be a healthy option if you remove the bun and opt for wedges over chips. Even better, order a salad to go with it. This isn't necessarily a low-calorie meal, but it's not a bad option if it's occasional and you're active. Another top tip when ordering a takeaway is to serve it onto your dinner plate so you can see the portion, and seek out healthier options if you can – Itsu and Hare & Tortoise are personal favourites." – Gabriela Peacock, nutritionist
Make An Indian Healthier
"Indian food can get a bad rep, but as long as you make smart choices it can be a relatively nutritious meal. Places like Tayyabs, Atcha and Nusa Kitchen are all on Deliveroo and offer plenty of good options. The best advice I can give is to ask the chef or restaurant for more traditional Indian recipes as opposed to Westernised versions like a chicken korma – this will more than likely be something that's cooked in the Tandoor or without a creamy sauce. On an Indian menu you'll also find lots of delicious vegetable sides – in fact, lentils and chickpeas are often added to most meals, so look out for these. Paneer (a firm cheese) is also a good choice. And when it comes to your main course, go for dishes that are in a tomato-based sauce instead of oil or cream." – Kelly Mulhall, registered nutritionist
If you like cheese, avoid lasagne and cheesy pasta dishes. Instead, have a caprese for your starter and then add a small amount of parmesan to your pasta.
Filter Out The Bad
"Without stating the obvious, many cuisines use lots of salt and oil, which can take its toll on your cholesterol levels in the long-term. If you fancy a takeaway, use the 'healthy' filter on Deliveroo and you'll find dozens of options. If I'm feeling naughty, I like to go for a Halo Burger but my favourite healthy options are Nem Nem, Rosa's Thai and Mildreds. If you're looking for a healthier pizza, Picky Wops is one to try – they have an amazing selection of healthy pizza bases – as is Nudo Pizza, which uses wholegrain bases." – Kelly
Make it Keto Friendly
"If you are on either a low-carb or keto diet, start by identifying what source of protein you want the centre of your meal to be. This will make it easier to search for what you're after, and then you can use sides to top up low carb options. Turkish kebabs (without the bread) are great keto-friendly options – I love Best Kebab in Stoke Newington, but any decent Turkish near you will serve this. Fanny's Kebabs and Best Kebab also come highly recommended." – Kelly
Ditch The Condiments
"Takeaway dips, dressings and condiments are very likely to contain high levels of sugar and salt, so are best avoided. Instead, stock up on some healthy versions of your favourites to keep in your fridge for when you're ordering in. There are some great sugar-free, organic and healthy versions out there, such as MR Organic tomato ketchup, which is made with 80% tomatoes. Sauce Shop also do some great condiments with healthy ingredients." – Kelly
Keep It Simple
"If you're craving Italian food, try and stick to traditional dishes. These simple recipes – think aubergine parmigiana and fresh salads – may use rich foods, but are often made with healthy fats, like olive oil, and are designed to fill you up with smaller portions. Always look to the side dishes when scrolling through Deliveroo – it can be easy to miss these and this is often where lots of the healthy options are. Also don't be afraid to add food you already have in the fridge to your meal – making your own rice, for example, can save calories as you'll likely make it without oil and flavourings." – Kelly
Order In Your Groceries
"It's great that Deliveroo now offer delivery from lots of supermarkets across London, which makes it easier than ever to pick up fresh ingredients to cook up a storm in the kitchen – even Daylesford is on Deliveroo. If you don't fancy cooking, there are plenty of nutritious options to know – personal favourites include Honi Poke and Island Poke (always order with brown rice), The Good Life Eatery, Jusu Brothers and Feng Sushi, which is great for brown sushi rolls, which can be rare to come by, even in London." – Jenna Hope, registered nutrition consultant 
Make sure your next Deliveroo ticks all the nutritional boxes with Paola's top tips for all cuisines…
Indian
"If you're looking to eat less meat, try a mixed vegetable curry, tarka dhal (a lentil soup with herbs and spices), chana masala (chickpea soup with vegetables), or a vegetable dish like gobi (cauliflower cooked with spices) with a side of boiled rice. When it comes to fish and meat, any kind of sauteed fish or prawns with herbs and fresh tomatoes is a good option. Murg pulung (chicken breast cooked with spinach); and saag gosht (lamb with fresh spinach) are also healthy options. Try Holy Cow – they do some of the best curry I've tried without being greasy." 
Chinese
 "Opt for steamed dim sum – ideally seafood or vegetable-based – for a starter and follow with a stir fry. Serve this with brown rice or steamed jasmine rice and a steamed vegetable side such as baby pak choi or baby broccoli."
Lebanese
"Good options include couscous with vegetables and lamb or chicken; tabbouleh salad with dressing on the side; Fattoush salad without bread and dressing on the side; and any kind of grilled fish with a salad and rice."
Italian
"Spaghetti with tomatoes or vongole is a clean and simple, as is penne with pomodoro sauce – you can always ask for gluten-free pasta too. Other healthy main courses include fish-based risotto dishes and grilled fish served with sides such as spinach, roasted potatoes and grilled vegetables."
Fish and Chips
"This is never going to be a super healthy option, but you could share half your portion (they are typically big portions anyway) and order a big salad too. The Seashell of Lisson Grove does the best fish and chips – they also do grilled fish and lots of healthy, non-fried side dishes."
For more information visit TheNaturalBalance.net, PaolaLangella.co.uk, JennaHopeNutrition.com and GPNutrition.com
Visit Deliveroo.co.uk
DISCLAIMER: Features published by SheerLuxe are not intended to treat, diagnose, cure or prevent any disease. Always seek the advice of your GP or another qualified healthcare provider for any questions you have regarding a medical condition, and before undertaking any diet, exercise or other health-related programme.
INSPIRATION CREDITS: ISTOCK/WARRENGOLDSWAIN
DISCLAIMER: We endeavour to always credit the correct original source of every image we use. If you think a credit may be incorrect, please contact us at info@sheerluxe.com.