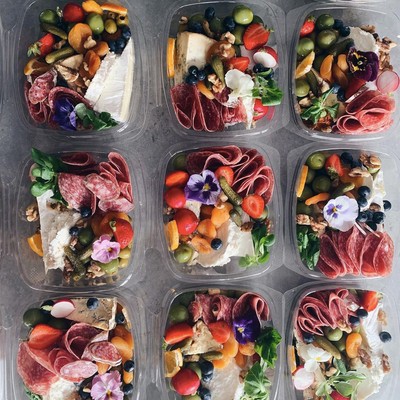 Home Cooking Tips From The Pros At Grape & Fig

Founded by Toria Smith in 2017, home grazing company Grape & Fig was the result of her own wedding the year before. Recognising a gap in the market for relaxed catering instead of stuffy and overpriced canapés, Toria fed her guests with a four-metre-long grazing table full of the finest cheeses, cured meats, antipasti, dips and accompaniments. In 2019, Toria welcomed her sister Catherine into the business, and two quickly earned a cult following among foodies and celebrities, alike. Here, Toria tells us more about where her love of food started, and shares some of her best at-home cooking and entertaining tips…

Was cooking something you loved from an early age? 
Our mum has always been the most fantastic and natural cook. She's also known among our friends and family as the best host and always cooks for 5,000 when ten people are coming round.
Some of my earliest memories are of Catherine and I watching mum cook dinner for us from the kitchen bar stools opposite the stove. From a young age we often got involved in helping her prepare the meal. It gave us a real awareness of the importance of eating home-cooked food, especially together – as a family – in the evening. 
Was there anything which was handed down to you?
Dad definitely didn't hand down anything to us – but Catherine and I still cook so many of our mum's speciality dishes to this day. Homemade French onion soup, focaccia, spaghetti bolognese with quality red wine and pancetta, beef bourguignon, pavlova topped with whipped cream and fresh fruit… the list goes on and on. But most of all, mum taught us that food brought people together and made them feel good. The memories always outlasted the food itself. 
How would you describe your cooking style? 
I'm pretty relaxed; the process should be enjoyable and almost therapeutic. If I'm cooking for an occasion such as a dinner party, a garden party or for my husband at the weekend, I make sure I've got some chilled background music on, a glass of wine poured, and a candle lit before getting started. I'm fairly experimental, too, and always happy to 'test and adapt' recipes to my own taste rather than following a recipe down to the letter. I much prefer 'family style' or 'sharing plate' style dining, so you'll often find me preparing any number of dishes at one time. 
What are your top tips for easy mid-week suppers? 
My husband loves to cook during the week. His go-tos are veggie pastas, vegan dumpling stews and lentil curries. My favourite meal he makes is a creamy, lemony hummus pasta, which my sister found on The Greedy Model's Instagram page. We love talking about food as a family and are always sharing recipes we find.
Are there any store cupboard essentials or underrated ingredients people need to know about? 
Seasonal spice – we use it on so much. It's incredible sprinkled over smashed avocado. Also – brussels sprouts. I hated them when I was younger, but now I love them – it's probably quite common when I think about it. We roast them in olive oil until they are deliciously crispy, richly caramelised and almost sweet. 
Is there a way to make easy, vegan dishes? 
If in doubt, there are now so many cookbooks out there full of easy vegan dishes – the market for this kind of cooking has just exploded in recent years. Our favourite? The Green Roasting Tin by Rukmini Iyer is brilliant – you'll find 75 vegetarian and vegan really easy one-tin recipes in there. Our go-to dish is the beetroot, chickpea and coconut curry, which is ideal for a weeknight dinner. Also, Speedy BOSH by Henry Firth and Ian Theasby, and the Ultimate Vegan Mac & Cheese is a game changer, too.
In your view, what makes the perfect salad? 
My love affair with Morocco started years ago and every year (apart from the last one of course) I make it a priority to go back. Marrakech feels like home and the vibrant, fragrant food is always a highlight. I love the freshly prepared, seasonal salads they serve out there – they're always using local farmed produce. At home, my favourite is Nargisse Benkabbou's artichoke, green peas, purple olives and preserved lemon salad. You can find the recipe here.
Do you have a favourite homemade soup? 
Anything really thick and creamy is the soup for me. I'm not really a fan of gazpacho or watery soups and my favourite is Delia Smith's leek, onion and potato version, which was handed down to me by my mum. It's so simple, but it's always a crowd-pleaser and so comforting – which is what a soup should be. I always remember my mum telling me Delia's recipes never let her down. It's so true! 
We're all trying to make our food healthier. Do you have any tips? 
It may sound like a cliché but try to eat what makes you feel good from the inside out and think about the ingredients you're eating day to day. Whole, plant-based foods will nourish you and make you feel healthier if they're a consistent part of your diet. That said, I'm a firm believer in everything in moderation and indulging on occasion to make life enjoyable. 
What do you think people always get wrong or use too much of? 
It's so easy to over season a dish, especially with too much salt. Better to hold back and season slowly, tasting your food as you go to make sure it's the right balance of flavours. It's fine to add, but impossible to take away. Also, a great quality olive oil makes all the difference and people often scrimp on this – it's the most used oil in our household.
Can you recommend three good cookbooks everyone should have on their shelf? 
These three are fantastic and all on constant rotation in our household: The Art of Eating Well by Jasmine and Melissa Hemsley, Dishoom by Shamil Thakrar and That Cheese Plate Will Change Your Life: Creative Gatherings and Self-Care with the Cheese by Numbers Method by Marissa Mullen.
Asian food is delicious but seems tricky to do well yourself – any tips? 
I spent a year travelling around Asia with my husband Adam – we covered Singapore, Thailand, Sri Lanka, Indonesia, Vietnam, Malaysia and Japan, but what I remember most was the incredible street food. It's bursting with unexpected flavours and fresh ingredients. Noodle and rice-based dishes were always my favourite, and that's what we often cook at home. Gathering staples for your pantry is key – such as miso paste, fish sauce and lime leaves. It's also beneficial to pay attention to the little details – if a recipe calls for a certain spice or milk, use that certain spice or milk, as it really makes all the difference. Preparation is key, too – marinate your tofu or meat properly, and chop and cook (if necessary) your ingredients separately before adding them or mixing together. 
At the weekend, is there a classic twist on a cooked breakfast you recommend? 
We love a vegan breakfast bowl on a Saturday morning – as does our daughter, Edie. Think sautéed sweet potato, kale, roasted tomatoes, smashed avocado and sautéed garlic mushrooms served with sourdough toast. I'm salivating just thinking about it.
What are some of your top dinner party menus? 
You can't beat themed culinary dinner party menu – such as Mexican, Italian or Japanese. Recently, we hosted a dinner party just using our much-loved Dishoom book, and it was so worth the effort. For starters we had the vegetable samosas followed by black dahl with gunpowder potatoes. For dessert, it was gulab jamun, which is a milk-solid based desert a bit like a stiffer, more substantial and doughier version of crème caramel.
What do you love to put on a grazing platter? 
Without doubt, a good grazing platter comes down to the quality of the cheese. We love using a Shepherds Purse blue, Baron Bigot brie-style cheese and a Snowdonia truffle cheddar. Fresh honeycomb (we use London Honey Company) tastes incredible and the power of a good quality, artisan cracker shouldn't be underestimated – we use Peter's Yard 16-hour baked sourdough crackers. Remember, we eat with our eyes, so an array of delicious fresh and dried fruit, jewel-coloured antipasti and edible flowers like violas are a must. 
So, are you a fan of a dedicated cheese plate? 
You'd think we would be sick of them, but I make them in my spare time at home to serve to family and friends. I'm that person at a party next to the cheese platter, talking about the cheese and wine. At the moment, I'm a huge fan of summer burrata or a whipped feta with herbs. 
Anything specific your clients are really into right now? 
We've seen a real increase in demand for our vegan cheese platters recently. At Grape & Fig we use I Am Nut Okay vegan cheeses, and our current favourite is the Nerominded black truffle. Also, our sharing platters – as opposed to our individual boxes – are becoming our bestsellers again now that restrictions are lifting. During lockdown we created hundreds of individual grazing boxes for our customers to enjoy at home. Now, we're back to creating hundreds of sharing platters as people start to socialise again.
What are some of the best starters you can prepare in advance? 
An antipasti sharing platter is one of our go-tos, served with fresh crusty bread. Just make sure you take everything out of the fridge an hour beforehand to ensure your cheeses get to room temperature. As for must-have ingredients? Fresh tomatoes and mozzarella, manchego, prosciutto, artichoke hearts, sun-dried tomatoes and nocellara olives. Those are the non-negotiables!
What are some of the simplest ideas for puddings that still have the wow factor? 
A summer pavlova covered in fresh berries, passion fruit and edible flowers. Jamie Oliver has a great recipe (and you can add whatever additional ingredients you like on top). You can also pre-make the pavlova – just whip the cream and top with the berries and garnish before serving. 
Let's finish by asking what your secret is to a throwing really good party? 
Good music – anything by Rhye (although my favourite song is 'Open'). A special room scent – Aesop Istros Aromatique is the one, and don't forget about pretty tableware and cutlery – I really recommend the Habitat Elzora range. For cocktails, you can't beat a good homemade picante and of course, a couple of Grape & Fig grazing platters.
 
For more information visit GrapeAndFig.com and follow @GrapeAndFig on Instagram
DISCLAIMER: We endeavour to always credit the correct original source of every image we use. If you think a credit may be incorrect, please contact us at info@sheerluxe.com.