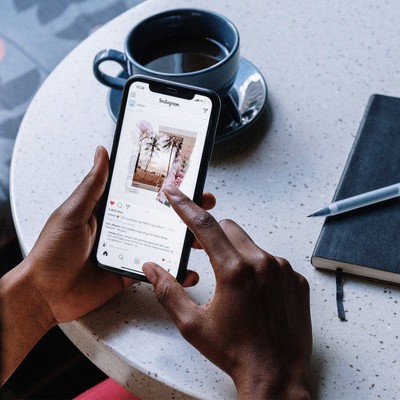 How To Build A Successful Instagram Account

Whether you want to build your Instagram account for a personal or business reasons, there are several ways you can boost your following and improve engagement. From creating a strong brand to making the most of Reels and Stories, we asked some experts how to build a successful account.

Create A Standout Bio 
"Your bio is the first thing people will see when they click onto your page, so make sure yours stands out. Studies have shown it takes just two-tenths of a second for someone to form an opinion on your page, so you need to grab their attention instantly. Your bio should explain a little bit about yourself or your brand – make sure you choose your words carefully and use your brand's tone of voice to help you connect with your audience. If it's for a business page, make it look consistent with your website; for a personal page, try and inject your personality. It's also worth noting that your bio is the only place on Instagram where you can include a clickable link, so don't forget to insert one. You can also link to other Instagram handles too, which is a good idea if you have more than one page – link them together so people know they are connected." – Sophie Attwood, founder, Sophie Attwood PR Communications
Find Your Niche 
"Don't make content for the sake of making content. While quantity does matter on social media, the quality shouldn't be compromised in the process. You need to ensure your page stands out compared to similar pages, so dig deep and find out what sets you apart – it might be the way you post pictures or, if you're creating videos, how you come across on camera. Finding a niche is incredibly important. A common misconception people make is assuming that if their content or service appeals to 500,000 people instead of 50,000 targeted people, they will grow their audience faster. This is far from the truth. In fact, by appealing to a smaller, targeted group of people, you're more likely to garner organic growth and engagement. Work out exactly who your target audience is and create an audience persona. Make a profile of the type of person who will follow you or buy your product or service. What do they do? What other accounts do they follow? What are their hobbies? What is their disposable income? What brands do they love? The more you understand this persona you've created, the easier it will be to create content." – Unsah Malik, social media & influencer expert 
Know Your Personal Brand 
"Create a strong personal brand. How you communicate with people and other Instagram users is key and using a consistent tone of voice will strengthen your brand. Find something that works for you and make sure it's authentic. Are you corporate or more friendly? Do you use emojis? Do you allow memes on your feed? Do you use internet slang? Don't underestimate the power of a tone of voice which will show your personality. Every successful publication, brand and content creator has one – and people actively seek the same people for these specific reasons. Strive to be someone who others will search for because of the way you communicate. If you're not sure where to start, have a look at other people's pages for inspiration." – Unsah 
Be Consistent
"Sixty per cent of the top brands on Instagram use the same filter for every post. By having the same filter, your style will become recognisable to your followers. Create a visually consistent profile that aligns with all your other visuals such as your website and any other marketing tools. Instagram offers a variety of options – use them to your advantage to tell your story. Further to a standard image or a carousel (with up to ten images in one post), you can also post a minute-long video, create a story with filters and gifs, or post on IGTV. Use the type of content that best represents your business or personal brand and focus on how you want to be perceived by your target audience." – Petra Smith, founder, Squirrels & Bears 
"Ideally, you should post at least once a day. Contrary to popular belief, data from Instagram suggests that posting more than once a day won't decrease your engagement rate. Experiment with posting at different times of day; this will allow you to monitor and track your analytics over time to discover when your audience is most active. It also allows your followers to know when they can expect content from you, which in turn helps to build a more loyal following." – Timothy Armoo, founder, Fanbytes 
Connect With Your Audience 
"Connect with your audience in your DMs every single day. Lots of people struggle with connection because they are afraid to leave direct messages or voice notes on Instagram, but having a connection with your audience is so important. Remember, connection is not about selling; it's about creating a relationship in which a person or thing is linked or associated. It's about getting to know who your audience is, where they come from, what they do, what their struggles are and what inspires them to visit your page. One of your main goals online (especially if you have a business page) is to provide your audience with a solution to their problems. You can simply do this by posting a poll, quiz or question onto your story. The more your content addresses your audience's needs, the more likely they are to carry on following you. When it comes to questions or polls, think outside the box and ask things that aren't related to you or your page directly, for example: 'Are you a tea lover or a coffee lover?' or 'Does anyone have any good Netflix recommendations?' Continuously asking questions will also help you build relationships and create connections with your followers or potential customers." – Maggie Colette, social media coach
Finding a niche is incredibly important. A common misconception people make is assuming that if their content or service appeals to 500,000 people instead of 50,000 targeted people, they will grow their audience faster.
Collaborate With Other Creators 
"Interaction between accounts is a great way to put your profile in front of new eyes. This can be done through a number of ways that fall under the collaboration category. The more organic and less sales-y you make it, the more effective it will be. If you have a business account, you may have a client or customer share their purchase or service from your business on their profile which might encourage family or friends to follow you. Or, you could simply gain new followers by putting yourself in front of a different online demographic. This is 'word of mouth' collaboration, which can be cleverly manufactured behind the scenes with Instagram influencers. Other collaborations can be more interactive, for example using Instagram live sessions or collaborative IGTVs." – Petra
Use Reels And Stories 
"Reels are great for anyone that wants to start an account, whether you're doing it for fun, or to create your personal brand. Music can be added onto the Reel to suit the content from your camera roll and create the mood you want to project. This can be anything from memories with your friends, to showcasing your business or lifestyle with a snapshot of video content of 15-30 seconds. Instagram pushes Reels to the forefront of the algorithm onto the explore page, which can boost your account's overall following too. Carousel posts also tend to perform well. The current trend is to add detailed pictures of the first picture that is posted, for example a closer look at an outfit, handbag or shoe – this aesthetic is like a mood board. Another tool to use is Instagram Stories. Stories are more personal and direct, and you can get across more detailed information. It also helps to add your Instagram feed picture to a story, so your followers never miss a post. Posting prime time will also help with engagement; pre-Covid this was 8-9am and 7-10pm – the latter being better for a global audience. However, during lockdown, lunchtime or late in the evening has tended to be the best time to post." – Jessica Henig, founder, Unlocked Branding
Create Saveable Content 
"One way to boost your post in the Instagram algorithm is to create 'saveable' content. Although Instagram saves aren't anything new, they are the hot new engagement metric to know about as they indicate how your content resonates with your followers. In order to create saveable content (something a user will save to their folder or take a screenshot of), think about what types of posts your followers want to come back to and revisit. For example, sharing the top five restaurants in a city you recently visited. It can be anything from a useful infographic to a funny meme. Think about what's important to your audience and what they will find value in." – Timothy 
Don't Forget Hashtags 
"You can use up to 30 hashtags in a post, plus another 30 in your comments section. You can also have up to 15 in your Instagram Stories. While it might be tempting to use the most popular tags, it's better to concentrate on highly specific and relevant hashtags that accurately promote your business or post. An added boost will be to focus on the tags that have only been used anywhere from 10,000 to 400,000 times. The less a tag has been used, the more it will help your content stay visible in the explore feed for longer. You should also add geotags – a form of metadata attached to an online update showing your location. If your business is located at a specific address, add the location in your posts. Geotags are an effective way for users to share their whereabouts with other users and can help businesses share information about their location so customers can find their shops and offices. Similar to hashtags, geotags will make your posts visible in local searches and help potential visitors to find you. Equally, if you're a London-based blogger, for example, tag your locations. They don't need to be specific (you don't want to reveal your exact location for security reasons) but posting in a general area or at a specific restaurant or bar will help you reach different audiences." – Petra 
Use A Separate Platform For Stats 
"Instagram's in-built insights section is good, but it's better to track growth and measure using third-party tools created specifically for social media analytics. You'll be able to see engagement and stats by month and year. It simplifies the process of analysing several content pieces, and also allows you to identify any patterns or types of content that specifically underperformed or over-performed. I recommend Iconosquare for content creators, start-ups and small businesses." – Unsah
2 influencers share their Instagram success stories and top tips…
Amelia Liana, 537K Followers
I launched my blog in 2013 as an expressive outlet to document my personal style and beauty recommendations. I quickly amassed a loyal following and, as my content evolved, my audience grew. As my following got bigger and bigger, I realised that people wanted to see different parts of my life, such as my home and family, so I slowly started to create lifestyle content. I think engaging with comments and messages has been the driving force behind my strategy. 
The visual look of your content is really important. It helps establish a mood, tone and style – it needs to resonate with you and feel right for your personality. I love filters for giving an image a different vibe or feel, but I also share my 'unfiltered' self on Stories so people get to see it all.
Instagram has opened up so many doors for my career. When I first started, it wasn't even considered a career. Off the back of my online presence I've launched my jewellery brand RAEMI, I've been the ambassador for multiple global brands such as Dior and have consulted for start-up brands in the industry. I love engaging with my followers and private-messaging my audience – it's so motivating for me and I feel like I have a huge, extended network of family and friends, which is so special. 
My advice to others is to be authentic and do what you love. Understand your audience and give them a reason to follow you. Everyone's different and there's room for everyone, so show people your different sides and what makes you unique. It's also important to be consistent with your brand and always engage with your audience – after all, social media is meant to be social! For every hour I spend creating content, I spend another hour replying to comments or direct messages. 
Follow @AmeliaLiana
The India Edit, 23.8K Followers
I've been blogging on and off for years. I started The India Edit a few years ago and it took about a year or so to pick up traction. In 2019, I put more energy into it and in 2020 my followers on @theindiaedit and @themirroredit both went from about 5K to 20-30K. There was definitely a correlation between having more time for it (because of lockdown) and the growth that I saw. I've definitely been strategic and considered in the brand I've tried to create – whether that's the font or colour scheme I use, my various accounts (@themirroredit and @theinteriorsedit) or the brands I choose to work with. I also have a full-time job, so it's more of a 'do-what-you-can' kind of strategy most of the time.
The aesthetics of an account are really important to me. There should be a common thread through your imagery – it could be the filter or the way you shoot. I like to go for a soft, almost nostalgic vibe. I mix edited photos from my camera, film photos and unedited phone photos shot with a lower exposure, but the end result is fairly consistent, so they look good together. I use UNUM to plan my feed – if you want to create a curated, aesthetically pleasing image, a planning app can help.
Instagram has really furthered my content creation career and I'm so grateful for that. I've built so many brand relationships, whether that's brands finding me, or me just sliding into the DMs. I've also met such wonderful women whom I now call friends. 
For anyone wanting to build their account and following I'd recommend being consistent, but experimental. As a follower, you want to know what to expect from someone you choose to follow – from the style of content, the editing, frequency of posts to the tone of voice. At the same time, it's important to experiment with different types of content to keep your followers engaged. I'd also recommend using Instagram's latest features as they want you to use them and often favour that type of content (e.g. Reels). Finally, be patient. For the most part, it's a bit of a slog, but a fun one!
Follow @TheIndiaEdit
CREDITS: COTTONBRO / UNSPLASH
DISCLAIMER: We endeavour to always credit the correct original source of every image we use. If you think a credit may be incorrect, please contact us at info@sheerluxe.com.