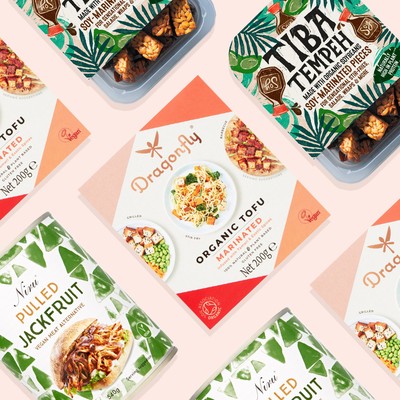 How To Cook With Meat Alternatives

Eating a plant-based diet no longer means sticking to vegetables and pulses only. The meatless 'meat' industry is bigger than ever, with burgers, faux fish, chick'n, stir-fry strips and seitan all available at your local supermarket. To find out how to use these plant-based products, we asked two vegans to share their tips and sourced nine must-try recipes, plus all the key ingredients.

First up, what does a balanced plant-based diet look like?
"I converted to a plant-based diet a few months in from joining Future Farm. The facts and figures of what the meat industry does to our planet were hard to shut out, and the health benefits were too huge to ignore. Plant-based diets have always been up for debate, and over the years, a history of myths have been floating around painting a plant-based diet in a negative light. For example, 'You can't get enough protein from plants' – this is a myth. Half a cup of beans has about the same amount of protein as one ounce of meat. For me, following a balanced plant-based diet means eating lots of fresh fruit and vegetables each day, I choose healthy vegan alternatives, I opt for wholegrain where I can and choose low sugar options. I make sure to get my intake of nuts, beans and vitamins. If you're thinking of adopting a plant-based diet, I would seek professional advice and make sure you're consuming all the vitamins, nutrients and minerals to fully 'feed' your body." – Pedro Zuim, Future Farm 
"I eat a very varied diet full of lots of good-quality carbs, fruits and vegetables. Using more natural wholefoods in recipes actually encourages you to be a bit more creative in the kitchen, which results in getting loads of different nutrients from different healthy, plant-based products such as vegetables and lentils." – Gaz Oakley, Avant-Garde Vegan
What are the best meat substitutes out there?
"There are so many different substitutes nowadays, you can find an alternative to pretty much every meat or fish product out there. Everything from burgers, steaks, sausages, tuna, ribs – the list goes on. However, it's important not to solely eat these products. Treat them as you would meat: you wouldn't live off sausages, so don't eat vegan sausages every day. I really rate Merchant Gourmet, and I think its pre-cooked and flavoured pouches are great for anyone looking to easily incorporate more wholefoods such as lentils and grains into their diet. Its range offers a good source of protein and fibre, making them great for those looking to eat more plant-based food or cut down on their meat intake in a simple, no-fuss way, without compromising on taste or nutrition." – Gaz
"Future Farm produces meatless 'meat', which is indistinguishable from meat and uses 100% natural ingredients like peas and soya. We've recently launched our 2030 range of burgers, meatballs and mince with a new mix of natural extracts to ensure a lighter flavour. We've added canola oil and coconut fat for added nutritious benefits. The coconut fat soaks into the burgers to give them a juicier, oozier, meatier taste and it's the first on the market to perfectly emulate rare, medium, and well-done cooking points." – Pedro 
What's the best way to work with lentils, chickpeas and other pulses?
"Pulses are high in protein, so a great replacement for meat. Lentils also have a fantastic texture that is similar to meat, which is great for chilli non-carne, plant-based spaghetti bolognese, stews, vegan lasagne and more. Chickpeas are versatile too, and you can stir them together with cooked beans into curries, make hummus, fritters, burgers and so much more. Eating substantial vegan foods, such as pulses and lentils, really help to fill you up. They're really high in fibre, which is great to keep you full, and also high in protein to ensure you're not missing out." – Gaz
What can you tell us about…
Seitan
"Made from wheat gluten, this plant-based meat substitute has a chicken consistency. A lot of vegan fast-food joints are using this substitute to make juicy and crispy chicken-like burgers and nuggets. It honestly tastes like the real thing. To incorporate seitan simply, buy it prepared from the supermarket and season or marinate with your favourite spices. Fry, roast or bake – it's as simple as that." – Pedro
"Seiten is a vegan protein and has been eaten in Asia for centuries by meat-free communities. It can be purchased in flour form called vital wheat gluten; you can then get creative with it. Depending on the type of 'meat' I'm trying to create, I add certain flavours to the vital wheat gluten, then I form it into a dough and knead it, which creates a meat like texture after cooking." – Gaz 
Meat-Free Mince
"'Mince' is made from vegetable protein like soy, pea and chickpea. Personally, I think swapping meat-based mince for plant-based 'mince' is the easiest swap to do for your bolognese, lasagnes, shepherd's pie and so on, as all you need to do is cook it in the same way." – Pedro 
Jackfruit
"Jackfruit is a large fruit grown in tropical climates, and like tofu and tempeh it has been used across Asian cuisines for centuries. It has become very popular in the plant-based community because it has quite a meaty texture thanks to its fibres. It's often used to replicate dishes like pulled pork. In the UK, I buy young jackfruit in tins, then squeeze the liquid out and use it to make vegan chicken pieces or simply stir it into curries and stews with lots of beans, pulses and lentils. I love jackfruit. It's high in iron, calcium and potassium too." – Gaz
Tempeh
"Tempeh is made by pressing the whole cooked soybean together, it's then left to ferment. This results in a high protein content, compared to tofu, as the whole bean is used. It has a nutty taste and again absorbs flavour really well. I love to marinade it and then grill it." – Gaz
Tofu
"Tofu is just soya bean curd, simply made by adding a coagulant to hot fresh soy milk. You then press the curds together to form a block: depending on how long and how much pressure you apply when pressing depends on how firm the tofu will be. These days, it's really easy to find at all supermarkets and comes in different styles such as silken (very silky soft tofu, not meaty at all), medium (great for making fried tofu and scrambled tofu) and firm (has a much more of a meaty texture, when cooked right can have a similar texture to chicken). I really like making a lentil dal with tofu 'chicken' – it creates such a nice texture and is perfect with naan, salad, chutney and lime." – Gaz 
Finally, it's BBQ season. Any ideas for a plant-based gathering?
"Prepare marinades in advance. You can use any flavours you like. I personally love either a curried plant-based yoghurt marinade or a pepper piri-piri style marinade – they both enhance the flavour of whatever you're grilling. Season your plant-based burgers before they reach the BBQ. I play around with all my dried herbs and spices for added flavour. Finally, prepare tasty garnishes ahead of time, such as coleslaw, salads, dips and fried onions. These can all be made ahead of time, saving you time during the BBQ itself." – Gaz
Inspired to give meat substitutes a go? Here's everything you need to buy…
Got everything you need? Here are nine recipes to try at home…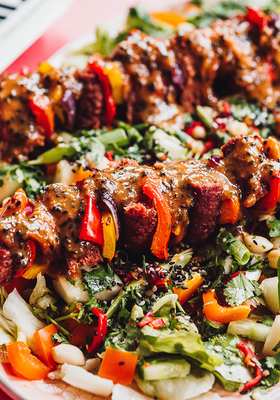 Satay Skewers With Thai Salad: Food Stylist Sam Jones, No Meat Disco
Ingredients
For the skewers:

1

Future Farms burger, or other vegan burger of your choice
For the satay sauce:

1

tbsp

of black sesame seeds
For the Thai salad:

1

bunch of coriander chopped
For the Thai salad dressing:

1

bunch of coriander, finely chopped
1

tbsp

of sweet chilli sauce
½

red chilli, finely chopped
Method
Step 1
Start by adding your chopped red and yellow peppers and red onion for the skewers into the oven to roast for 20 minutes.

Step 2
Next, start preparing your salad dressing. Mix all the Thai salad dressing ingredients into a little jar. Seal the lid and shake for 1 minute.

Step 3
Now make the satay sauce by adding all the ingredients for that in a small jar and shaking for a minute to combine.

Step 4
Grab a skillet and fry the burgers for 3-4 minutes on each side until browned.

Step 5
Once the peppers and red onion are roasted, chop your cooked burgers into quartered chunks and add them to a wooden skewer along with the peppers and onions. You should have enough for 2 skewers. You can always put these on a BBQ or grill instead of roasting.

Step 6
Drizzle the salad dressing on top of the salad. Top the salad with the skewers and drizzle the satay sauce on top of the skewers and serve.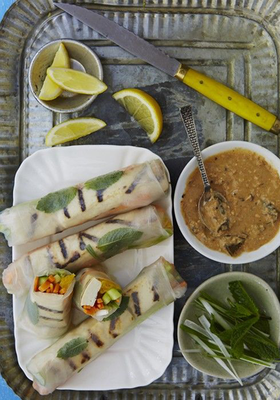 Grilled Tofu Summer Rolls With Spicy Peanut Sauce: The Spice Tailor
Ingredients
For the summer rolls:

1

large carrot, peeled and grated coarsely
4

-inch segment of cucumber, sliced and cut into thin matchsticks
1

handful of fresh mint leaves, larger ones torn
1

large spring onion, cut into

3

" lengths and finely sliced lengthways
2

tangerines, peeled and segments opened
For the dipping sauce:

5

tbsp

of The Spice Tailor Peanut & Tamarind Chutni
1

½

tsp

of dark soy sauce
1

½

tsp

of lemon or lime juice
Method
Step 1
Heat a non-stick griddle pan. Cut the tofu small rectangles. Pat well with several layers of kitchen roll to take out some of their moisture. Place the tofu on the griddle pan and cook until the underside has lovely brown bars on them. Turn and repeat with the other side.

Step 2
Meanwhile, make the dipping sauce. Stir together all the ingredients, adjusting the consistency until it's creamy, but not thick. Taste and adjust, lemon juice or coconut to taste.

Step 3
Once the tofu is done, place straight into the soy sauce (you're not seasoning with anything else so you can allow them to soak in a little).

Step 4
Place your rice rolls, two at a time, in a deep plate of water until just soft. Place them flat on some kitchen roll to dry slightly and place on your work surface. Place six to seven cucumber shreds in a line in the centre of each, leaving a 1-inch border at the top and bottom. Follow with some spring onion and one teaspoon or so of carrot, then two to three mint leaves, one to two tangerine pieces and finally the tofu. Fold in the top and bottom and then one side and roll, keeping it tight, the whole thing so that it is like a spring roll. Cover with some damp kitchen roll as you finish the rest. Serve as they are or halved with the dipping sauce.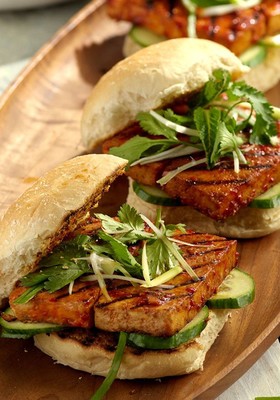 Spicy Garlic Tofu Burgers: Lee Kum Kee
Ingredients
2

packs of extra firm tofu, approx.

396g

each
Oil, vegetable, sunflower or rapeseed
For the marinade:

2

medium cloves garlic, grated or crushed
2

tbsp

of grated fresh ginger
For the glaze:

2

tbsp

of chilli garlic sauce
Method
Step 1
Cut the tofu into 1cm slices. Lay a clean tea towel on a board, place the tofu on top then cover with another clean tea towel. Place a second board on top with a weight e.g. cans, and leave for 1 hour. Alternatively use 3-4 pieces of paper towel.

Step 2
In a shallow dish mix all the marinade ingredients together, add the tofu, turn to coat both sides then allow to marinate for 30 minutes or overnight if preferred.

Step 3
To cook, light your BBQ. If you are using charcoal make sure they are fully lit and all the flames have died down. Take the tofu out of the marinade and brush each side with a little oil. Place the tofu on the hottest part of the grill and cook for 2 minutes before turning. Cook on the other side for 2 minutes or until slightly charred.

Step 4
Mix the glaze then brush onto the BBQ tofu slices before serving. Arrange slices of cucumber and mint leaves on the soft buns, adding the BBQ tofu and topping with salad leaves.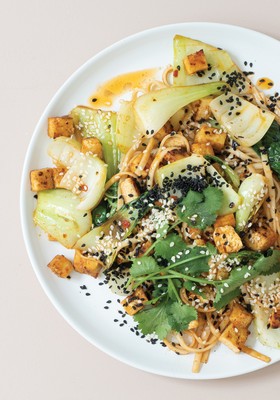 Lisboa Noodles With Crispy Tofu: Nina Parker, Saucy
Ingredients
200g

of udon noodles or any
 of your choice
240g

of firm tofu, cut into

2cm

cubes
2

pinches of dried chilli flakes
A small bunch of coriander leaves, roughly chopped
4

pak choi, trimmed and roughly chopped
2

tbsp

of toasted sesame oil
For the marinade:

4

tbsp

of toasted sesame oil
2

tbsp

of grated garlic (about

2

cloves)
8

tbsp

of lime juice (about

1

lime)
2

pinches of dried chilli flakes
3

tbsp

of soya sauce (I use tamari)
Method
Step 1
In a small bowl, mix all the ingredients together for the marinade.

Step 2
Cook the noodles according to the packet's instructions and drain.

Step 3
In a large frying pan, add half the sunflower oil and half the tofu cubes.

Step 4
Fry, turning each one when each side is crispy.

Step 5
Season generously with salt, pepper and chilli flakes. This will take about 5 minutes (make sure about half the sides are golden).

Step 6
Transfer to a plate and fry the second batch in the same way. Then, add the sesame oil to the pan and add the pak choi. Fry for about 1 minute to soften before adding the tofu and noodles back into the pan.

Step 7
Squeeze over half a lime and the marinade.

Step 8
Toss everything together for 30 seconds to cook the garlic a little and soften the taste. Then mix in the coriander and serve.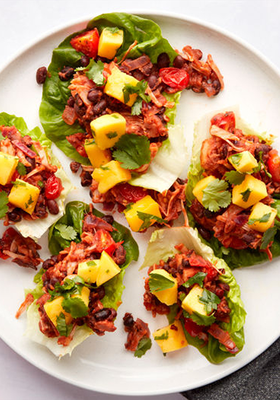 Spiced Jackfruit Lettuce Boats & Mango Salsa: Mindful Chef
Ingredients
240g

of black beans (drained)
250g

of jackfruit (drained)
2

sachets of tomato purée
Medium handful of fresh coriander
Method
Step 1
Boil a kettle. Finely dice the red onion and finely chop or crush the garlic. Cut the cherry tomatoes into quarters. Roughly chop the coriander leaves.

Step 2
Drain and rinse the jackfruit and black beans separately. Thinly slice the jackfruit and roughly chop.

Step 3
Heat a medium-sized pan with 1 tbsp of oil on a medium heat and cook the onion for 3 minutes, then add the garlic and jerk seasoning (it's spicy, so add to taste) and cook for a further 2 minutes. Add the jackfruit to the pan, stir to coat in the spice, then add the black beans, 200ml of boiling water, the tomato purée, cherry tomatoes and half of the coriander. Season with sea salt to taste and simmer with a lid on for 10 minutes, then remove the lid for a further 5 minutes. Add a little more boiling water if the sauce becomes too dry.

Step 4
Meanwhile, slice the end off the gem lettuce and separate the leaves.

Step 5
To make the mango salsa; slice the cheeks off the mango and cut the mango flesh into small cubes, removing the skin. In a small bowl, mix the mango with the juice from half the lime and the remaining coriander.

Step 6
Spoon the spiced jackfruit into the gem lettuce leaves, top with the mango salsa and serve on two warm plates. Drizzle over the remaining lime juice, to taste.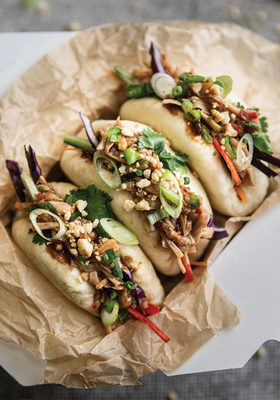 Jackfruit Hoisin Buns: Miele
Ingredients
For the filling:

2

small spring onions, sliced diagonally
½

red chilli, finely chopped
10g

of fresh ginger, grated
2

garlic cloves, finely chopped
1

tbsp

of tamari soy sauce
2

tbsp

of vegetable oil, for frying
Optional garnishes:

1

red chilli, thinly sliced
¼

cucumber, thinly sliced
¼

red cabbage, shredded finely
10g

of roasted peanuts, crushed or chopped
1

spring onion, sliced diagonally
A bunch of fresh coriander
Method
Step 1
For the filling: In a small bowl, mix together the tamari, rice vinegar, hoisin sauce and maple syrup to make the sauce.

Step 2
Drain the jackfruit and place in a large frying pan with vegetable oil and gently heat through for a minute. Add the spring onions, chilli, ginger, garlic and brown sugar, gently cook until caramelised.

Step 3
Add the contents of the frying pan to the sauce and combine well.

Step 4
Place the bowl into a Miele Gourmet Warming Drawer, programmed to the cooking function at 85°C and allow to cook through for four hours.

Step 5
For the buns: In a large mixing bowl combine the plain flour, dried yeast, sugar and salt. Add the lukewarm water and combine until a dough is formed. Once the dough is formed, knead for 10 minutes or until smooth. When smooth, place in a lightly greased bowl, cover with a damp tea towel and leave in a warm place for 1-2 hours or until doubled in size.

Step 6
While the dough is proving, prepare eight 5cm x 2cm squares of baking paper (this will prevent the two halves of the buns sticking together during the third prove/steaming).

Step 7
When the dough has doubled in size, tip it out onto a lightly floured surface and press the air out using your fingertips. Divide the dough into eight equal pieces and roll into balls. Place the balls onto a tray, cover with a damp towel and leave to prove for 30 minutes.

Step 8
After the second prove, use a rolling pin to roll the balls out into ½ cm thick ovals. Fold each oval in half and insert the square of baking paper between the two halves.

Step 9
Place the buns on a shallow perforated Miele Steam Tray lined with baking powder, cover with a damp tea towel and leave to prove for another 30 minutes.

Step 10
Place the buns into a Miele Steam Oven and steam for 10 minutes at 100°C.

Step 11
To serve: Fill each bun with the pulled jackfruit and optional garnishes to suit your taste. Top with crushed peanuts to finish.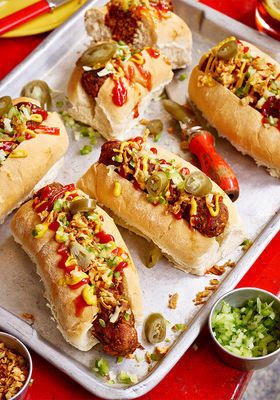 Lentil Hotdogs: Gaz Oakley
Ingredients
2

cloves of garlic, minced
2

portobello mushrooms, chopped small
1

pouch Merchant Gourmet puy lentils
100g

of cooked sweet potato
¼

tsp

of sweet smoked paprika
1

tbsp

of balsamic vinegar
5

tbsp

of heaped plain flour
¼

tsp

of cracked black pepper
Optional garnishes:

½

green pepper, finely chopped
Method
Step 1
First up, sauté the onion, garlic and mushrooms over a medium heat in a little olive oil until golden, make sure all the liquid has evaporated from the mushrooms. Once sautéed, transfer the mix from the pan to a bowl.

Step 2
Add the walnuts to your food processor and blitz them to a crumb. Next add the Merchant Gourmet puy lentils and sweet potato to the food processor, pulse 2-3 times to lightly break up the potato and lentils.

Step 3
Add the walnuts, sweet potato and lentils to the bowl with the mushrooms, onion and garlic, followed by all the remaining sausage ingredients. Mix well with a spatula. The sausage mix should be relatively dry but if your mixture feels too wet, add a little more flour or breadcrumbs.

Step 4
Lightly flour your hands then form the mixture into around 8-10 sausages.

Step 5
The sausages are now ready to be cooked on your BBQ, or alternatively in a non-stick frying pan or oven.

Step 6
For BBQ cooking, I recommend cooking the sausage over hot coals rather than a naked flame. Make sure your grill is clean and greased well with a little oil. Grill the sausages for 7-8 minutes turning them carefully every now and then.

Step 7
Alternatively, for cooking them in a pan, pre heat your non-stick frying pan over a medium heat and sauté the sausages for 8-10 minutes, turning them over every now and then.

Step 8
I serve my hot dogs topped with all my favourite trimmings such as finely chopped onion & pepper, crispy onion, mustard and ketchup.

Step 9
The sausages can be pre-made and stored in your fridge for up to 2-3 days before cooking.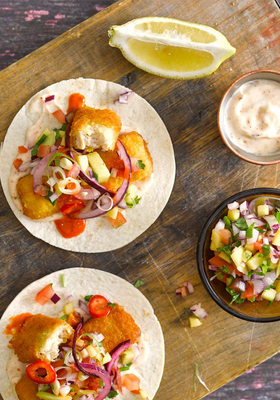 Fish Finger Tacos: Moving Mountains
Ingredients
1

pack of Moving Mountains Fish Fingers
1

tub of vegan sour cream
Method
Step 1
To make the mango salsa, begin by peeling or slicing the skin off of half of the mango. Slice the mango flesh off of that side and then dice into very small cubes. Cut the red onion in half and dice finely so that the pieces are the same size as the mango. Do the same with the fresh tomatoes and add a handful of chopped coriander. Add half a tbsp of Cajun spice and a squeeze of lemon and set to one side.

Step 2
Next, the pickled red onion. Use the remaining half of the red onion and slice finely. Add the red onion to a bowl and squeeze half of a lemon over it. Add a pinch of salt and massage it into the red onion. This can now be put to one side.

Step 3
To create a Cajun dressing, add 1 tbsp of Cajun spice and the juice of half a lemon to the tub of vegan sour cream. Stir until combined.

Step 4
Add 150ml of vegetable oil to a saucepan and place on a medium heat. Once hot enough add the fish fingers to the pan and shallow fry. Cook for a few minutes on either side until golden brown.

Step 5
Heat up the soft taco shells in the oven at 180ºC for 2 minutes.

Step 6
To serve, put the mango salsa, Cajun dressing, fish fingers, taco shells and pickled red onion on the table along with some sriracha mayo. Everyone can dig in and build the tacos themselves.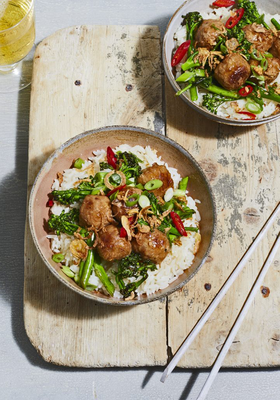 Ingredients
20

Moving Mountains Meatballs
3

garlic cloves, peeled and finely chopped
3

banana shallots, peeled and finely chopped
50g

of ginger, peeled and finely chopped
3

sticks of lemon grass, trimmed, crushed with the knife handle and finely sliced
¼

red chilli, seeds removed, finely sliced
½

tbsp

of rice flour/corn starch
1

cucumber, cut into

2

cm chunks
1

tsp

of rice wine or cider vinegar
160g

of broccoli, trimmed and roughly chopped
2

spring onions, trimmed and finely sliced
½

red chilli, seeds removed and finely sliced
Method
Step 1
Preheat the oven to 180°C/160°C Fan.

Step 2
Start with preparing the sticky sauce. Warm up the rapeseed oil in a medium-sized heavy base saucepan over a medium heat. Add the garlic, shallots, ginger, lemon grass and chilli and sweat for about 3 minutes, stirring constantly.

Step 3
Turn down the heat and add a splash of water, if you notice that the mixture starts to brown. Add the stock and water, then the maple syrup and soy sauce. Bring the sauce to a boil and simmer on a low heat for 15 minutes.

Step 4
Cook the meatballs. Spread them out on a small oven tray lined with baking parchment and bake for 10 minutes, until slightly browned.

Step 5
Make the cucumber salad. In a mixing bowl whisk together the soy sauce, sesame oil and vinegar. Add the cucumbers, stir and sprinkle the sesame seeds over.

Step 6
Warm up the rapeseed oil in a heavy base large frying pan over a medium heat. Add the broccoli and fry, shaking the pan occasionally, for 2-3 minutes, until they brown slightly. Add the soy sauce and stir again with a wooden spoon.

Step 7
Warm up the rapeseed oil in a heavy base large frying pan over a medium heat. Add the broccoli and fry, shaking the pan occasionally, for 2-3 minutes, until they brown slightly. Add the soy sauce and stir again with a wooden spoon.

Step 8
Strain the sauce and pour it back to the saucepan. Add 2 tbsp to a small bowl and mix with the rice flour, until all the lumps disappear. Add the thickener to your sauce and stir, until well combined.

Step 9
Add the meatballs in and cook for another 5 minutes or more, if you think the sauce is not thick enough. Stir continuously. Taste and season with a squeeze of lime and more soy sauce or maple syrup, if needed.

Step 10
Time to serve. Put the rice into 4 bowls, top with the broccoli, sticky meatballs, spring and fried onions. Serve with the cucumber salad on side.

DISCLAIMER: We endeavour to always credit the correct original source of every image we use. If you think a credit may be incorrect, please contact us at info@sheerluxe.com.