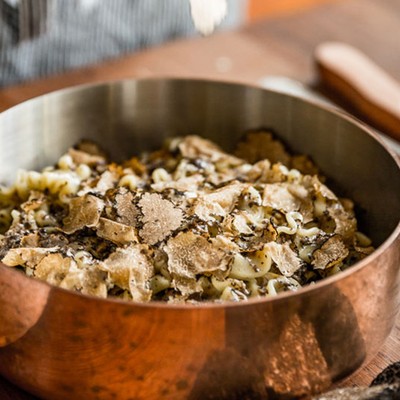 How To Cook With Truffle

Once the reserve of Michelin-starred restaurants, these days you'll find truffle in everything from shop-bought soup to small-batch popcorn. From the different varieties to the ways to use it at home, here's what you need to know about this luxurious ingredient…

What are truffles?
Truffles are underground fungi usually found in woodland. Many species are rare and edible, and as they're considered a delicacy, they're among some of the world's most expensive foods. Truffles are also difficult to grow commercially, which makes their earthy flavour synonymous with luxury. A single white truffle – one of the most prized varieties – once sold for £165,000.
In order to grow, truffles rely on being sniffed out and eaten by animals before being spread in their droppings. The aroma of truffles is designed to attract animals such as pigs – and these days, more commonly dogs – which have been used by truffle hunters for centuries to source this hard-to-find ingredient.
Why is now a good time to eat them?
Truffles are extremely seasonal. From now up until the end of December, it's white truffle season; and from then until March, it will be black truffle season. Due to its short seasonality, the lifespan of truffle is often prolonged by preserving it in oils, vinegars, sauces and pesto – making it a much more accessible product for the average buyer. 
Here, Bocca di Lupo founder chef Jacob Kenedy tells us why truffle is his favourite ingredient…
Why is truffle so loved?
As with many things, truffle is desirable because it's unattainable – white truffle is so expensive, for example. It's an ingredient for show-offs! But among its admirers, there are some true fans who actually value the scent and flavour, the way it acts as a link to a particular region, and the fact it's at its best for such a short period of time.
What is the flavour profile?
I'm talking here about white truffle, which is, to me, the earthbound equivalent of oysters. Eating an oyster is like tasting a rockpool. The flavour of truffle on the tongue is delicate – slightly mushroom-y and garlicky. It's the scent which is so exceptional – pungent, pervasive and, quite frankly, erotic.
Any quick dinner tips using truffle?
Take pretty much any bland and rich food, and shave white truffle over it – fried eggs, scrambled eggs, rich egg pasta drenched in butter, or risotto bianco. It's also great over white meats, beef or veal tartare, with anchovies, or even in delicate desserts. Shave it super-thinly over the food at the last minute – just be sure to clean it first.
Can you forage for it?
Yes, it is muddy and fun – I've done it using very unprofessional-looking people and very unprofessional-looking dogs, both of which turned out to be absolute experts in their field.
Visit BoccaDiLupo.com
 
Feeling inspired? Try four of our favourite truffle recipes, from lasagne to truffled artichoke soup…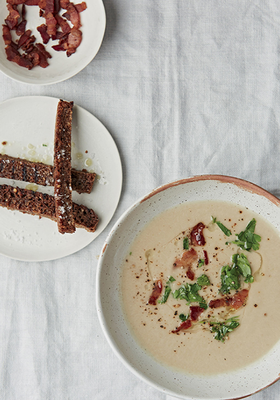 Jerusalem Artichoke & Truffle Soup with Rye Bread Croutons
Ingredients
For the soup:

600g

of Jerusalem artichokes
8

rashers of smoked streaky bacon, chopped
1lt

of chicken stock or water
For the croutons:

1

clove of garlic, crushed
4

thick slices of rye bread, cut into strips
½

tsp

of pink Himalayan salt or sea salt
White truffle oil, to drizzle
To serve:

4

rashers of smoked streaky bacon
2

tbsp

of finely chopped parsley
4

tbsp

of white truffle oil
Method
Step 1
Wash the artichokes well, then scrape off the thin outside layer with a kitchen knife. Cut the artichokes into thin slices and soak in water for 20 minutes, then drain.
Step 2
Heat the olive oil in a large saucepan. Add the onion and fry for a few minutes to soften, then add the chopped bacon and fry for another couple of minutes. Next add the artichokes and pour in the stock. Bring to a gentle boil, add the salt, and simmer for 20 minutes.
Step 3
While the soup is simmering, in a frying pan, heat the olive oil for the croutons and gently fry the garlic. Add the rye bread strips and sauté for about five minutes. Sprinkle with salt, then drain on kitchen towel until cooled and crispy. Just before serving, drizzle them with the truffle oil.
Step 4
In another frying pan, fry the four rashers of bacon until crispy, then remove from the pan, drain on kitchen towel and chop.
Step 5
Remove the soup from the heat, pour into a blender or food processor and blend to the desired consistency.
Step 6
Serve the soup with the bacon and chopped parsley sprinkled on top. Finally, drizzle each soup bowl with a little extra truffle oil and serve the rye bread croutons either on top or on the side.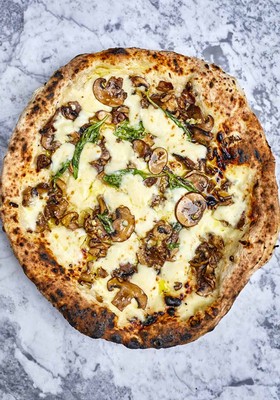 Roast Mushroom & Truffle Pizza
Ingredients
1

ball of Neapolitan pizza dough
1

tbsp

of good-quality olive oil
80g

of fior di latte mozzarella, torn or sliced
1

tbsp

of white truffle oil
For the mushroom mixture:

100ml

of good-quality olive oil
4

garlic cloves, finely chopped
500g

of chestnut mushrooms, finely sliced
Method
Step 1
First make the mushroom mixture by heating the olive oil and garlic gently in a saucepan. Allow the garlic to turn golden before adding the sliced mushrooms and salt. Fry until the mushrooms have softened and their liquid has been released.
Step 2
Take off the heat, tilt the mushrooms to one side of the pan and collect the mushroom juices in the other side of the pan. Stir the flour into the liquid until smooth and put back on the heat. Stir continuously until you have a thick liquor coating the mushrooms. Leave to cool.
Step 3
Preheat the grill to its absolute highest setting, and place a large, ovenproof frying pan over a high heat and let it get screaming hot.
Step 4
Meanwhile, flatten and stretch the dough ball to make a 10-inch pizza base.
Step 5
Lay the pizza base flat in the hot, dry frying pan, then spread with some mushroom mixture. Top with the basil, a grating of parmesan and the olive oil.
Step 6
Once the base of the pizza has browned, about 1-2 minutes, add the mozzarella, then place the frying pan under the grill on the highest shelf.
Step 7
Once the crust has taken on some colour, about 1-2 minutes, drizzle with the truffle oil and eat.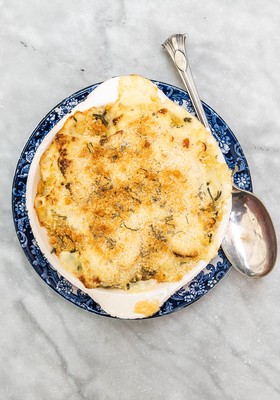 Cauliflower Cheese, Sage & Truffle Gratin
Ingredients
300g

of bechamel (see below)
150g

of panko breadcrumbs
80g

&

80g

of cheddar cheese, grated
Method
Step 1
For the bechamel, warm the milk together with spices. In a second pan, melt butter gently and as soon as its melted add flour. Continue stirring and cook through over medium to low heat, until the smell changes from raw to cooked biscuit. Slowly add in the milk and spices, a ladleful at a time, while continuing to stir vigorously, until all the milk is used up. Bring to the boil and remove from the heat. Sauce should be thick and silky. Pass through fine sieve and reserve.
Step 2
Meanwhile, cut the cauliflower into large florets and steam or blanche in salted water until cooked through. Refresh into iced water immediately. Once cold, drain well and set aside.
Step 3
Heat 300g of bechamel in a pan and stir through 80g of grated cheddar cheese until melted and combine. Take the cheesy bechamel off the heat and add in the steamed cauliflower. Stir until every piece of cauliflower is well coated.
Step 4
Tip all the cheesy bechamel-coated cauliflower into an ovenproof dish and set aside.
Step 5
To make the sage crumb, slice the sage finely and combine with panko crumbs and 80g of grated cheddar.
Step 6
Cover the top of cauliflower generously with the crumb and bake at 190°C for 15 minutes.
Step 7
As soon as the cauliflower cheese comes out of the oven, top with truffle oil – be as generous as you please. Serve immediately.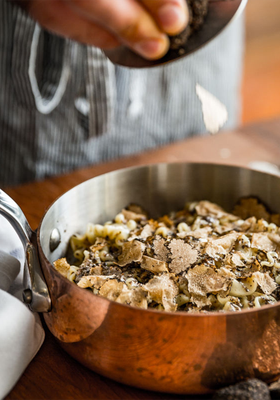 Mafaldine Al Tartufo Pasta
Ingredients
400g

of mafaldine, linguine or tagliatelle
20g

of autumn black truffle
200g

of button mushrooms, chopped
Method
Step 1
Melt the butter with the truffle oil in a frying pan. Add the shallot and half of the finely chopped truffle, then the chopped mushrooms. Let it brown for a few minutes, then deglaze with white wine, stirring well with a wooden spoon. Let it simmer on a low heat for 10 minutes, and then stir.
Step 2
In another saucepan, cook your pasta in boiling salted water, until it's a little less than al dente.
Step 3
Mix the mascarpone with the truffle cream in another saucepan and heat gently.
Step 4
Add the pasta, grated parmesan and a little bit of cooking water, if necessary.
Step 5
Serve immediately, garnishing with fine slithers of the remaining truffle (you can use a peeler for this).
Can't be bothered to cook? Here are three great truffle dishes to try across London…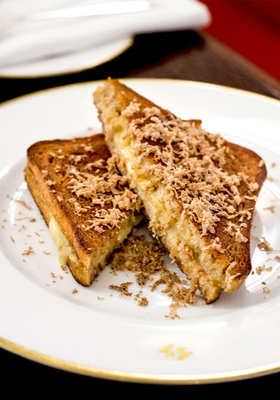 Truffle Toasted Cheese Sandwich at 45 Jermyn St.
This toasted cheese sandwich is the epitome of decadent comfort food. Homemade sourdough is filled with raclette cheese, whipped butter and truffle shavings before being topped with fresh shaved truffle at the table.
45 Jermyn Street, St James's, SW1Y 6JD
Visit 45JermynSt.com
Truffled Scrambled Eggs at Hide
At Michelin-starred Hide, truffles are an all-day affair. For breakfast, diners can enjoy Hide's scrambled eggs on toasted brioche with white truffle. For mains, guests can choose between black truffle pasta parcels and coco beans in a warm Spenwood broth or charcoal baked flatbread topped with lardo and black or white truffle.
85 Piccadilly, Mayfair, W1J 7NB
Visit Hide.co.uk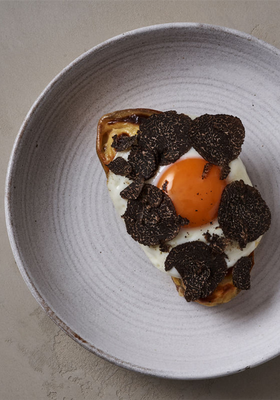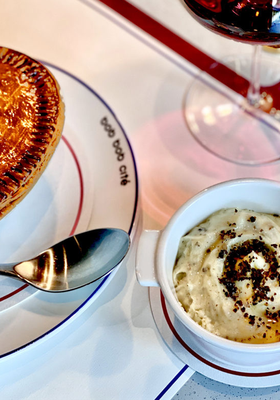 Truffled Pomme Pureé at Bob Bob Ricard City
A sister site to Anglo-French-Russian-themed Soho institution Bob Bob Ricard, this glossy City spot celebrates French elegance and opulence. That opulence is ramped up over truffle season, as the delicacy is dusted over frites, pomme pureé and even five-cheese macaroni. 
122 Leadenhall Street, City, EC3V 4AB
Visit BobBobRicard.com
Finally, here are the truffle-based products to fill your cupboards with…
DISCLAIMER: We endeavour to always credit the correct original source of every image we use. If you think a credit may be incorrect, please contact us at info@sheerluxe.com.