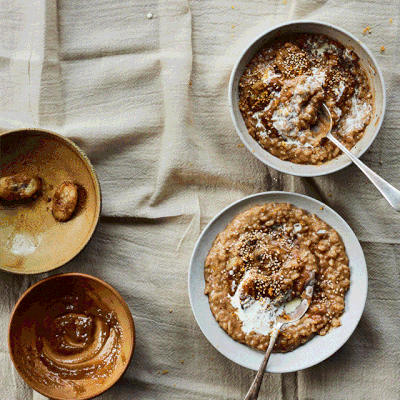 How To Eat Sustainably At Home

Sustainability in food is as important as sustainability in fashion, and if you're the kind of home cook who's looking to cut down on waste, you'll love award-winning chef Anna Jones's new book, which contains a host of reliable recipes designed to do just that. From miso banana rice pudding to aubergine and peanut stew, here she tells us more about cooking quickly and sustainably – all using just one pan.

All products on this page have been selected by our editorial team, however we may make commission on some products.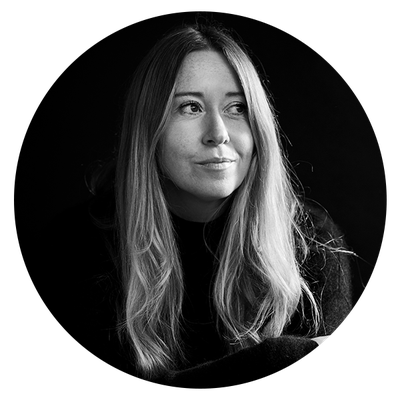 It seems the tide is finally beginning to turn against plastic. As the full realisation of what we are doing to our oceans begins to hit us, it's time to look at the wealth of alternatives out there, which often actually work better (and look nicer) than their plastic counterparts.
Even though consumers have become a lot more aware in the last year or two, the packaging industry has yet to catch up properly with viable alternatives to plastic. The facilities needed to process more environmental alternatives don't really exist yet, especially in the UK, and there is a wealth of confusing alternatives on offer which may not be any better, or could potentially be even worse, for the environment.
It's taken me some time to change my habits in the kitchen, and I am far from perfect still. I started buying in bulk many years ago, then I got re-useable water bottles and coffee cups. Next, I reduced the plastic packaging my food came in, then I moved away from cling film and finally I have tried to reduce the packaging I buy when I am travelling (which I have to say is the hardest bit). And I still end up buying punnets of berries in plastic for my son. But I try my best. 
Here are some more of Anna's tips for cutting down on plastic in the kitchen…
Buy in Bulk 
Wherever you can, buy dry goods and spices in bulk, but make sure you are being realistic about the amounts: overbuying and waste are also not the aim here. Save your old glass jars to refill with loose grains, lentils, nuts and seeds. If you can take them with you to the shop and fill them there all the better. 
Bottled Water
Keep glass bottles to fill with tap water which you can then keep in the fridge to save running the tap if you want cold water to drink. Use a charcoal filter inside the bottle to make the water taste better or run it though a water filter first (the Berky one is great). If you buy a lot of bottles of sparkling water, you could consider a Soda Stream to carbonate your own drinking water. 
Buy Loose Unpacked Fruit & Veg
Where you can, in the supermarket or the greengrocers, opt for loose, packaging-free fruit and veg. Use canvas bags, or clean totes to store vegetables in the fridge or freezer. This stops freezer burn and helps keep vegetables from drying out. This way you'll be more likely to buy what you need and in turn reduce your waste too. For soft fruits and veg, like berries and tomatoes, this can be harder, but some places use compostable paper punnets and compostable wrappers – look out for these if you can. 
Storage Containers
If you need new ones, go for glass rather than plastic (obviously don't throw away existing plastic ones; use them until they fall apart). Glass is a safer material to use for storing food as plastic can taint food. Also, consider enamel storage pots or baking trays, which can go straight from the oven into the fridge. More often than not, though, you can use an old jar or a bowl with a plate on top. 
Cling Film
This is one where you need to use your judgement, since food waste is potentially more harmful than using cling film. And there are really no viable alternatives for cling film in restaurant kitchens just yet. At home, you can use beeswax wraps instead and they work really well for covering cheese, sandwiches and bowls. They work less well for oily or tomato-based sauces as they can be hard to clean. Health-food stores and bulk shops sell beeswax wraps, and they are easy to find online. For wrapping pastry and dough while it rests – use a clean damp tea towel. Re-useable zip-lock bags are also now available and really useful for freezing and storing things where you might have used a throwaway zip-lock bag. 
Straws
Try straws actually made from straw (which is what they were named after in the first place) or stainless-steel straws. Refuse plastic or paper straws when out and about. Paper ones are not really much better for the environment and are mostly not biodegradable. Also, be mindful that some food outlets will stock plastic lids with non-plastic straws stuck in, which obviously is not a win for anyone. 
Bowl Covers
Linen bowl covers are a great way to avoid cling film too and they look nice. These can be easily made, too, if sewing is your thing. 
Cleaning Cloths
You can buy reusable cloths, which go in the washing machine rather than J-cloths and sponges (though these can be washed in the washing machine too, they just don't last as long). Ones made of natural fabrics and not plastic-derived are obviously the best choices. Use wooden-handled brushes for scrubbing pans and veg. Make your own all-purpose spray, too. Take an old spray bottle and fill it with a homemade kitchen cleaning spray by mixing 500ml (depending on the size of the spray bottle) of boiled water with 50ml of white vinegar and a few drops of essential oils, which you can switch up depending on the season.  
Inspired? Here are three tasty, waste-free recipes to try at home…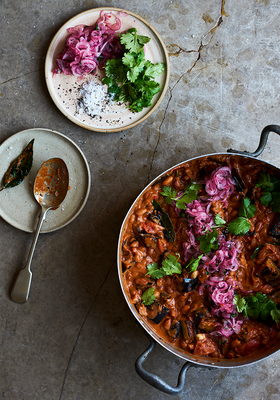 Aubergine & Peanut Stew With Pink Onions
Ingredients
150g

of unsalted red-skinned peanuts
2

medium aubergines, chopped
2

onions, peeled and thinly sliced
1

tsp

of ground coriander
1

tsp

of cayenne pepper or chilli powder
1

small bunch of coriander, stalks chopped and leaves kept whole
6

whole tomatoes, roughly chopped or a

400g

tin of chopped tomatoes
1

scotch bonnet chilli, finely chopped
500ml

of hot vegetable stock
For the pink onions:

1

tbsp

of caster sugar or honey
2

tbsp

of red wine vinegar
To serve:

1

small bunch of coriander, chopped
Method
Step 1
In a heatproof bowl, soak the peanuts in 500ml of boiling water, leaving until they need to be added to the stew.

Step 2
Put a large saucepan or casserole dish over your highest heat, add the chopped aubergines and dry-fry, turning regularly until browned on all sides. This will take about 5-6 minutes and you may need to do it in batches depending on the size of your pan.

Step 3
If you have been cooking in batches, add all the aubergines back to the pan, then add the oil and fry for a further 5 minutes, adding more oil if it looks a little dry. Next, add the white onions to the pan and cook over a medium heat for another 10 minutes until the onions are soft and sweet.

Step 4
Add the spices, bay leaves and coriander stalks and fry for a minute more. Add the chopped tomatoes and puree and fry for a couple of minutes, stirring from time to time so nothing sticks.

Step 5
Add most of the chilli and all of the vegetable stock. Drain the peanuts and add to the pan, then simmer over a medium heat for 10-15 minutes until you have a thick sauce.

Step 6
While the stew is ready, stir in the peanut butter. Drain the liquid from the onions and stir it into the stew a tablespoon at a time until it is the right level of acidity. Add a little more hot stock or water if it's too thick. Taste and season with salt and black pepper, ladle into bowls, top with the pink onions and coriander, and serve with rice or flatbreads.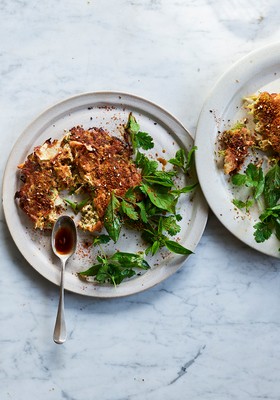 Ingredients
1

small bunch of spring onions, thinly sliced
2

tbsp

of toasted sesame seeds
1

small bunch of coriander, mint or Thai basil, roughly chopped
2

tbsp

of kimchi, roughly chopped (optional)
For the batter:

1

tbsp

of rice flour or cornflour
2

tsp

of white miso paste
2

cloves of garlic, crushed
1

small thumb-sized piece of ginger, peeled and finely chopped
1

tbsp

of soy sauce or tamari
For the dipping sauce:

2

tbsp

of soy sauce or tamari
Method
Step 1
Using a food processor fitted with a slicer attachment, a mandoline or just your knife, shred your cabbage and spring onions. Tip the lot into a large mixing bowl with the grated carrot and the toasted sesame seeds, most of the chopped herbs (reserving a few for later) and the chopped kimchi, if using.
Step 2
Put all the batter ingredients, expect the oil, in a food processor with 300ml of cold water, with the blade attachment fitted, and pulse until the batter is combined, or beat together in a mixing bowl. Pour over the top of the vegetables and mix well. Let your batter rest of 30 minutes, if you can.
Step 3
Mix the dipping sauce ingredients together with 1 tbsp of cold water in a small bowl.
Step 4
Put a small, heavy-based frying pan (about 20cm) over a medium-high heat, add a little coconut or vegetable oil to the pan, and a ladleful of batter. This recipe makes 6-8 pancakes, and each should be about the thickness of a pound coin. Use the back of a spoon to spread it out to the edges if needed. Cook each pancake for 2-3 minutes – until golden underneath and there are bubbled on the top – then flip. The pancakes should be golden brown and the vegetables should be just cooked but still keep some bite.
Step 5
Serve with the remaining herbs and dipping sauce on the side.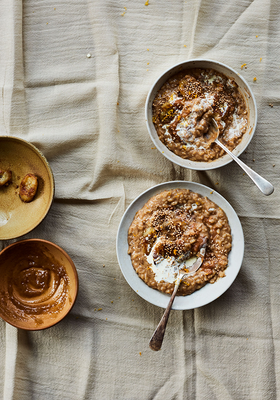 Miso & Caramelised Banana Rice Pudding
Ingredients
3

ripe bananas, peeled and mashed
100g

of soft light brown sugar
300g

of white pudding rice
2

cardamom pods, split open at the side with a knife
800ml

of oat milk, or any milk of your choice
1

tsp

of white miso paste
Zest and juice of

1

clementine or mandarin
To serve:

100g

of toasted sesame seeds
Method
Step 1
Put the mashed bananas and sugar into a medium-sized lidded pan over a medium heat and cook for 5-7 minutes, until the sugar has dissolved and caramelised. Keep stirring until thick and glossy. Remove 4 tbsp of the banana caramel and set aside for later.
Step 2
Add the rice to the pan and stir through the banana caramel for a couple of minutes. Add the spices, milk and vanilla extract and bring to the boil. Once boiling, place a lid on the pan and simmer gently for 25 minutes, stirring frequently so it doesn't stick.
Step 3
Mix the miso and reserved banana caramel with the juice and half the zest of the clementine and combine until you have a thin, glossy caramel.
Step 4
Once the rice is cooked, divide it between warm bowls, swirl the miso caramel through each one, and top with sesame seeds and the rest of the zest.
DISCLAIMER: We endeavour to always credit the correct original source of every image we use. If you think a credit may be incorrect, please contact us at info@sheerluxe.com.