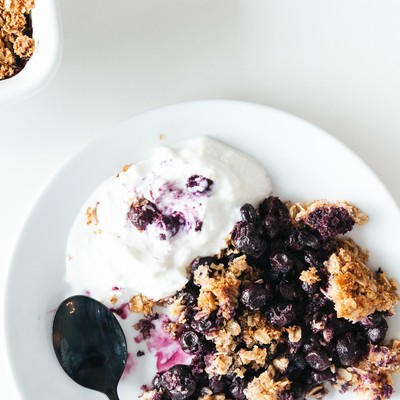 How To Make A Great Fruit Crumble

There are few desserts more comforting than a crumble – especially at this time of year. With apples, figs, pears, blackberries and plums all in season, now's the time to make the most of them. From a dark chocolate and orange take to a toffee apple option and a crumble cheesecake, here are the top crumble recipes from some of our favourite food pros.

Willie Harcourt-Cooze, Willie's Cacao
"You can try almost any combination of fruits for making dark chocolate crumbles, just add some dark chocolate or cacao in the crumble to add some depth of flavour. In England, stick with the seasons and go for classics like rhubarb. Preheat the oven to 200°C. Put 900g of rhubarb in a shallow ovenproof dish. Toss with the grated zest and juice of ½ orange and 125 of caster sugar. Cover the dish with foil and bake for about 25 minutes, or until the rhubarb is starting to soften. While the rhubarb is softening, rub butter into flour and sugar in a large bowl until the mixture resembles breadcrumbs. Melt the chocolate in a bain-marie and stir into the flour and sugar. Take the rhubarb out of the oven and remove the foil. Sprinkle the crumble mixture over the rhubarb and return the dish to the oven for a further 25-30 minutes or until the crumble topping is beginning to crisp and the rhubarb juices bubble up around the edges to make a glossy chocolate sauce. Serve with chilled double cream or vanilla ice-cream." 
Visit WilliesCacao.com
Darren Cafferty, The Engine Rooms
"My two favourite crumble combinations are a nutty, oat-y, spiced apple crumble, and an afternoon tea-inspired version with apples, raspberry jam, a scone crumble, earl grey sultanas and pouring clotted cream. For the nutty crumble, my top tip is to brown off some butter in a pan to add to the nuts once cooled, which will intensify the nuttiness of the crumble. Make sure to toast the hazelnuts and pecans whole, before coarsely chopping and mixing with flaked almonds, a small pinch of Maldon sea salt and the melted butter. This will create delicious nutty clusters. My afternoon tea crumble is pure luxury. When making the crumble mix, substitute part of the butter for clotted cream. It's a bit like a cobbler, but better. Using apple juice, alongside fresh Granny Smith apples, earl grey-soaked sultanas, and raspberry jam will give the dish an extra boost of flavour." 
Visit TheEngineRooms.co.uk
Brit Woodruff, Naturally B
"If you're after a snack, try these apple crumble muffins. Preheat the oven at 180°C and line a baking tray with muffin cases. Make the crumble first by whisking 1 cup of buckwheat flour, ¾ cup of coconut sugar, 1 tsp of cinnamon, ½ cup of flaked almonds and 6 tbsp of melted vegan butter until the mixture comes together. Once the mixture has come together take the mixture out and break it up slightly by rubbing your fingers through the crumble. In a cup, add the juice of one lemon and ½ cup of almond milk, stir and then set aside for a few minutes. In a separate mixing bowl whisk in ½ cup of avocado oil, ¾ cup of coconut sugar and ½ cup of almond milk together until combined. Then whisk in 2 eggs and 1 tsp of vanilla extract. In a separate bowl, stir together 2 cups of buckwheat flour, 2 tsp of cinnamon, 2 tsp of baking powder and a pinch of salt. Gently stir the flour mixture into the wet mixture until all combined, then fold in the apple pieces. Spoon the batter into the muffin cases and add the crumble to the tops of the muffins. Bake for 25 minutes or until a toothpick comes out clean. Leave to cool and enjoy." 
Visit Dualit.com
Jenni Iannetta, Bad Girl Bakery 
"A baked crumble topping is a great way to add texture and flavour to other bakes. We use our crumble topping recipe to top our apple crumble cupcakes and rhubarb and custard brioche tarts. You can also use it to top muffins or sprinkle over ice-cream. You can replace some of the flour in your recipe with oats if you fancy and adding nuts gives it a lovely crunch and taste. Crumble topping freezes really well, so it's always worth making a double batch and freezing some for another day. For a super quick last-minute pudding you can use mixed frozen fruit." 
Visit KitchenPress.co.uk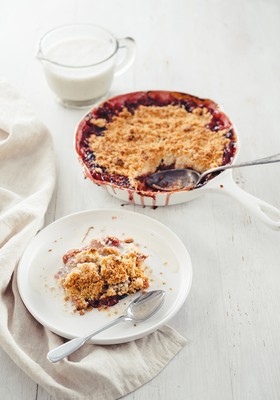 INA PETERS/STOCKSY UNITED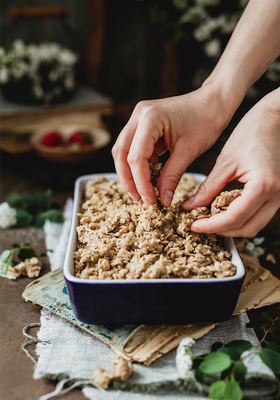 TATJANA ZLATKOVIC/STOCKSY UNITED
Easy Peasy Bakes
"For an autumnal twist, try this take on a toffee apple crumble. Preheat the oven to 180°C Fan. Place 150g of toffees in a saucepan with 2 tbsp of water over a medium heat and stir continuously with the wooden spoon until melted and combined. Add seven apples, cut into wedges, and coat them evenly in the toffee and cook for a few minutes before transferring to the baking dish. In the mixing bowl, bring 200g of plain flour, 100g of unsalted butter and 100g of demerara sugar together by rubbing it between your fingertips. Once a crumble consistency is achieved, sprinkle the mixture evenly over the top of the toffee apple mixture in the baking dish. Bake for 30 minutes until golden and crisp on top. Serve with vanilla ice cream or custard."
Visit FabFlour.co.uk
Humble Crumble
"Now's the time of year for a sloe berry, strawberry and mint crumble. Smash 100g of sloe berries (macerated in gin for at least one week) into a puree. Remove the tops off your strawberries. Leave them whole. Place the strawberries, sloe puree, mint and a few grinds of pepper into a pan. Add 150g of water and stew the fruits for 15-20 minutes on a low heat. Stir occasionally. Meanwhile, make your crumble topping. Mix 150g of flour and 75g of sugar together, then add 75g of butter and rub until it resembles breadcrumbs. If you want a crunchy crumble, place the crumble topping on a tray and bake in the oven at 180°C for 16 minutes first. Once cooked, you can assemble your crumble with your desired fruit to crumble ratio. If you prefer a soft crumble, place the crumble mix on the fruit and cook in the oven for 20 minutes." 
Visit Humble-Crumble.com
Laurie Gear, Artichoke
"To make the ultimate crumble topping, preheat the oven to 200°C.  Sift 120g of flour then rub in 120g of butter until a light breadcrumbs texture is achieved. Mix in 60g of chopped walnuts, scatter the mix onto a baking sheet and cook for approximately 15 minutes until golden brown. Set aside to cool. To make an autumnal compote, put 20ml of water and 30ml of orange juice into a large pan and add 3 tsp of cardamom and 4 all-spice berries. Bring to the boil, take off the heat and leave to infuse for half an hour. Pour through a sieve into a pan to pass off the pods and berries, add 85g of sugar to the liquid allow to soak in. Over a medium-high heat, cook the sugar syrup to a light blond caramel. Remove from the heat, and mix in 60g of cold butter, before adding apple and pear cubes, 1 tsp of ground cinnamon, a couple of fine grates of nutmeg and 2 tsp of grated ginger. Cook for around 8 to 10 minutes. Mix sliced figs into the hot apple and pear compote and set aside to cool. When ready to serve, place your compote into ovenproof bowls before scattering over your crumble topping. Bake in a medium hot oven for 10 minutes before serving – Dorset clotted cream is the only thing to serve this crumble with for me! However, some good-quality thick Greek yoghurt with a spoon or two of honey mixed through works wonders as a cooling accompaniment." 
Visit ArtichokeRestaurant.co.uk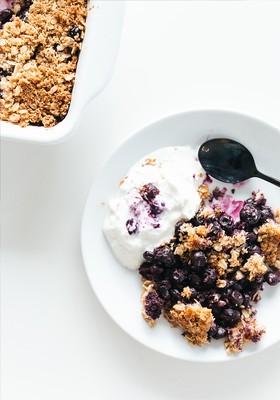 SOPHIA HSIN/STOCKSY UNITED
Brett Cobley, What Vegans Eat
"Here's a great recipe for a peach vegan bake. Preheat the oven to 180°C. Cut three ripe peaches in half and remove the stones, then slice each peach into 12. Place the peach slices in an even layer on a 22cm baking dish. Place 120g of self-raising flour, 60g of rolled oats, 90g of vegan butter and 90g of soft brown sugar into a large bowl and use your fingers to work everything together into a crumbly mix but don't overdo it – you don't want it to get too warm. If the mixture feels too wet, try adding some more dry ingredients. Spread the crumble mix over the peaches evenly and bake in the oven for 35 minutes. Serve with vegan cream, ice-cream or custard." 
Visit BrettCobley.com
Ligia Lugo, The Daring Kitchen 
"For something light, try making a lemon crumble. Start by rubbing 125g of butter, 125g of sugar, 125g of self-raising flour and 1½ cups of desiccated coconut together. Press half of the mix into a pie plate. To make the filling, blend 125g of sugar, ½ tsp of salt and 3 tbsp of cornflour with a little milk. Heat the 2 cups of milk, then add the cornflour mixture to make a custard. Cook it until it thickens. Add 1 tsp of grated lemon rind, ½ cup of lemon juice and 2 tbsp of butter, then add 2 lightly beaten eggs. Pour the mix over the crumb crust and then sprinkle the remaining half of the crumble on top of the mixture. Bake for 20 minutes at 180°C or until set." 
Visit TheDaringKitchen.com
Rude Health
"This simple, seasonal crumble uses barley flakes instead of oats. The barley adds a crunchy, nutty flavour and is the star of the wholegrain, seeded topping. Get creative with your fruit filling, depending on the season, and/or make the crumble gluten free by substituting with oat flour. Preheat the oven to 180°C. Combine 3 sliced ripe pears, 150g of blueberries, the zest of 1 orange, the juice of ½ orange, 2cm piece of grated ginger, 1 tsp of ground cinnamon, ¼ tsp of ground cardamom, 1 tbsp of Rude Health sprouted wholewheat flour and ½ tbsp of coconut sugar into a bowl and mix until well combined. Put the filling in a rectangular ovenproof dish. Using your hands, combine 75g of Rude Health barley flakes, 75g of Rude Health sprouted wholewheat flour, 75g of mixed seeds, 75g of coconut sugar, 75g of coconut oil and 1 tsp of cinnamon, making sure to incorporate the coconut oil until you have a breadcrumb-like mixture. Sprinkle the topping over the filling and place the dish in the oven. Bake for 25-30 minutes until the fruit filling bubbles and the topping is golden and crisp. Serve warm with custard, cream or ice-cream." 
Visit RudeHealth.com
Moyra Fraser, Bonne Maman
"For a true twist on a crumble, try this berry crumble cheesecake. Preheat the oven to 180°C. Line the base and sides of a deep, 20cm loose based springform cake tin with greaseproof paper. Put 8 tbsp of Bonne Maman strawberry conserve in a small saucepan with 50ml of orange juice and stir over a low heat. Bring to the boil and bubble gently for 5 minutes until reduced by about half. Add in 150g of blackberries and leave to cool. Rub 25g of butter and 25g of caster sugar into 40g of flour. Stir in 25g of granola and spread out on the foil-lined baking sheet. Bake in the oven for 10-12 minutes until golden brown. Leave to cool, then break into rough crumbs with a fork. Reduce the oven temperature to 170°C. Melt the remaining butter in a saucepan and stir in 180g of crushed Bonne Maman galette biscuits. Press the crumbs over the base of the lined tin and set aside. Beat together 150g of goats' cheese, 450g of cream cheese, 4 large eggs, zest of 1 orange and 75g of sugar with 75g of sour cream until smooth. Spoon onto the biscuit base and bake for 1¼ hours in the oven. Open the oven door and pull the cheesecake out a little. Drizzle the blackberries and their liquid randomly over the surface and return to the oven for a further 1-1¼ hours until the cheesecake feels just firm when touched in the centre. Sprinkle over the crumble mixture, leave to cool and dust with icing sugar before serving." 
Visit BonneMaman.co.uk
DISCLAIMER: We endeavour to always credit the correct original source of every image we use. If you think a credit may be incorrect, please contact us at info@sheerluxe.com.