How To Make Great Greek Food At Home

The Greek isles might be off limits for a little while longer, but that doesn't mean you can't recreate the experience at home. With warmer weather on the way, we've enlisted the help of Asimakis Chaniotis – executive chef at Michelin-starred Pied à Terre – to talk us through the essential ingredients and – crucially – what to do with them to make your own Mediterranean feast…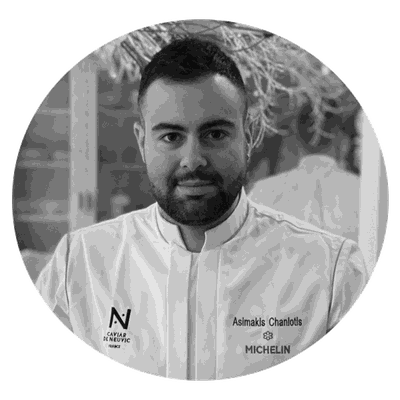 What are the health benefits of a Greek diet?
A Greek diet includes lots of vegetables, fruits, beans and cereals, like wholegrain bread, pasta and brown rice. It also contains moderate amounts of fish, white meat and some dairy.
It's the combination of all these elements that seems to equate to health benefits, but one of the key aspects is the inclusion of healthy fats. Olive oil, which is a monounsaturated fat, is most commonly associated with the Greek diet, but polyunsaturated fats are also present in nuts, seeds and oily fish.
Research into the traditional Greek diet has shown it can reduce the risk of developing conditions like type 2 diabetes, high blood pressure and high cholesterol, which are all risk factors for heart disease. They've also found that people who closely follow a Greek diet may live a longer life and be less likely to put on weight – lucky me!
What are the store cupboard staples for a home cook new to Greek cooking?
Everything mentioned above, plus dried fruits and herbs and a lot of vegetables, in particular onions, garlic and aubergines. Lentil soups, vegetable stews with herbs, and salads with vegetables and olive oil are just some of the dishes you could make with these ingredients. Ancient Greeks ate mostly vegan food, hence why it's often considered one of the healthiest diets. They would only have eaten meat and fish, such as beef or white grouper, once or twice a week.
What can you do with each ingredient?
Olive oil: Olive oil is a very sacred ingredient for Greeks – extra virgin olive oil can really lift a dish to heaven. It gives an amazing flavour to soups just before you serve them. It's really the perfect finishing touch to any dish. 
Feta: Real feta cheese is a pretty strong ingredient with sour and salty flavours. It needs to be used cautiously, as it can overpower everything else on the table. I like using it grated on top of a nice cold piece of watermelon. 
Olives: The foundation of Greek cuisine. Salty, brined olives are the perfect snack before your meal, accompanied by a martini. I always dice them up and incorporate into pasta dishes.
Honey: I remember my uncle making honey every year. I used to join in and eat the honeycomb. Honey makes for a great garnish. I like it with yogurt ice-cream.
Yoghurt: Greek yogurt is hung, and therefore is a bit stiffer and sourer than natural yogurts. It's full of probiotics to improve both gut and bone health. I often make a yogurt parfait dessert which tastes like Greece to me.
Nuts: Nuts are abundant in every household in Greece. My family home is on the island of Kefalonia, where we have almond and walnut trees. I love to pickle the young walnuts and add to all sorts of savoury dishes.
Oily fish: In Greece, they don't have lots of oily fish like salmon, mackerel or herring. The mackerel season is short, just for a couple of months in the summer. Traditionally we salt and hot smoke the oily fish and serve them alongside soups in the winter or with tomatoes in the summer as a salad.
Filo: Filo pastry is amazing when it's homemade by the old grandmothers in Greece, but it's not something we can factor into our busy lives over here. Filo pastry is used to make a massive variety of pies. There are milk pies, cheese pies, spinach pies, chicken pies and sweet pies too. I like making a version of a milk pie with apricot (see recipe below).
And where are the best places to stock up?
In London, Greek delis such as The Life Goddess or a company called Maltby and Greek are great sources. They both stock a huge variety of ingredients, from fresh to dry. They even import vegetables from Greece, as well as wines and spirits.
 
Here are all the Greek ingredients you need to get started…
Are there any home appliances or tools that help?
My mum used to love the old-fashioned pressure cooker. It helps a lot when you want to cook the likes of a bean stew that would normally take up to three hours – with a pressure cooker, it can take just 30 minutes.
Which cookbooks do you recommend?
My top three are the Meraki Cookbook by my friend Athinagoras Kostakos, who works at Meraki. There's also The Secret of Spice by Tonia Buxton and Under The Olive Tree by Irini Tzortzoglou – both are really good.
Finally, where are your favourite places to eat Greek food in London?
Meraki in Fitzrovia is one of my favourites, as well as Mazi in Notting Hill, Retsina in Belsize Park and Opso in Marylebone.
 
Stocked up on the essentials above? Here are three of Asimakis's simple recipes to try at home…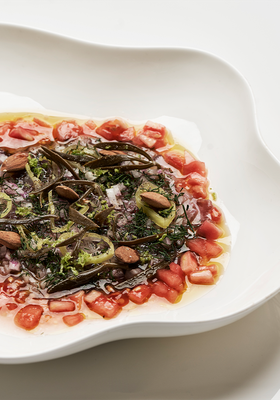 Ingredients
1

blue fin tuna, filleted with the skin on (see fishmonger note below)
1

red chilli, cut in half, seeds discarded and finely sliced
100ml

of extra virgin olive oil
1

shallot, finely chopped
¼

bunch of fennel tops, finely chopped
Fleur de sel, for seasoning
Freshly ground black pepper, for seasoning
For the dressing:

1

tomato, skinned then cut into quarters and diced
Method
Step 1
Ask your fishmonger to take the head off the fish, fillet the fish and cut the two fillets in half longways, so you have 4 quarter fillets.

Step 2
Once at home, use your fingers to double-check there is no bone left anywhere on the fish.

Step 3
Take a bowl with ice and water and dip the fillets, so any blood or any residue of fish left from the filleting is cleaned. Then take a cloth and make sure you dry the fish thoroughly, before carefully placing the fillets on a chopping board.

Step 4
Using a very sharp knife, start slicing the fish as thinly as possible, but in whole pieces. Place on a cold serving plate, making sure that every slice overlaps the next one.
Step 5
Drizzle the olive oil on top of the fish, and use your fingers make sure you glaze every single slice. This step is very important, because when you add the lime and salt, you want the fish to stay translucent and not become white because of the "instant" curing.

Step 6
Next spread the shallots over the fish and sprinkle with the fleur de sel and black pepper, followed by lime zest.
Step 7
Next, add your sliced peppers, then the fennel tops and smoked almonds.
Step 8
Add the diced tomato, lime juice, 20ml of olive oil and 1g of salt to a jug, and before you serve, pour the dressing around the ceviche. Serve immediately.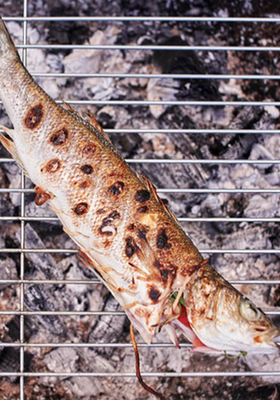 Grilled Seabass With Tomatoes, Garlic & Onions
Ingredients
1

seabass, cleaned with guts, gilts and scales removed
Method
Step 1
Start by rubbing the olive oil all over the fish and into the belly, then salt and pepper the fish all around nice and evenly.
Step 2
Push the tomato, monk's beard, garlic and onion into the belly. Use butcher's twine to tie a couple of knots around the fish to keep everything in place.
Step 3
Have your BBQ ready to go and make sure your charcoals are 'set' – when a thick layer of burned charcoal is done. Grill the fish over a medium heat for 6 minutes on each side or until you've got a nice bubbly crispy skin. Serve.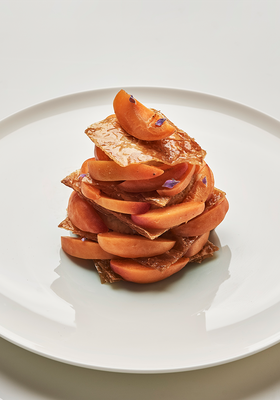 Ingredients
6

filo pastry sheets,

7cm

x

7

cm
6

filo pastry sheets,

6cm

x

6

cm
6

filo pastry sheets,

5cm

x

5

cm
6

filo pastry sheets,

4cm

x

4

cm
3

fresh apricots, cut in half, stones removed and then cut into wedges about

1cm

thick
For the cream filling:

¼

vanilla pod, seeded and scraped or

2

drops of vanilla essence
Method
Step 1
Preheat your oven to 180°C.

Step 2
Start with the filo pastry, which you have already cut into different sized squares. Butter each piece and stack each same-sized piece together so you have 6 piles, all different sizes. This will create an impressive tower shape when you serve your dessert.

Step 3
Place the filo piles onto a baking tray, lined with greaseproof paper, and bake for 15 minutes until golden brown.

Step 4
Meanwhile make your lavender syrup by adding all of the ingredients into a pan and bringing to a boil, before taking off the heat. Remove the sprigs of lavender.
Step 5
Over a wire rack, pour the hot syrup over the hot cooked filo pastry and leave to cool until the pastry dries out and is crispy.

Step 6
Bring the milk to the boil and add the semolina, whisking constantly until it boils and thickens.

Step 7
In a separate bowl, whisk the eggs with the sugar and the vanilla. Take the milk mix off the heat and allow to cool slightly. When still warm, but not scorching, slowly start adding the milk mixtures to your bowl while whisking constantly. Add the butter and mix until it's all emulsified.

Step 8
Leave the mixture to cool down but mix it every 5 minutes so it doesn't form a crust on top, then cover with clingfilm and place in the fridge for around an hour to set completely.

Step 9
When set, remove from the fridge and whisk for a minute before transferring to a piping bag.

Step 10
To serve, place the biggest piece of filo onto a serving dish. Pipe on a circle of cream, leaving space around the edge. Repeat until you've finished up all of the filo and you have a tower shape. Place the wedges of apricot into the layers of filo and cream. Serve immediately.

CREDITS: JEREMY PAWLOWSKI / STOCKSY UNITED
DISCLAIMER: We endeavour to always credit the correct original source of every image we use. If you think a credit may be incorrect, please contact us at info@sheerluxe.com.