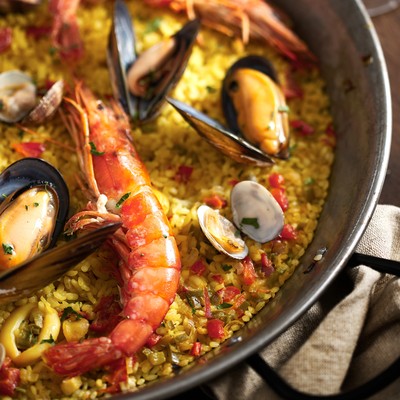 How To Make Paella At Home

Paella is one of those dishes that comes into its own in the summer – especially if you're cooking for a crowd. Whether you're after a traditional recipe or a lighter option, want to know which rice to use or how to create the perfect crust, here are the top paella tips from eight chefs…

Jose Pizarro, Jose Pizarro Restaurant Group
"Paella is a year-round dish, but the ingredients change seasonally. In autumn, it will probably include mushrooms; in winter, turnips, pork ribs and sausages could be added; spring will see vegetables such as asparagus and artichokes included. Paella is all about making the most of the ingredients that are readily available. The thing to remember is that paella originated as a farm labourers' lunch. It should be simple, robustly flavoured and cooked over an open fire. Even more important than the meat and vegetables is the stock; if you don't have homemade, flavoursome stock, think of something else to make. 
"The other thing to mention is that if you are going to make paella with any degree of regularity, it is worth buying a paella pan. The trick behind achieving rice that has absorbed all the stock, but hasn't overcooked, is to make sure that all the rice cooks evenly. To do this, the rice must be spread in a thin layer over a pan that is capable of transmitting heat evenly across its entire base. For lots of first timers, making sure that the rice cooks properly is a slightly scary prospect. If the rice has cooked but there is still liquid (i.e. you added too much stock in the first place), spoon off the excess. Conversely, if the paella has simmered dry but the rice isn't ready, you can always add more stock. If you are a paella novice, have a small pan of boiling stock ready towards the end of the cooking time. Always remove the paella from the heat and cover with kitchen paper or a tea towel, then leave it to rest for five minutes before serving."
Visit JosePizarro.com
Angel Zapata Martin, Exec Chef at Barrafina
"There are a few things I use to elevate and add extra flavour to paella; I always use mantis shrimps for the broth, and I like to create a Catalan sauce called 'salmorreta', which is basically a paste made with roasted garlic, saffron, tomatoes, ñoras (smoked peppers) and parsley. I also sometimes cook a branch of mussels in deep water and use the cooking liquor as a stock – that liquid is like gold."
Visit EstrellaGaliciaBeer.co.uk
Owen Morgan, Director at 44 Group
"For some reason, paella always feels and tastes better when cooked and enjoyed outside. Maybe that's a romantic view, but it's also tradition. Not everyone has vine clippings to make a fire with and cook the rice over that, but here are some tips that will upgrade your paella:
The rice. Make sure you use excellent Spanish short grain rice, as this will absorb up to three times its volume. That means absorbing all the flavour. We use organic bomba rice from J.Montoro, Valencia. 
Spend time making the sofrito. This is the base of so many great Spanish dishes. It's really simple and involves slowly sweating onions, garlic, peppers, tomatoes and herbs in olive oil. But the longer you spend over it (I make it in advance) the better. We cook ours for roughly two hours to get the maximum sweetness out of the vegetables, which builds flavour in the whole paella. 
Caldo, or stock, is important. Traditionalists may use water, or make their stock in the paella pan while making the dish. But for consistent quality and extra depth of flavour, we make a highly flavoured stock from the protein in the paella, so it could be a shellfish stock from the prawn heads, or a roast chicken stock, or a mix of both for a 'surf and turf' paella. You can buy excellent pouches of stocks in good delis now, so I'd recommend that as a good compromise if you're looking to save time but still get great results. 
Remember to add saffron. Grind a good pinch of saffron in a pestle and mortar, adding to your stock when heating up in a saucepan to infuse before you add to the paella pan. 
Don't overfill your paella pan. This is the most common mistake. A paella pan is wide and shallow for a reason. For quick, even cooking, a good paella should only be a few grains of rice thick once finished. If it is chock full of rice, some will steam, some will be hard, and it won't be consistent. The same goes for the meat, seafood or vegetables you use – don't use too much. Spaniards revere the flavour you can get into the rice, and the cook on the rice, as the key to paella – not getting as much into the pan as possible. 
Make sure to rest it. Once you have finished your masterpiece, take it off the heat and cover with tea towels for 5-10 minutes to finish cooking with residual heat. It will taste better.  
Think about the accompaniments. This is important too. For me, a well-dressed green salad with good olive oil and vinegar, or the same but with in-season tomatoes and a great homemade alioli are all you need to accompany the dish." 
Visit EstrellaGaliciaBeer.co.uk
Xabier Alvarez, Trangallán
"Don't be shy with olive oil for the sofrito. A paella with a high content of oil will achieve a thicker emulsified stock after reducing, which will coat your grains of rice and even part solidify on top creating a sticky, umami-charged film – which is the best bit. The oil will also help to caramelise the base of the rice in the pan, which is the most sought-after bit of the dish when it's served in Spain. If you want to add fish or meat, add it to the pan first and brown. Remove to rest if necessary. Next, make your sofrito. Fry garlic and dried guindilla peppers (to create an aroma in your oil, then remove solids from pan). 
"Then add your choice of veg, including fine beans, broad beans, peppers, artichokes – whatever you fancy. Then add your tomato and reduce well. Deglaze the pan as you go. Now, fry the rice slowly in the pan with the veg. You can add a bit more oil at this point if you feel it needs it. Finally, add a good stock. My favourite is a fish-based stock high in crustacean, shellfish and small rock fish with the addition of saffron. Make sure the stock is boiling before hitting the pan, pour over the rice and simmer on a high heat for at least 7-8 minutes. Progressively lower the heat for a final 10 minutes. If you set aside extra fish or meat from the beginning add to the pan for the final two minutes. Rest for a few minutes then serve with a wedge of lemon and a good dollop of hand-whisked alioli."
Spanish smoked paprika and Spanish paella rice are the two must-have ingredients – the rest you can play with.

Albert Manso Miras, Tickets, Barcelona
"Paella is one of the most representative dishes of Spanish cooking. In my family, it is a tradition that my father cooks paella every Sunday. A variant that I love to prepare is black paella with octopus and saffron alioli, which consists of preparing the paella in the traditional way, but then adding a little squid ink to give flavour and colour. In our family we never use anything other than bomba de pals rice. This is a very small grain rice, round and pearly, with good absorption power. I cook it with 'fumet' (a fish and seafood broth) and finish it with some cuts of boiled octopus, green beans and alioli with saffron to give it extra flavour. Simple, different and delicious."
Visit FineDiningLovers.com
Omar Allibhoy, Founder of Tapas Revolution
"Spanish smoked paprika and Spanish paella rice are the two must-have ingredients – the rest you can play with. If you can use extra virgin olive oil, saffron and a good stock, then you've got a couple extra points. The beauty of paella though, is its versatility: fish, meat or veg, it accepts almost anything you throw in it. Paella is the name of the famous wide pan they use in the region of Valencia. If you don't own one, buy one from TheSpanishChef.com, as they are affordable and useful for cooking other one-pan dishes. Otherwise, I'd suggest using the widest frying pan you have. If you want to make it a little bit lighter, use a bit less oil and opt for fish or veg instead of meat. And always serve it with lemon wedges or alioli."
Visit TapasRevolution.com
Quique DaCosta, Chef Patron of Arros QD
"The caramelised crust of rice that sometimes sticks to the bottom of the pan? That's what we call the 'socarrat'. Rice is a conductor, a vehicle of flavours. If you are cooking rice in a paella, and you add lobster, prawns or any other starring produce, the rice must taste of the protein's flavour. This is why the most important step is the development of the stock – it is the key to a good paella, and it must be made from premium ingredients. It's because of this that the paella has such a strong flavour." 
Visit ArrosQD.com
Jordan Moore, Senior Recipe Developer at Gousto
"Unlike risotto, you don't want to be fussing with your rice, so find the widest-based pan in your cupboard to give each grain of rice as much contact with the hot stock as possible. The tip to a great paella is the socorrat, the crispy layer of rice at the base of the pan. To do this you need to control the heat, so the stock is simmering enough to give you a lovely caramelisation, but not too much that your stock evaporates too quickly. Don't be afraid of oil – paellas need a good amount of fat to allow for the grains to be kept separate and permeate the base flavour throughout the rice. This is why chorizo is so key in a paella, as it coats the grains in its delicious paprika-stained oil. If you're leaving chorizo out, add a good glug of olive oil instead. To test when your paella is done, try some grains from the edge of the pan first. As you won't be stirring, the grains on the outside will take slightly longer to cook than the rice in the middle, so don't let this trick you into serving undercooked rice."
Visit Gousto.co.uk
 
Inspired? Here are all the ingredients you need…
DISCLAIMER: We endeavour to always credit the correct original source of every image we use. If you think a credit may be incorrect, please contact us at info@sheerluxe.com.