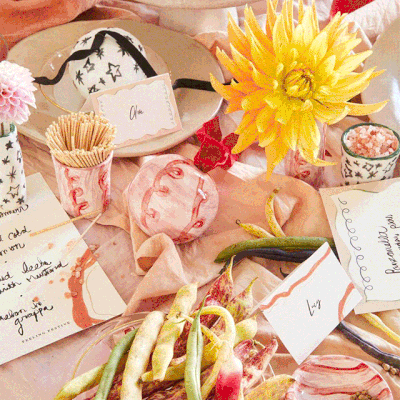 How To Organise A Lockdown Celebration

Whether you're celebrating a birthday, anniversary or just want excuse to elevate an evening at home, there are now plenty of companies out there offering to make your event as memorable as possible in lockdown. From menu cards to balloon installations and everything in between, here are some of the names to have on speed dial…

INVITATIONS, MENUS & PLACE CARDS
To elevate your event, why not consider having invitations, menu cards or place settings printed? While some at-home kits come with these items, having something commissioned gives everyone a little keepsake to treasure for years to come. Here are some of our favourite names to bear in mind…
Tatiana Alida Design 
Best for: Unusual & characterful results
Shipping her products around the world, illustrator Tatiana Alida is an SL fave. Her quirky, characterful designs will offer a playful edge to any stationary you opt to have drawn up – Tatiana regularly takes on personal commissions, so get in touch to let her know exactly what you're looking for if you can't find it in her online shop. 
Visit TatianaAlidaDesign.com
Romeo And Jules
Best for: Whimsical style
If you're looking for something that combines style with whimsey, then Romeo and Jules is the place to look. This design studio sells both ready-to-write stationary, as well as taking on bespoke commissions, so you can ask them to create something personal to you. Planning for a bigger event somewhere down the line? They also take on invitations and thank you cards for weddings, christenings and more. 
Visit RomeoAndJules.Studio
Bellynam Cards
Best for: Rustic & handmade cards
For something that's genuinely handmade, you can't beat the hand-drawn and printed cards made by Isobel Lynam. In her online shop you'll find endless options for one-of-a-kind birthday or anniversary cards, but you can also ask her to create something bespoke. Simply get in touch via email to let her know what you're looking for and when. 
Visit BellynamCards.co.uk
 
Don't have the budget? Check out this cool idea for place names on paper tablecloths, as spied on NET-A-PORTER's global head of styling Harriet Haskell-Thomas' Instagram page.
 
BALLOONS, DECORATIONS & MORE
No party – even one in lockdown – is complete without some festivity, specifically in the shape of balloons and decorations. Make sure yours stay on the chic side with these top-notch names, many of whom are prepared to do the hard work for you…
The Clicc
Best for: Entire set-ups
If a simple tablescape isn't going to cut it, you can rent entire sets from London-based company The Clicc. Even better, all of its illustrated step-by-step guides allow you to confidently set up your space to look just like the photos, with everything from the tableware to the flowers and even personalised name tags provided, so your night is good to go. 
Follow @TheClicc.London 
Maison Margaux 
Best for: Stunning tablescapes
A luxury tableware company selling and renting curated tablescapes, Maison Margaux is one of our favourite names when it comes to table design. Fashion girls will instantly migrate to the Oscar De La Renta-themed sets, while classicists might prefer the chantilly or winter whites sets. Us? We've got our eye on the gold leaf look…
Visit MaisonMargauxLtd.com
In The Wild
Best for: Balloon installations
When it comes to birthdays – or any celebration for that matter – what is a party without the balloons? And by balloons, we don't just mean the ones you have to blow up yourself. Order an installation from In The Wild, and you can get something personal to you – whether it's a five-year-old's birthday party or a 30th for your significant other, they're bound to have something to suit.
Follow @InTheWild.EventsAndStyling
Ginger Ray
Best for: The little bits and bobs
Whether you're looking for streamers, garlands, cake candles or just some out-of-the-box fun accessories, Ginger Ray has everything you need to throw a stylish at-home bash. Not only is its website divided by category, but parts of it are also themed too, so if you're shopping for a birthday, Easter or yes – a virtual party – the team can steer you in the right direction.
Visit GingerRay.co.uk
 
FOOD
Whether you want to order a show-stopping at-home meal kit from your favourite restaurant or arrange for a one-off meal to be created for you and your household from scratch, there are ways to make the food memorable. Here are some of our suggestions…
Hot Stone at Home 
Best for: Restaurant indulgence
The ultimate birthday present, the omakase box from Japanese restaurant Hot Stone is filled with sushi and sashimi, all of which has been hand-shaped and freshly sliced to order. For a true celebration, add homemade rice wine or made-to-order cocktails to your order – either fresh Japanese wasabi and gin, or a riff on the old fashioned of muddled cloudy sake and Japanese whisky. Available Thursday-Sunday from 5-9pm, the menu can be ordered online to select London postcodes or collected from the restaurant. 
Visit HotStoneLondon.com
Want more restaurant recommendations? At SL, we love Koji, Hame by Adam Handling and Claridge's Dine At Home. If you're on a budget, consider creating your own menu (our own recipe archive is great for this) and ask multiple households to all have a go making the same dishes before joining each other round the Zoom 'dining table'.
By Matilda
Best for: At-home, bespoke catering
If you're looking for a birthday cake with the wow factor – not to mention beautiful salads, cute canapés or even a three-course dinner – it doesn't get prettier or more impressive than the service on offer here. Owner Matilda Carr will work with clients to create really special occasions and normally travels throughout the UK to deliver her delicious food. Plus, if you're planning for an event down the line, she also offers a fully bespoke table dressing service.
Want some more at-home catering ideas? At SL, we love Social Pantry, Zara's Kitchen, Tart London and Hattie Mauleverer.
Pleesecakes
Best for: A make-it-at home cake kit
For show-stopping, Instagram-worthy birthday cakes, head over to Pleesecakes to discover and select from its myriad creations. If buying something pre-made isn't your style, it also sells a build-your-own-at-home kit, which is available for nationwide delivery.
Visit PleeseCakes.com 
Want some more cake recommendations? Check out this recent feature, where we rounded up some of our favourite cake delivery companies, including Lily Vanilli, Dee's Basement and Crumbs & Doilies.
 
DRINK
Nothing gets a party started quite like a celebratory cocktail. And these days, there's a plethora of at-home cocktail kits that are worth the money. In this list you'll likely find some SL faves, as well as a couple of new launches…
Lockdown Liquor & Co.
Best for: Stylish, pre-made cocktails
Having added a couple more varieties to its now-iconic line-up, who better to help you get into the party mood than Lockdown Liquor & Co? Not only can you select your cocktail of choice – whether it be an espresso martini, negroni or its inaugural picante – you can also buy one of its 'littles' gift sets to send to a loved one. 
Visit Lockdown-Liquor.com
Dishoom's Permit Room Collection
A trio of the most-loved bottled cocktails from the Dishoom Permit Room, these three pre-made cocktails form a covetable gift set. The kit includes an old-fashioned, negroni and a gimlet – so most of your bases will be covered – just be aware that delivery can take between three to five working days, so be sure to order yours well in advance of your event. 
Visit Store.Dishoom.com
Drake & Morgan 
Best for: Pleasing multiple palettes
Elevate your celebrations with one of Drake & Morgan's four cocktail boxes, created in collaboration with The London Essence Company and themed to gin, tequila, rum or whisky. Each box comes with garnishes, tips on how to serve and a London Essence Company bottle opener. The six-serve box features three cocktails for £35 or opt for the four-serve kit with two different cocktails at £25. Both boxes come with free delivery to London and the home counties. 
Visit Shop.DrakeAndMorgan.co.uk
Want to discover more at-home cocktail kits? Discover 13 of our favourites here.
(VIRTUAL) ENTERTAINMENT
Sometimes you just have to make your own fun. And while there are now plenty of companies out there offering to entertain you and your household guests for the evening, there are other ways to make the night memorable if you're part of a Zoom crowd…
Jenks & Co
Best for: Creating your own lip sync vide
Filmed in short bursts at home, usually on a phone, Jenks & Co promises to edit your clips into a memorable video in as little as two days. All you have to do is choose a song, allocate specific lines to your guests, upload the clips and the team will do the rest. A special way to make long-distance friends and family feel part of the celebrations.
Visit JenksAndCo.TV
Not got the budget? There are several apps offering to help you do a similar thing, including Tik Tok, Triller, Dubsmash and StarMaker. 
Virgin Experience Days & Virtually Together
Best for: Fun activities, day or night
With several businesses being forced to pivot as a result of the pandemic, there are now several online experiences which you can pay to take part in, whether it be four just your household, or multiple ones. Virgin Experience Days and Virtually Together have hundreds of packages on offer, from cocktail workshops for up to six households to escape rooms, live art classes and more. Whatever your interest, there's bound to be an event to suit. 
Visit VirginExperienceDays.co.uk and Virtually-Together.co.uk
Sharky & George
Best for: A quiz with a difference
We know we've all come to dread the classic Zoom quiz, but what if you could level yours up for a special celebration? At Sharky & George, a host will put your guests through their paces in a fully interactive 'pub' quiz. Not only will there be an array of engaging trivia rounds to test your knowledge but there will also be a number of quirky rounds challenging the guests in a variety of different disciplines. They can also include some specific rounds tailored to your friends, family or colleagues if the organiser is able to divulge some 'top-secret' information to S&G beforehand.
Visit SharkyAndGeorge.com  
Scarlett Entertainment
Best for: Capturing that 'going-out' feeling
If you'd usually head to the theatre or see a show to celebrate life's big milestones, Scarlett might just be able to step in to fill the void. Offering a range of virtual experiences, from cabaret acts to circus performances, you can pick from a wide selection and have it be the focal point of your evening. Keep it a surprise for your guests to really up the wow factor. 
Visit ScarlettEntertainment.com
Not got the budget? Why not set up a projection screen (all you need is a basic projector and a blank wall) and stream some of your favourite movies, or even live theatre events, such as those currently streaming from venues like the Royal Opera House. Part present, part entertainment, we can't rate NT Live highly enough. Failing that, why not set up a Netflix party with multiple households, so everyone can join in the fun remotely. Speaking of which, check out our list of Zoom party games here.
Sing Sing Karaoke
Best for: Light-hearted fun
The world's biggest karaoke channel has over 2,500 videos to choose from. New releases to classic hits are at your fingertips, and you can make sure to set up a Zoom with long-distance guests to ensure everyone can join in at once. Plus, it's completely free to use.
Visit YouTube.com 
Digital Murder Mystery Co
Best for: An immersive experience
With three carefully designed packages, The Digital Murder Mystery Co. can help you celebrate milestone occasions, connect with loved ones and keep children entertained. Starting at just £69, choose between downloadable parties, immersive evenings starring award-winning performers, or completely bespoke soirées – all of which are designed specifically for entertaining online.
Visit DigitalMurderMystery.com
The Booth In A Box
Best for: Photo booths
As well as selling all your decorations, banners and balloons, we're particularly taken with Booth In A Box's Postbox Party Kits, which are designed to help you capture picture perfect memories – plus, it couldn't be easier to set up and run. Every kit includes one of its state-of-the-art virtual photo and gif booths to give you fun backgrounds to take pictures on your smartphone to remember the day.
Visit TheBoothInABox.com
We Are Lollipop
Best for: Low key celebrations
Perhaps you're celebrating a promotion or someone in your social circle has finally been able to close on their house sale? Sometimes, for smaller celebrations, all you want is to go for drinks with the girls. While that isn't possible, leave it to We Are Lollipop to organise a Zoom cocktail party, perfect for celebrating the smaller moments in life. Starting from £35 per person, it comes with an in-built quiz, half an hour with a private mixologist and a range of signature drinks. 
Visit WeAreLollipop.co.uk
DISCLAIMER: We endeavour to always credit the correct original source of every image we use. If you think a credit may be incorrect, please contact us at info@sheerluxe.com.