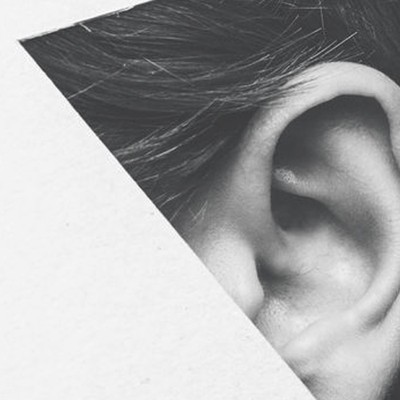 How To Rediscover The Lost Art Of Listening

We've all heard it said, the smartphone has killed small talk. But our lack of human interaction isn't only down to the addictive behaviours, dwindling attention spans and constant FOMO our phones encourage… In a world of persistent noise, where we're trying to make ourselves heard above it, we're losing the art of listening – and it's spelling trouble for our happiness, careers and relationships…

Considering just how much auditory input we've become accustomed to in modern life, the idea that listening has become a somewhat rare commodity may at first seem absurd. But listening and hearing are not one and the same. Whilst hearing is, for the most part, a subconscious process, listening is an interpretive action; the search for meaning in the sound wave.
Assaulted by a ceaseless stream of background noises – cars, trains, sirens, electronic devices pinging, keyboards tapping, TVs in the background, music playing in every store – all competing for attention, we've become adept at tuning things out and adopting 'selective listening'. Not simply a by-product of the industrial age, this form of half-listening is an inherent trait – our brains are designed to prioritise some auditory cues over others, largely based on perceived importance and visual clues (a child promised ice-cream for cleaning their room may well only take in the enjoyable message of ice-cream, and ignore the rest), most likely as a form of self-preservation and protection against sensory overload in stressful situations.
This natural susceptibility married with an always-on news cycle; a bombardment of ever-changing and contradicting statements, has seen the dystopian divination of Brave New World come to pass. Growing numbers of us are, just as Huxley prophesised, "drowning in a sea of irrelevance"; allowing only what aligns with our agendas to filter through to our subconsciouses. Disengaging has become second nature – characterised by the one-way street of social media broadcasting, Fourth Estate echo chambers, the ubiquity of earbuds and headphones that cocoon us within our own private worlds. As such, we've also become adept at 'initial listening'; focusing on the first few words before turning out attention to what we'll say in reply, and self-interested 'false listening' under the deceptive guise of multitasking; the societal norm of checking emails during conversation.
Author of Do Listen: Understand What Is Really Being Said, Find a New Way Forward, Bobette Buster – a Hollywood screenwriter and storytelling consultant for the likes of Pixar, Disney and Sony Animation – believes most people now actively choose not to listen; and by deliberately denying the most primal of senses are losing their ability to find the true significance in both sound and silence, along with an invaluable tool for succeeding in life.
Listening is the light of our emotions, hard-wired to our first feelings. It's why humans have an innate desire to feel heard.
"It's interesting to note that when each of us was in our mother's womb, our eyes were closed but our ears already worked," Bobette writes. "We heard her heartbeat, the swishing of the amniotic fluid, the jolt of loud noises in the outer world. That was our world. As such, our hearing is connected to our primal emotions and memories."
She believes that once we, as babies, open our eyes, our reference point becomes visual; listening retreats to the periphery, insofar as our perception is concerned; a dancing shadow. "But it remains the ambient light of our emotions, hard-wired to our first feelings," she states. "From the time our ears are formed, they remain on, 24/7. Our hearing is our last sense to go when we die. This is why the Greeks said that our ears are the 'guardian of our sleep'. A mother will hear her baby cry in the dead of night."
Bobette believes this connection with emotion is why humans have such an innate desire to feel heard. Why those we describe as most charismatic – people of influence, their presence a force of attraction – are the ones who lean in and give us their time and attention. In an era when being focused on in this way is so rare it has the power to inspire devotion, the simple act of listening to others can help deepen connections in every sphere of our lives. It's now even recognised as a sought-after tool in the workplace; a soft skill linked with strong leadership, clear communication and better ability to problem-solve.
Much of Bobette's book focuses on practical ways we can reacquaint ourselves with deep and conscious listening; one of the easiest of which, she says, is connecting with the natural world – whether walking through a park, along the shoreline of a beach or strolling down a leafy street. "Take time for nature and tune in to your surroundings," she advises. "Rediscover all those sounds from the natural world seeking to grab your attention."
Those at all familiar with the concept of mindfulness will recognise the sentiment: attuning ourselves with nature can realign our hearts and minds, generating moments of wonder. Bobette theorises the speed of sound waves, which travel slower than light and therefore strike us when the two are perceived in duality, "conspire to slow us down, to pause, to take a breath" and, in doing so, gradually we can "find ourselves stilled into a state of gratitude for being alive".
Jungian psychoanalytic theory also recognises the therapeutic powers of listening – but to the inner self. Jung counseled patients in "cultivating the art of conversing with oneself", a means of connecting with one's psyche through dreamwork and the practice of active imagination, allowing neuroses to be understood, repressed emotions to surface and a healing integration of these dissociate parts to ensue. "Be silent and listen: have you recognised your madness and do you admit it? Have you noticed that all your foundations are completely mired in madness?," he asks in his Liber Novus. "Recognise it, for you will thus avoid becoming its victim."
Sharpening your listening skills can at times feel uncomfortable – Bobette says you'll need patience and practice, but that it's a skill any one of us can master, and could be the most important thing you'll ever do. Spending five minutes a day implementing the following tips in your conversations is where she suggests you start…
Make eye contact: If you don't look at the person while they're speaking, you give them the impression that you don't care what they say.
Don't interrupt: Let the person speak uninterrupted. To do this successfully, you'll need to halt any good thoughts that come to mind and let the person say everything they need to say. The goal is to shine the spotlight on them, not you.
But show you're engaged: Along with eye contact, show you understand what the person is telling you by nodding and making noises that show you're in tune with their words, such as "yes", "yeah", "mhmm", "okay".
Practice 'active listening': Real listening is as much about staying silent as asking questions. These should be open questions for clarification, or further explanation, so you can fully understand what the speaker is telling you. For instance, "Are you saying that… XYZ?", "What I heard you say was… XYZ",  "Did you mean that… XYZ?".
Don't get distracted: Don't miss valuable information by letting your mind wander, and find a quiet place where you can really focus – that means turning off the TV and putting your phone away.
Listen without judgement: Make it your goal to be open minded 100% of the time. Not only are people more likely to open up to you, you'll also be more mindful of your 'shut-off' triggers, which are the specific words, looks, or situations that cause you to stop listening.
Observe others' habits: One of the best ways to become a better listener is to observe the way people interact with each other, and all the irritating and rude things they do. Create an 'annoying habit' checklist, and see if you do any.
 
DISCLAIMER: We endeavour to always credit the correct original source of every image we use. If you think a credit may be incorrect, please contact us at info@sheerluxe.com.