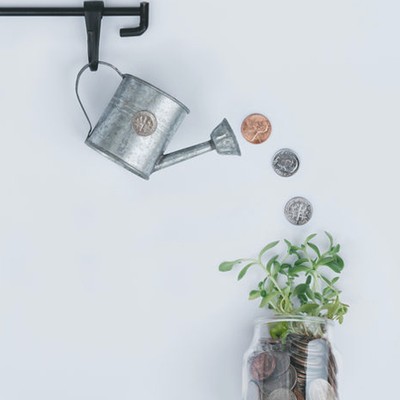 How To Sort Your Finances In A Year

Getting out of debt and saving money is no easy feat. It takes planning and dedication, but it's certainly not impossible. With key tips and tricks from financial experts and the important financial dates to circle in the calendar, we show you month-by-month how to reboot your finances and get out of the red and into the black.

January
Ahh, the time of resolutions and hope for the year ahead. January is the perfect time to plan for the year ahead – whether you're getting out of debt or starting to save a significant amount of money, you'll need to prepare. Jamie Smith-Thompson, Managing Director at Portafina, says the first step to clearing your debt is making a 'hit list': "Make a list of what you owe, how long the term is and the interest rate you are paying. Start by tackling the debt with the highest interest rate first, not the largest debt."
If your aim is simply to save, this'll also need some admin. Clare Francis, Director of investments and savings at Barclays Smart Investor, suggest the best way to work out how much you can save is to figure out how much money you've got each month after your necessary bills have gone out. There are some great apps to help you build your savings and let you split your money off into separate pots, so if you want one for your hitlist and one for your rainy-day savings, it's far easier to decompartmentalise your finances, knowing what you have left for yourself for the month – you can check them out here.
 
And of course, if you're self-employed, don't forget this all-important date in your financial calendar: 31st January is the deadline for paying your self-assessment tax bill. If you're looking to avoid being in debt this year, this is a good place to start. If your payment is one day late, you'll be fined £100. According to Which?, here is how it is charged after the first day:
 
Up to three months late: £10 for each additional day (capped at 90 days) on top of £100 initial fine, up to a maximum of £1000
Six months late: Either £300 or 5% of the tax due (whichever is higher) on top of the above penalties.
12 months late: An additional £300 fine, or 5% of the tax due, on top of the above penalties. In serious cases you could be fined 100% of the tax due, doubling your bill. 
 

February
If you rent or own a home, you might have noticed your council tax is paid over 10 months. "This means that two months of the year, usually February and March, you could be a couple of hundred pounds better off," says Jamie. He suggests, instead of frittering this money away, to put it towards a particular fund or debt. However, if you find this is something you struggle to pay each month, you can opt to have it spread across 12 months, reducing the cost a little each month.
 
February is also the ideal time to save on your car insurance. According to car insurance data released by MoneySuperMarket, motorists taking out a fully comprehensive policy in December are paying an average of 18% (£85) more than those who insure in February. Over the past five years, the average fully comp policy taken out in February cost £475.60, whereas those who insured just two months earlier, in December, paid an average of £560.80.
 
Tom Flack, Editor-in-Chief at MoneySuperMarket, said: "People buying a car often wait until December to secure a bargain as dealers look to shift stock before the end of the year, but it comes with the downside that it's the most expensive time of year to buy insurance. No matter when your car insurance is up for renewal, it pays to shop around on a price comparison site. You could end up saving as much as £276 a year just by switching insurers.
"Alongside searching to ensure you're on the best deal for you, it pays not to wait until the last minute: insurers give consumers a 45-day window to renew their policy and often reserve the best prices for those who are organised and don't leave it late, as they are perceived as safer drivers."
 

March
If you have an ISA, this is the time to do one final top-up before the tax year ends on 5th April. Each tax year you can either open a new ISA or top up an existing one until you reach your annual allowance. You'll then earn tax-free interest on your whole balance every year. Tom says this is also the best time to shop around for a better deal on an ISA if you're not happy with yours – you can do that here.
 
Jamie adds this is also an ideal time to do a direct debit cleanse. Take the time to review how much you're paying for gas, electricity, car and home insurance. "Do you have a gym membership you don't use or TV packages you don't watch? A little bit of shopping around, being realistic with what you no longer need or are not using, can save you a considerable amount of money," he says. "If you can set up all of your direct debits to come out of your bank just after pay day, you'll then know exactly how much money you have left for the month."
 

April
In terms of your finances, April is an important month. "This is a good time to start thinking about how you're saving for the future," says Jamie. "If you are employed, are over 22 and earn over £10,000, you will have started paying into a pension thanks to auto-enrolment. Unless you have opted out, you and your employer will already be making contributions into this. From 6th April, the amount of contributions is rising from 5% to 8%. That's 5% from your salary, including any tax relief you are due from the government and 3% from your employer."
 
If you are able to save a bit more than this, Jamie says it'll go a long way in preparing for a future that's comfortable for you: "No matter your age, there's no time like the present to start planning for your future."
 
And remember: once the 6th April rolls around, you can start thinking about filing your tax return for the previous year. The earlier you can do it the better, as once you know how much you owe, it'll give you more time to save the money need to pay it.
 

May
If you've remained committed to your hit list, or managed to save a bit of money, and got rid of all your useless direct debits, then hopefully you've started to get your finances in order a little more. Now there's one more thing to think about: the unexpected. Not as fun as your holiday savings, but much more necessary.
"At some point, you'll need to start an emergency fund. As a rule of thumb, aim to save an amount equal to three to six months of your pay. Most emergencies aren't cheap, but luckily, they don't happen every month. Putting away what you can into an ISA or savings tool is the best idea."
 
Tom adds that if you're planning to go on holiday around July/August time, then think about booking airport parking and changing your currency now, as booking early often saves money. Furthermore, if you're booking an international flight, then May is the cheapest month to book flights, according to Expedia.
June
Summer has officially arrived, and it's the perfect opportunity to save a few extra quid. It's a small change, but Clare suggests cancelling or freezing your gym membership for the summer and opting to do your exercises outside. Gym memberships can be notoriously expensive, so freezing it over the summer months means you can put that money into savings, or towards your summer holiday without eating into what you've already saved.
 

July
Self-employed people, listen up: it's important to know there could be an additional payment deadline of 31st July if you make advance payments towards your tax bill. HMRC will normally send you a reminder and confirmation of amount if this applies to you, and you'll need to make sure you have the right money in your account.
Check if you apply for it here.
 

August/September
You might not want to be thinking about the winter months just yet, but this is an ideal time to get your winter admin out of the way, as it'll be cheaper. Tom recommends getting your boiler serviced now as you're likely to get a better deal due to low demand. He also suggests checking if you're on the cheapest energy tariff and to switch if you're not – this'll maximise your savings during the winter months.
It's also the best time to start thinking about Christmas savings. To avoid being caught short in December with a number of relatives to buy for, set aside a little bit a month from this point on (or, if you want to spread the cost and put less away per month, you can even start it in January, putting just £10 away). Plenty of money-saving apps like Monzo  will help you to budget this money, so you're not short on a monthly basis, or back in the same position come January because you've had to dig into your savings.
 

October
Be aware that 5th October is the last day you can register online for your self-assessment (for paper tax returns, it's 31st October). If you've never done this before, this tax return will be for the tax year (ending 5 April 2019). It's your responsibility to determine if you need to complete a self-assessment form, not HMRC's.
Tom says if you're planning on paying for Christmas with a credit card, to apply for one now to make sure you receive it in time. "If you won't be able to pay back your balance in full each month, consider a 0% purchase credit card to help you spread the cost," he advises. "But if you know you can clear your balance in full every month, consider a reward or cashback card." However, if you can avoid using a credit card, then do.
 

November/December
November is a great time to start looking at Christmas train tickets home as they'll be cheaper if you book them in advance. Jenny Keefe, lead writer at Money Saving Expert points out rail operators generally let you book your tickets 10-12 weeks ahead of time, and it works out far cheaper – TheTrainline.com say the cheapest 'in-advance' tickets can be almost 92% (or £150) cheaper on some routes compared to walk-up fares on the day.
And speaking of commuting, WHO strongly recommends buying your season ticket for 2020 at the tail end of December before the prices rise in January. Hopefully by ensuring you save money in both big and small ways, keeping an eye on key financial deadlines throughout the year, you'll be able to work out a process for saving that works best for you. By the time January 2020 swings around, your debt hit list should be much shorter, your savings bigger and your opportunities wider. 
 
DISCLAIMER: We endeavour to always credit the correct original source of every image we use. If you think a credit may be incorrect, please contact us at info@sheerluxe.com.