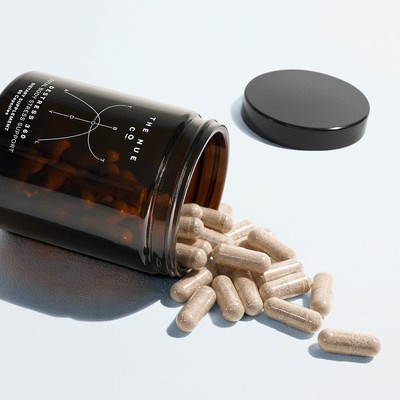 The Industry-Approved Supplement To Help Tackle Stress

Feeling more stressed than ever? You're not alone. In 2018, a survey found 74% of British adults were so stressed at some point in the last year they felt overwhelmed or unable to cope – and that was before the pandemic. It's good to know, therefore, that the right combination of ingredients can give your body a healing boost to allow you to deal with the physical and emotional impacts of stress. Backed by science and proven to bring the body back into balance, here's why The Nue Co.'s DESTRESS 360 is the supplement to try.

CREATED IN PARNTERSHIP WITH THE NUE CO.
What's new?
The latest arrival from The Nue Co. – SL's favourite supplement brand that's renowned for its clean, organic, science-backed products that actually do what they say – DESTRESS 360 is the supplement to know. Clinically proven to reduce the level of our stress hormone cortisol as well as support the bodily functions most depleted by long-term stress, including immunity, focus, libido, muscle tension and digestion, consider it nature's very own chill pill. "It's a common misconception that stress only affects us emotionally," says founder and CEO Jules Miller. "We feel stress in our bodies, yet we don't often make the connection between stress and our stomach cramps, or stress and being disinterested in having sex. Research shows that the body is our subconscious mind, and it carries physical memories of elevated stress far longer than our emotions do," she tells SL.
What's inside?
Every The Nue Co. formula is made with the finest, clinically tested ingredients, that work in clever combinations to gently help the body and DESTRESS 360 is no exception. In fact, it's The Nue Co.'s most technically advanced formula to date. A recent survey carried out by The Nue Co. revealed 78% of people have changed their approach to managing stress in the last 12 months, with 99% saying that managing stress will be part of their self-care approach moving forward. DESTRESS 360 is the ultimate self-care companion. With that in mind, DESTRESS 360 is the ultimate anxiety-busting formulation – it contains…
ASHWAGANDHA: Ashwagandha has been used for centuries in Ayurvedic medicine. The entire plant – from roots to seeds – has beneficial properties, especially when it comes to stress reduction. It's been particularly studied for its impact on the stress hormone, cortisol. 
L-THEANINE: When we're stressed, our brain starts to produce beta brainwaves, which the body sees as a threat. L-theanine, on the flipside, encourages alpha brainwaves, which are associated with a state of relaxed concentration, increased creativity and decreased anxiety. 
MAGNESIUM: Often referred to as nature's Valium, magnesium is a natural muscle relaxant, which can help with anxiety. It can also stabilise the mood, help with sleep and promote feelings of calm. Plus, levels are depleted when you are stressed, underlying the importance of topping up your levels.
PINE BARK EXTRACT: A powerful antioxidant, pine bark extract can help support circulation to improve a flagging libido.
VITAMIN C: A healthy dose of vitamin C not only supports a healthy immune system but can also help strengthen the body's response to stress and has been to shown to help lower cortisol levels. 
ZINC: Periods of prolonged stress can zap your levels of zinc, an essential mineral for supporting your immune system and adrenal glands. 
How should you take it?
Take two capsules per day for the best results, ideally in the morning. In recent consumer trials, after 30 days of use, 77% of testers reported feeling less stressed. 
Who's it for?
If you've recently been struggling with your stress levels, the new formula is worth a try. And remember that stress needn't always be linked to feelings of anxiety – increasing research shows stress can also manifest as an impaired immune system, muscle tension, low libido, poor digestion and brain fog. If you've been experiencing any of these in the last few months, DESTRESS 360 could be worth a try.
What other products does it work well with?
Founder Jules says it could be worth teaming the new formula with PREBIOTIC + PROBIOTIC – one of their signature supplements that was formulated to combat symptoms of IBS and long-term digestive issues – as well as their hero VITAMIN D formula for a supercharged immunity and mood boost.
Anything else?
If that wasn't enough, all The Nue Co. supplements are free from toxic preservatives, additives, flavourings and sweeteners as well as being gluten-free and cruelty-free. Plus, all ingredients are responsibly sourced and 95% of their materials are recyclable, so rest assured it's doing you and the planet good. 
SheerLuxe readers can get 30% OFF DESTRESS 360 using code 30SHEERLUXE at checkout. For more information visit UK.TheNueCo.com.
DISCLAIMER: Features published by SheerLuxe are not intended to treat, diagnose, cure or prevent any disease. Always seek the advice of your GP or another qualified healthcare provider for any questions you have regarding a medical condition, and before undertaking any diet, exercise or other health-related programme.
DISCLAIMER: We endeavour to always credit the correct original source of every image we use. If you think a credit may be incorrect, please contact us at info@sheerluxe.com.