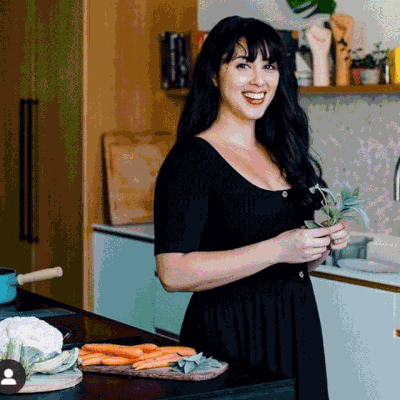 Inside My Kitchen: Melissa Hemsley

Melissa Hemsley – one half of food brand Hemsley + Hemsley with her sister Jasmine – is a self-taught chef, food columnist, best-selling cookbook author, food activist and sustainability champion. She invited us into her stylish east-London kitchen to share her cooking must-haves, what she loves to eat at this time of year, and her secrets to entertaining in style…

All products on this page have been selected by our editorial team, however we may make commission on some products.
What I love about my kitchen is that it has a generous-sized island in the centre of the room, so I can work on it, recipe test on it and really spread out. It's black and made from a sustainable material called Richlite and houses the induction hobs and a Bora extraction fan. The space is filled with natural light and has a biggish freezer, which I keep stocked with things I've made to share with friends, alongside a large larder with a built-in marble countertop, open shelving and plenty of storage. It's an open-plan kitchen/dining room which looks out onto the garden and patio, complete with Eames dining chairs and our collection of David Shrigley artwork. I love that there's space for a sofa – which is where my blue staffie Nelly lies, watches and yawns at me all day.
My must-have utensils include a box grater: mine must be ancient – it will outlive me. I also swear by a solid ovenproof cooking pot and reusable containers for storing food in the fridge or freezer. 
It's so important your kitchen is a place you really want to be in. I cook a lot, so there are often a lot of cooking smells wafting through. While these can be delicious, when I'm ready to relax, tidy up and reclaim the space to work or relax in, I really love having my aroma diffuser. I use a peppermint or eucalyptus or citrus oil in the day and then a lavender or rose in the evening.
I have a few tricks to keep my kitchen clutter-free. Make yourself a great podcast playlist and change up your mindset so that washing up and clearing up is less of a chore and more a chance to relax to that podcast you've been meaning to listen to. I once read a book that said we should rethink and relabel housework as 'housecare', which is a great idea. I have to remind myself of this when I have a sink full of washing up and all I want to do is crash out on the sofa. Another trick is to make one pot and one pan recipes. Pick recipes that mean you don't end up with lots of washing up.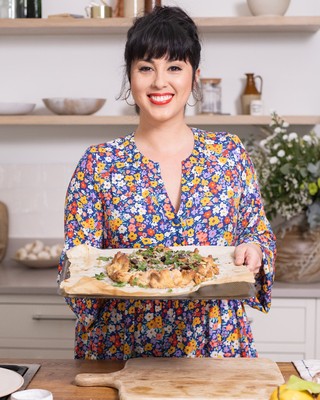 Make yourself a great podcast playlist and change up your mindset so that washing up is less of a chore and more a chance to relax.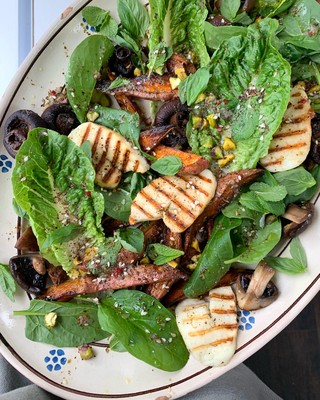 Make yourself a great podcast playlist and change up your mindset so that washing up is less of a chore and more a chance to relax.
In the last year, I've been revisiting all my childhood comfort foods – like scrambled eggs and Italian tomato sauce. I've also made a lot of sweetcorn soup, as I adored it as a child. In fact, I've been making soup non-stop. I love them year-round as they can be changed up with whatever you've got – they are the ultimate low-waste recipes. I often make a big pot of lentil soup, quite simply flavoured, and then I change it up: one day I'll reheat with a dollop of pesto and some fried mushrooms on top; another day, I'll stir in a little fiery harissa and top with some roasted chickpeas; another day, I'll add a tomato salsa and maybe some feta. Soup is also a great chance to share with neighbours and friends. Lots of my loved ones were poorly or had babies over lockdown, so it was a perfect dish to drop off for them.
I don't have one 'most-used' ingredient in my kitchen, I have many: garlic, ginger, sea salt, olive oil, beans, lentils, tomato puree, tinned tomatoes, chilli flakes and harissa paste. Za'atar is my go-to flavour booster. My favourite way to use it is for za'atar-roasted chestnut mushrooms, which I serve with roasted sweet potato wedges, tossed on a big platter with lots of salad leaves, plenty of herbs and a chilli-lemon dressing. Then, at the last minute, I'll grill or fry up some halloumi, as everyone loves it. 
Every Friday, I receive an organic, seasonal veg box. My favourite seasonal ingredients are asparagus, radishes and leeks. On Saturdays, there's a small farmer's market on my high street and I like to stock up on extras there and jars of marmalade and local honey. One of my neighbours makes amazing samosas, so I always buy them there. My high street also has an amazing refill store, so every two weeks I'm in there with my reusable packaging, stocking up on dried foods like quinoa, beans and spices as well as refilling bottles of washing up liquid and laundry products.
At this time of year, I'm always making giant platters of hearty salads. I love salads that 'mean it' – such as my soba noodle salad tossed with spicy sesame mushrooms, quick-pickled cucumbers, spring onions and coriander. It's such a good one for lunchboxes and picnics in the park.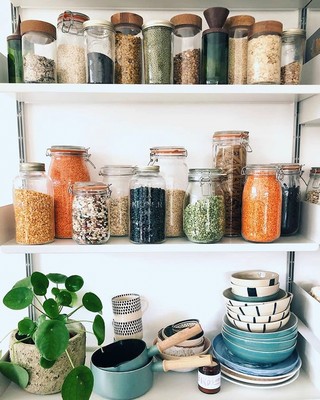 INSTAGRAM.COM/MELISSA.HEMSLEY
At this time of year, I'm always making giant platters, such as soba noodle salad tossed with spicy sesame mushrooms.
The best party I've ever thrown was on a cold, wet and windy night. It was sniffle season and everyone was a bit tired and fed up, so I threw an impromptu late-night dinner at mine and made a huge pot of noodle soup inspired by my mum's Filipino cooking – lots of onions, garlic and ginger and a lovely brothy soup with tons of carrots, greens, leftover shredded chicken and shiitake. I made a bowl of lemon and chilli oil on the side, and everyone helped themselves. It was simple, no stress and just what we all needed. 
During the week, I often make a 'fridge raid frittata', gathering up whatever needs eating up, such as roasted veg, herb stalks and a bit of cheese. I mix it all up with whisked eggs, cook one side on the hob then put it under the grill to finish to get gorgeously golden. It only takes 15 minutes and always hits the spot. 
My idea of a perfect Sunday lunch is something I can make ahead. I like a centerpiece that I can do earlier in the day or the night before – such as my buckwheat pastry galette filled with ricotta, mushrooms and lemon – served with new potatoes or jersey royals, some asparagus and a light gravy. It's perfect. For pudding I'd make my fruit bowl bake, a very simple adaptable dish that's made up of grated apple and mashed banana. I serve it with custard on a cold rainy Sunday or ice-cream when the weather heats up.
When it comes to cookbooks, I love Zoe's Ghana Kitchen by Zoe Adjonyoh's (and her spice mixes, I always recommend those for presents). I also love Asma Khan's cookbook, Asma's Indian Kitchen, the Cook For Syria charity cookbook, which has lots of recipes by my friend, Syrian chef Imad Alarb, and I've been really enjoying Uyen Luu's new Vietnamese cookbook, which I really recommend.
When it comes to breakfast, I quite often eat leftovers from the night before. I test and develop recipes so often that there is always something to eat straight from the fridge and, I've got to say, I'm much more a savoury person than a porridge, smoothie or pancake fan. I love making baked eggs inside roasted portobello mushrooms or spinach pancakes topped with mushrooms and ricotta, chives, asparagus and yolky soft-boiled eggs. Delicious.
 
Inspired? Shop Melissa's hacks and tips below…
DISCLAIMER: We endeavour to always credit the correct original source of every image we use. If you think a credit may be incorrect, please contact us at info@sheerluxe.com.