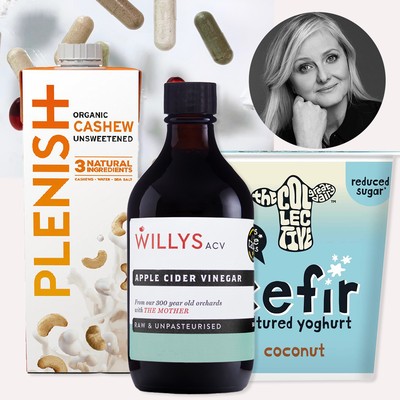 Marie Reynolds: My Food & Fitness Regime

With over 35 years' experience, Marie Reynolds is renowned for her holistic approach to health and wellbeing and – as an expert in homeopathy, aromatherapy and energy medicine – her inside-out approach to skin health is completely unique. Here's how she keeps her own health on track…

All products on this page have been selected by our editorial team, however we may make commission on some products.
My day starts with supplements. The first thing I do every morning is drink a pint of water with ionic minerals – I then have a shot of apple cider vinegar and take my supplements.
At the moment, I am taking my Probio+, which contains 20 billion friendly bacteria per capsule and is great for combating bloating; Coll-Force, a collagen-boosting formula; and Fungi Fusion, a fantastic all-rounder that helps with everything from regulating blood sugar levels to aiding digestion and soothing inflammation. I also take my own rehydration formula, which is currently available on prescription in my clinic. Intracellular hydration is so important – if your cells are not adequately hydrated, they can't communicate with other cells as effectively as they should, which is the foundation of health. I also use vitamin D3 transdermal patches, which I place behind my ears – they are a great immune booster. 
During the week, breakfast is usually a smoothie. A smoothie is a great way to pack nutrition into one meal. My go-to blend is Clean Living MCT oil, collagen powder, chia seeds, mango, avocado, two capsules of MRL Evolve (a powerful alkalising and detox formula which contains chlorella, green tea leaf, spirulina and ashwagandha) and cashew milk. At the weekend, I have scrambled eggs with avocado, organic butter and chilli flakes on soda bread. 
Organic produce is so important. I don't tend to shop at mainstream supermarkets as I prefer to buy food from my local farmers' market, where all the produce is fresh, organic, farm-reared and helps to support local businesses. Every week, I stock up on fresh salmon, organic chicken or lean beef, organic vegetables, coconut kefir yoghurt and cashew milk. Meat is always worth investing in, so don't cut corners – so much of the meat on the supermarket shelves is loaded with preservatives and hormones. 
My diet is best described as organic and clean. Even though I eat a lot of plants, I don't refer to my diet as plant-based. Plant-based diets can actually cause imbalances – for example, nightshades such as aubergines, potatoes, tomatoes and peppers contain lectins and salicylates, which can contribute to a range of unwanted symptoms. 
Reducing dairy and gluten can make a huge difference. In the world of energy medicine, cow's milk and gluten contribute to energetic imbalances and inflammation. I try, where possible, to cut both out – particularly cow's milk, which contains a protein called A1 casein which is inflammatory. 
You'll never find me without a snack. I graze throughout the day – my go-to is sliced banana and pomegranate seeds on cashew toast with agave and hemp seeds sprinkled on top. My local farm shop also has a great selection of dried fruit and nuts, which I stock up on whenever I pop by.
Stir fries are an easy midweek supper. I don't really enjoy cooking and would much rather eat out, so dinner at home needs to be something quick and easy. I make a lot of vegetable stir fries using coconut oil and spices, which I serve with organic chicken or salmon. 
A liver cleanse is something I do twice a year. Whenever I feel the need to re-set after a period of indulgence, I do an eight-week course of my own treatments and special supplements to help detoxify the liver pathways.

Weekends are the time for treats. I'm a big believer in not being overly restrictive – Saturday nights often feature a Thai or Lebanese takeaway and chocolate eclairs are my guilty pleasure. I also have a weakness for cake – if I'm out and about and see cake on the menu, I'll always have a slice. A little bit of what you fancy is good for the soul. However, I very rarely drink. On special occasions, I'll have a glass of red – I love a good Valpolicella. 
Eating out is something I missed during the pandemic. I am so lucky to have some incredible restaurants near me in Norfolk, which all serve delicious organic produce and farm-assured meat. Benoli in Norwich is one of my favourites – it's headed up by a Masterchef winner and the Italian-inspired food is truly incredible. I also love Gem Of Norwich, which serves a fusion of Turkish and Greek mezze, as well as Wells Crab House, whose seafood platter is amazing. Fortunately, my local pub, The King's Arms in Reepham, offered takeaways during the recent lockdown – their halloumi stir fry was a firm favourite.
A liver cleanse is something I do twice a year. Whenever I feel the need to re-set after a period of indulgence, I do an eight-week course of my own treatments and special supplements to help detoxify the liver pathways. While I've never been on a diet, I try to watch what I eat and won't eat past 7pm. 
It's important to unwind in the evening. I love my work, but as I deal with people's energy and work with their physical and emotional stresses, it's crucial for me to calm my own mind in the evening and not overload myself with negativity. Putting my phone away and not looking at the news is the first thing I do, and I've recently got into embroidery too, which is hugely mindful. I can't wait to book in again at the Spinal Health Clinic, which offers incredible treatments. 
Swimming and walking are my preferred forms of exercise. When I was younger, I loved cross country running but if you have excessive yang energy, these more intense forms of exercise can stress your adrenal glands and dehydrate the fascia. Now, I wake early and walk my dogs every morning in local fields and woodlands and try to wild swim as much as possible. This hasn't been easy in the pandemic but I am looking forward to getting back into it. Earlier in the year when it snowed, I put my swimming costume on and rolled in the snow in my garden and did some breathing exercises – it's a fantastic way to wake the mind and soul.
Sleep is the most important thing for wellbeing. I've never been a night owl and have always gone to bed early. However, I am adamant about creating an optimal environment for sleep, which starts with a grounding sheet, which lies underneath your bed sheets. The earth is covered in a blanket of electrons, which are natural antioxidants and anti-inflammatories, and using a grounding sheet conducts these electrons, acting as an 'extension cord' to conduct the earth's energy and ground you as you sleep. A grounding sheet will also help counteract electro-smog in your bedroom from devices and plugs. Remember mattresses tend to have metal springs which can amplify electro-smog, and tablets, smart phones and laptops also emit red and blue light which impact your body's ability to repair as you sleep.
Consider putting a peace lily in your bedroom, too. This special plant purifies the air, eliminating 60% of pollutants and also aids a restful night's sleep. Also, set your alarm just outside your bedroom door as opposed to having a clock on your bedside table. If you are woken with a start, it will raise cortisol levels, increasing your heart rate and activating your adrenal glands to prepare for a 'flight or fight' response. Try putting your alarm elsewhere and you'll reap the benefits.
Shop Marie's Nutritional Picks...
Visit MarieReynoldsLondon.com and follow her on Instagram @MarieReynolds_London
 
DISCLAIMER: Features published by SheerLuxe are not intended to treat, diagnose, cure or prevent any disease. Always seek the advice of your GP or another qualified healthcare provider for any questions you have regarding a medical condition, and before undertaking any diet, exercise or other health-related programme. 
DISCLAIMER: We endeavour to always credit the correct original source of every image we use. If you think a credit may be incorrect, please contact us at info@sheerluxe.com.