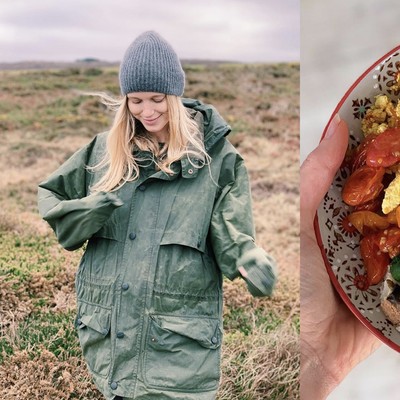 My Christmas Wellness Toolkit: Ellie Clarke

Magnesium flake baths, seasonal traybakes and stress-reducing supplements are all priorities for nutritional therapist Ellie Clarke at this time of year. From lifestyle to nutrition, here's how she keeps her health on track over the Christmas period…

My day always starts with a ginger tea. My morning routine has changed since having a baby (my son Bowie has just turned one) but I try to wake up at a similar time each day to support my circadian rhythm. At this time of year, I love to make a batch of mincemeat, which I then use to make mince pie porridge. I also try to keep my phone off until we've all had breakfast – being mindful makes all the difference. 
A yoga or Pilates session is a great way to start the day. When the mornings are dark and cold, finding the motivation to exercise can be tricky, but thanks to the number of online workouts available these days, it's never been easier to find one to suit you. I swear by Pilates with Lottie Murphy and yoga with my sister, Annie Clarke. Plus, studies show exercise can help the immune system, making it more important than ever to stay active. 
Eating seasonally is the easiest way to look after your health. By eating what's in season, you benefit from greater amounts of phytonutrients (and flavour) compared to food that's been stored for long periods of time during transportation. I adore the fruits and vegetables that come into season around December and January – kale, chestnuts, squash, Bramley apples, potatoes, brussels sprouts, and beetroot. There are so many earthy and versatile ingredients to play with – it's the season for comforting soups and stews, homemade stocks and broths, oven roasted vegetables and roast potatoes.
The more vegetables you eat, the better. As a family, we've been battling a never-ending cold for the last few weeks and, as a result, I find myself craving lots of simple, nutritious food. A favourite go-to dinner is roasted vegetables with buckwheat. Chop and roast a variety of vegetables – use what you have in your fridge such as garlic, red onion, carrots, broccoli and cherry tomatoes – in olive oil, salt and pepper. At the same time, cook a large portion of buckwheat in turmeric water and then stir the drained buckwheat through the vegetables once everything is cooked. I like to serve this in bowls with nutritional yeast (a great source of B vitamins and protein), a pinch of chilli flakes and lots of black pepper.
Stuffed butternut squash is another festive favourite. We had friends to stay a couple of weeks ago and I made a roasted butternut squash stuffed with quinoa, chestnuts and cranberries – the ultimate plant-based feast. Slice the butternut squash in half lengthways and then tie it back together once stuffed using string. For a healthy pudding, you can't beat an apple crumble with plenty of cinnamon and a buckwheat, oat and coconut crumb. 
"At the onset of a cold, try taking 1,000mg of vitamin C every three hours over the course of a day."

Now's a good time to give your gut some TLC. Gut health plays such a key role in the immune system, so try to eat more fermented foods, such as miso, yoghurt, tempeh, kimchi and sauerkraut, which can encourage the natural promotion of good bacteria in the gut and strengthen overall immunity. Just make sure you buy sauerkraut and kimchi from the fridge aisles in the supermarket as this means they contain live bacteria – anything not chilled won't have the same health benefits.
Cutting back on refined sugar is easier than you think. Christmas is synonymous with chocolate, puddings and indulgent treats but making healthier versions of your favourite treats means you can get your fix while being mindful of your health. I often make healthy banana bread and cookies using gluten-free flours and natural sugars, which taste delicious and are far more nutritious than shop-bought alternatives, even ones that claim to be healthy. 
Cutting back on booze needn't be miserable. I don't drink alcohol but never feel deprived thanks to the incredible array of 0% spirits out there – my favourites are Pentire, Ceder's, Mary and Seedlip. I recently made mocktails using Seedlip, freshly squeezed orange juice, crushed ice and tonic. Gone are the days when elderflower was the only non-alcoholic option around.  
Consider supplementing with vitamin D. It plays such an important role in immune health, and in the UK, between October and March, any sunlight you're exposed to doesn't contain enough UVB for the body to effectively produce vitamin D, making supplementation vital. Vitamin D has also been found to mitigate viral respiratory infections, which may be useful in the current climate. If you struggle with low moods and energy levels during the winter months, it may also be worth considering light therapy – a SAD lamp can have a significant effect on energy and alertness. When it comes to vitamin D supplements, I rate Cytoplan's Wholefood Vegan Vitamin D, which provides the vitamin in its most bioavailable form. If you struggle to take capsules, BetterYou's Vitamin D3 Spray is convenient. 
"For a healthy pudding, you can't beat an apple crumble with plenty of cinnamon and a buckwheat, oat and coconut crumb."

Vitamin C can keep sniffles at bay. At the onset of a cold, try taking 1,000mg of vitamin C every three hours over the course of a day – this can both reduce symptoms and recovery time. I recommend Wild Nutrition's Food Grown Vitamin C – you can take four to six capsules per day when you feel you're coming down with something. It is also made with a non-acidic form of vitamin C, which makes it gentle on the stomach. 
A steam inhalation can help ease congestion. If you are feeling run down, try my go-to Ayurvedic recipe. Boil 500ml of water with two tablespoons of carom seeds, one teaspoon of turmeric and a handful of mint leaves for ten minutes. Once boiled, strain a small amount for drinking and use the remainder for your steam inhalation. With the liquid in a large bowl and a towel over your head, inhale deeply through your nose (and exhale through your mouth) for ten minutes. Repeat this two to three times each day to improve nasal congestion. 
Try to get to bed before midnight. Sleep plays a fundamental role in virtually all bodily functions. Take the immune system, for example – sleep promotes cytokine production, compounds that have a protective effect on the immune system by helping fight inflammation and infection. Try to get at least seven hours each night, with the hours before midnight increasingly understood to be extra beneficial. 
The quality of your sleep matters just as much as the quantity. If you already get eight hours of sleep each night, think about the quality, as factors such as blue light emissions from your phone and laptop can have a significant impact. It may sound basic but having a bedtime routine can make a huge difference to your sleep. For me, a magnesium bath, a warming, caffeine-free drink (such as a turmeric latte), breathing exercises and reading in bed all signal the end of the working day and aid a better night's sleep. Mauli Rituals bath salts and oil are my favourite and I always take a moment to do some deep breathing in the bath. 
Adaptogens can help the body adapt to stress. One adaptogen, ashwagandha, has been used in Ayurvedic medicine for more than 3,000 years to reduce levels of cortisol, your main stress hormone. Taken over a period of time, it can help you find your zen and stay in balance over the weeks to come. 
For more information visit EllieClarkeWellbeing.com and follow Ellie on Instagram @EllieMaeClarke.
Shop Ellie's Wellness Edit Below…
DISCLAIMER: Features published by SheerLuxe are not intended to treat, diagnose, cure or prevent any disease. Always seek the advice of your GP or another qualified healthcare provider for any questions you have regarding a medical condition, and before undertaking any diet, exercise or other health-related programme.
DISCLAIMER: We endeavour to always credit the correct original source of every image we use. If you think a credit may be incorrect, please contact us at info@sheerluxe.com.