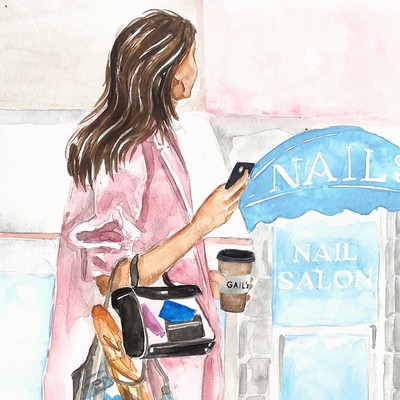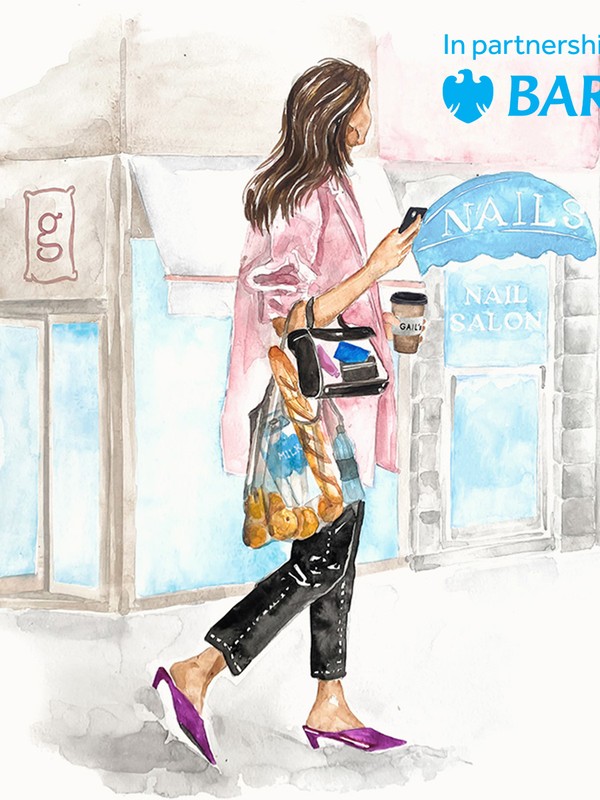 My Investing Journey: Claire Roberts

Invest wisely and you can make your money work for you. Be it something as big as buying a house or simply building up a bit of a nest egg, if investing is for you, it makes sense that the sooner you start, the better. And yet many of us – especially women – feel intimidated by the idea of investing. To help you understand what your options are, we've teamed up with Barclays to share how different women at different ages and stages of life approach money and in particular saving and investing. First up is 25-year-old media executive Claire…

Created in partnership with BARCLAYS
I live in Surbiton in a two-bedroom flat with my partner Jamie. We've been living together for about a year – we both lived at home before – and our household income is just over £80,000. We've been together for a few years and recently we've started talking about the future. We both want to get married and have children, so we've been talking about how and what we can do to reach these financial goals.
I've invested about £23k into my own personal savings. I also have a stocks and shares ISA totalling about £11k and a Help To Buy ISA of about £6k – all of which is invested with Barclays. My stocks and shares ISA was set up for me when I was younger, and I started putting money away into a savings account while I was university. That was about the time I set up the Help To Buy ISA too. My mum is a single parent, so she's very financially conscious and made sure I knew how important it was to be independent. I'd pass the same advice down to my own daughter one day.
I try to save about £200 of my salary every month. It goes via direct debit, but over the last two years I've been able to invest a bit more. Now that the world has opened up again, and living costs are on the rise, sometimes I draw a bit down. Other times I get to the end of the month and realise I can top it up – I'm still at the stage where things fluctuate. 
We'd like to buy a house within the next two years. Right now, we're renting and when the time feels right, we'll start looking in and around Surbiton for something with a bit of outdoor space. We want it to be somewhere we could start a family. We're lucky our parents are helping us with the deposit. However, we're very aware of all the additional costs – moving costs, legal fees etc. – so we've agreed to take care of all that ourselves. 
My boyfriend and I have a joint account for shared outgoings. We each put £1,100 into the account every month to cover rent, bills, general food shopping and things like dinners out or theatre tickets. I then take care of my own expenses like TV subscriptions, my phone bill and gym membership. I don't spend a lot of my money on beauty – I get my nails done every three or four weeks – but I do like fashion, so I probably spend close to £200 a month. 
My daily costs mainly include travel and food. I rarely take my own lunch to the office, and I'll often pick up breakfast on the way, too. I love a coffee from Gail's – it's part of my morning routine. About once a week I also go out for a drink – usually on a Friday night because our office works from home on Fridays. I also do two spin classes a week. They can be expensive – around £15 a time – but I find them enormously beneficial. The pandemic taught me a lot about getting into a decent fitness routine at home (which did save me money) but you just can't replicate the feeling of being in a class with other people.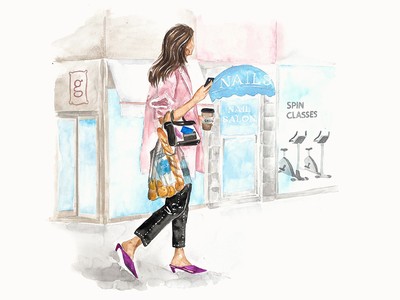 At the weekends, I'm a little bit more relaxed with my money. I like having breakfast out on a Saturday morning. Our favourites include The French Tart in Surbiton and Fortunella in Kingston. For good coffee, we usually go to Wimbledon for a Gail's or to Maison St Cassien. 
I try to avoid impulse purchasing. Since I moved out of my family home, I've become far more aware of the big money decisions that lie on the horizon, and how I have to prepare for them to afford the things I want. If there's something discretionary – like a new dress – that I want, I try to wait and see if I continue to think about it or completely forget it. I also sometimes use pay later services so I'm not out of pocket until I decide to keep something. The only thing I'd say is you have to be very financially disciplined to use them responsibly – it's easy to get carried away.
I do have a credit card for emergencies. The limit is only £1,000, but I took it out when I was at university. Looking back, I probably wouldn't do it again, but at the time it meant I could go on holiday with my friends. That said, it took me a long time to pay off those initial charges and today, I only use it sparingly. What I do like about credit cards is your money is protected – so I use it for online purchases or when I'm abroad – and you can earn rewards. 
I'd also like some advice on paying down my debts. Lots of people say paying off debt before you start investing is critical, but that can sometimes feel unrealistic when you've got student loans hanging over you like I do. We don't have a mortgage yet – but we do have a mortgage broker who checks in with us regularly to see where we're up to. Hopefully having him on our side will make the mortgage application that bit smoother one day.  
Overall, I'd say I'm quite financially literate. I have some of the apps on my phone so I can keep track of things. I'm proud of the fact I've been sensible for quite a long time. Forming healthy habits are what have given me freedom to think more seriously about the next step, too. It would be great if I could invest in other products where I can regularly track the performance. 
My approach to my financial future is best described as 'cautiously optimistic' and I'm excited to find new ways to make my money grow. I don't doubt my commitment to making certain financial goals a reality, but I know how important it is not to overstretch myself. I'm quite financially conservative – I know things like cryptocurrency aren't for me. From the media, I can see the economy is also in flux right now, and we can all feel times are tough. With that in mind, I want to take a sensible approach to risk and make sure I'm making smart decisions.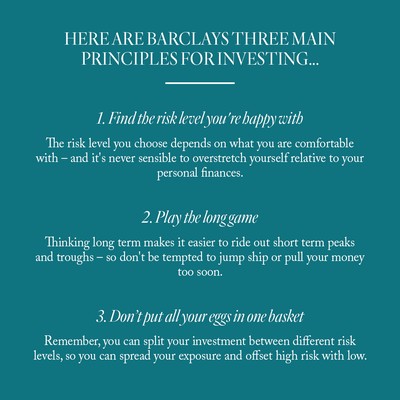 For more information about investing and to find out if Barclays has an investment match for you, visit Barclays.co.uk. 
 
DISCLAIMER: Remember, investing is not for everyone. With investing, your capital is at risk and the value can fall as well as rise. Anything written by SheerLuxe is not intended to constitute financial advice. The views expressed in this article reflect the opinions of the individuals, not the company. Always consult with an independent financial advisor or expert before making an investment or personal finance decisions. 
DISCLAIMER: We endeavour to always credit the correct original source of every image we use. If you think a credit may be incorrect, please contact us at info@sheerluxe.com.