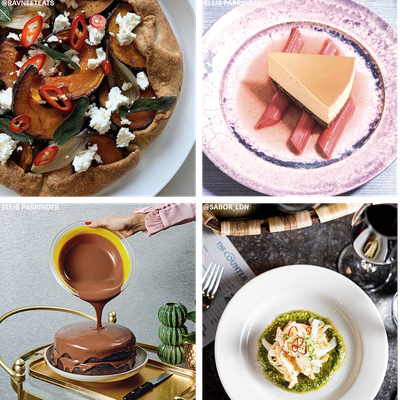 My Life In Food: Ravneet Gill

Cookbook author and chef Ravneet Gill is a judge on Channel 4's Junior Bake Off and writes pastry columns in the Telegraph and Guardian Feast. A winner at the 2021 GQ Food & Drink Awards, this year she also launched The Damson Jelly Academy online cookery school and is about to publish her second book, 'Sugar, I Love You'. Here, she shares her favourite restaurants, entertaining tips and the one meal she relies on after a long shift.

The restaurant from my childhood that will always stay with me is Spaghetti House. I know it's a chain, but when I was a kid, we would go to the one on Duke Street on special occasions. When my mum first started working in London, she didn't know how to eat spaghetti so would stand outside there on her lunch breaks to see how everyone did it. She would tell us that same story every time we would eat there.
The first dish I learned to cook was crepes. My dad taught me, using a Delia Smith cookbook. I always have traditional lemon and sugar on mine.
The restaurants I revisit most often are Brawn on Columbia Road and Noble Rot in Bloomsbury. I love them for their seasonality, produce and because they always have a good dessert on the menu.
I don't have a favourite chef – there are too many I admire and have worked with. I am always so impressed with the ones who are able to remain consistent and constantly level up. Michelle Eshkeri from Margot Bakery in East Finchley seems to always do this, and do it very quietly. I'm always impressed by Michelle's ability to make sourdough pastries and really interesting seasonal vegetarian offerings. I love her savoury stuff just as much as I do the sweet stuff – it's always so well balanced. 
In terms of new restaurants I am excited to see more from Toklas – the forthcoming restaurant from the founders of Frieze festival. I went the other night, and the space is just beautiful. The food is super seasonal yet simple. The team is opening a bakery downstairs and you need to go just to look at the floor. It's been designed very thoughtfully with all the kit you can imagine. I think good things will come from that space. I also went to a dinner by Anglo Thai ahead of John and Desiree opening their new permanent space early next year. The food was so memorable I think I'll be one of the first people through the doors when it opens.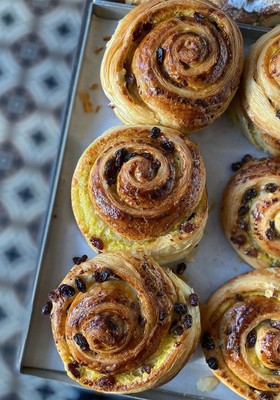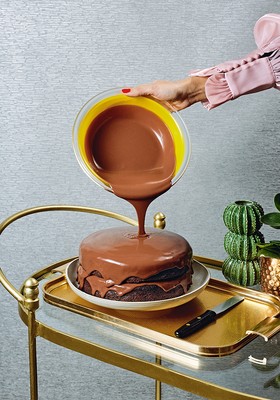 I have many memorable meals but one of my favourites has to be my birthday meal at Sabor a few years back – it was faultless. My advice is to order everything on the menu twice.
My top pick for a pub is The Camberwell Arms, because the food bangs. I don't have a favourite dish, as the menu changes all the time, but the kitchen serves a fantastic Sunday roast.
I don't drink so I don't find myself in bars that often but I really admire everything team Lyan does. Any place that can knock up a brilliant non-alcoholic cocktail has my vote. Otherwise, I tend to stick to ginger ale.
My idea of a perfect Sunday is chilling. Either not doing any cleaning – or doing all of the cleaning and then sitting down to admire what an excellent job I've done. When it comes to rustling up a weekend brunch, I usually go for pancakes with blueberries and maple syrup. Thick or thin, I love them either way.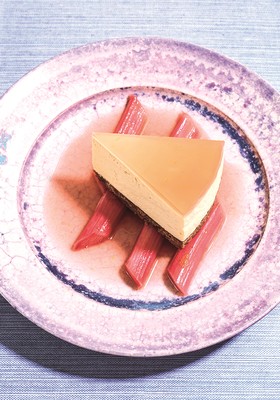 I don't waste my time on dinner dates. My mate Harriet says it should only ever be a coffee – by the time you've finished a flat white, you'll know if you like them. 
After a long, late shift I like to head to Ranoush Juice on Edgware Road for a falafel wrap with chips in it. I always ask for lots of chilli sauce on the side. 
I love international supermarkets. I can get lost in them for a long time. I'll always end up with new ingredients that I want to try or taste. Plus, I love being able to buy massive bunches of herbs and chillies, and sacks of almonds and spices. 
My go-to cookbooks are old-school Roux brothers' books. Like everyone, I also love Yotam Ottolenghi's books – my bookshelves are full of them.
My friendship group loves to eat – they are never ones to say no. Often, a dinner turns into a restaurant crawl and, before we know it, we've eaten at three incredible places in one night, only to then find ourselves in somewhere like Wingstop.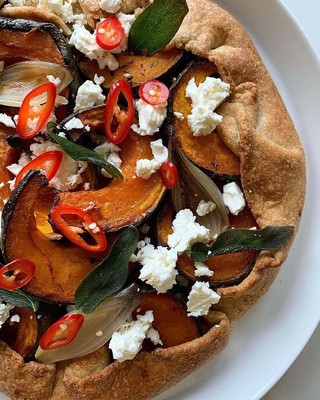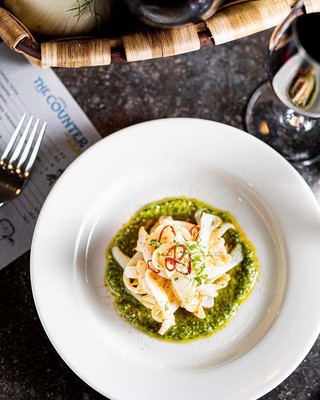 If I'm entertaining at home I'm a big fan of roasting a chicken and making really good sides so everyone can pick and choose. Sometimes there's romesco sauce with broccoli, chilli and roasted almonds, perhaps potatoes with aioli, a Vietnamese side salad, and a veg curry – who knows? It depends on what's in the fridge and who's coming round.
The secret to hosting a good dinner party is topping everyone up with everything, and making sure the dishes are low maintenance enough that you can still hang out with everyone.
I'd love to cook for Michaela Coel. She's wildly creative and talented, and I love listening to her talk in interviews. I think she's really interesting and a very refreshing role model.
The best party I ever threw was a New Year's Eve party I hosted with my friend Bhav a few years ago. We went all out and cooked up a three-course meal featuring all the food we love to eat. Fresh bao, dumplings, fresh herby spicy salads, slow-roasted spiced pork and so on. It got silly, everyone started throwing paper napkins in the air like it was money, and it got really messy. The washing up part was not fun. 
I love something that's easy to eat on the move. I'm a big fan of the M&S Bang Bang Prawn Salad – it's reliably good. Also, good sushi.
If I'm after a quick midweek meal I'll make uttapam, which are south Indian pancakes. My friend's mum often sends me jars of the batter. All I need to do is cook it and top it with lots of freshly cut veggies. So good. 
My idea of a perfect Sunday lunch is the most perfect tomato pasta, and lots of it. Use a really good olive oil, garlic, red chilli, a good-quality tomato purée
and the best tinned tomatoes you can get your hands on. Then add basil, a glug of red wine and serve with lots of parmesan.
I love a tasting menu. I remember going to The Sportsman in Kent for my birthday and I loved it so much. I ate a bit too much – as I always feel I do with tasting menus – and couldn't stomach the dessert. I ate it anyway. It was an excellent apple soufflé. 
My death-row dinner would have to be my mum's methi (fenugreek) parathas with a big bowl of yoghurt. 
And my idea of food hell is really strong smelly cheese, baked beans, strong fish or lamb's kidneys. No thanks.
DISCLAIMER: We endeavour to always credit the correct original source of every image we use. If you think a credit may be incorrect, please contact us at info@sheerluxe.com.