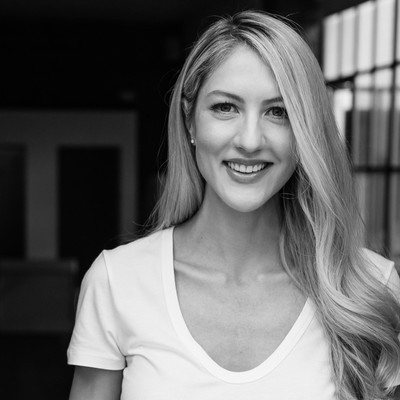 My Week On A Plate: Megan Rossi

An award-winning dietitian and nutritionist with a PhD in gut health, Dr Megan Rossi is the name to know if you want a happier tummy. Doing away with quick fixes, Megan believes looking after yourself starts from within, and that the gut can affect so many aspects of your health – from your mood to your fitness and immune system. To show you how she looks after herself, here's her weekly food diary…

MONDAY
Breakfast: Mornings tend to be my busiest time of the day, especially if I've been up with my son Archie during the night. Breakfast has to be something quick and easy but also nutritious to set me up for the day. Today, it's a bowl of my Bio&Me granola – it's low in sugar, contains 15 different plant-based foods and is packed with prebiotic fibre and protein. I have this with a portion of my live Bio&Me yoghurt (this also contains lots of prebiotic cultures, which are great for the gut) and some seasonal fruit. I'll also have my one coffee of the day, which is a real treat, especially if I've been up with Archie in the night.
Lunch: I love raiding my fridge at lunchtime and putting together a jumble of goodies. This is a great way to use up leftovers and means you can pack in lots of nutrients. Today it was some leftover grilled vegetables with spiced chickpea and sesame seed crackers with pomegranate seeds, red pepper hummus, avocado and kimchi. 
Supper: It's been a busy day but I was cooking for my husband tonight and wanted to make something warm and filling. I made a batch of meatless meatballs, which I simmered in a deliciously rich, tomato sauce. I added flaxseed and oats to the meatballs to give them an extra fibre boost.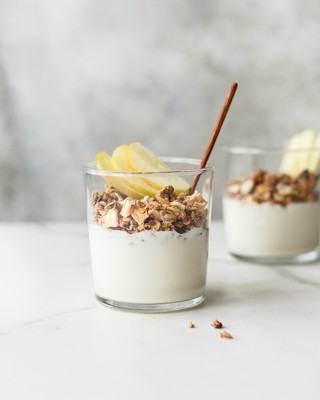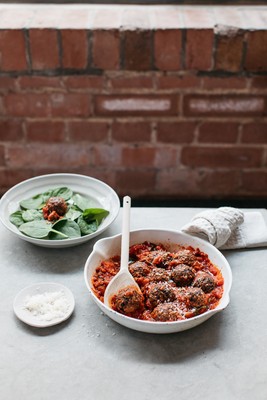 TUESDAY
Breakfast: One of my favourite breakfasts is overnight oats – I love going to bed knowing I have a healthy breakfast ready to go in the morning. Today I'm having a bowl of fermented overnight oats using homemade kefir, which is delicious and packed with goodness. As the kefir ferments the oats, they produce beneficial organic acids, which make the dish slightly tangy and the perfect start to a busy morning.
Lunch: Today I was finalising the pages for my new book, so I threw together a quick salad with some mixed leaves, beetroot, pomegranate seeds and a sprinkle of goat's cheese. I drizzle over some extra virgin olive oil and walnuts for an extra boost of healthy fats, which will keep my energy levels constant throughout the afternoon.
Supper: I love a speedy dinner – there's something so satisfying about a dish you can make in 20 minutes which still tastes great and is good for you. Creamy pistachio and spinach pesto pasta is another one of my go-to dishes. Pistachios are rich in prebiotics and fermented parmesan cheese is also great for the gut – even Archie is a fan. This is the ultimate dinner for busy days when all you want is something quick and tasty.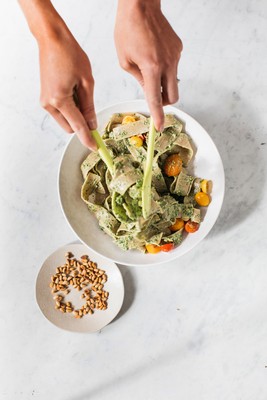 WEDNESDAY
Breakfast: I make a banana, fig and courgette breakfast loaf at least once a fortnight – it's so easy and full of fibre. It's also a great one for the freezer – you can freeze it in slices to ensure you always have a delicious and nutritious breakfast ready to go. It uses teff, which is a tiny, gluten-free grain that packs a nutritional punch, providing 10g of protein and 7g of fibre per cooked cup. After a couple of slices of this, I do half an hour of yoga to set me up for the day.
Lunch: I have a block of tofu in the fridge that needs using up, so I make some satay tofu skewers with a side of saucy greens. Marinating the tofu in sriracha, tamari, sesame oil, peanut butter and garlic powder gives it an amazing taste and texture. 
Supper: Tonight, I'm having chargrilled miso aubergine with sweet potato wedges and a creamy tahini dressing. Sweet potatoes are rich in many plant compounds, including beta-carotene, which gives it its orange glow. With impressive antioxidant powers, beta-carotene transforms into vitamin A in our body, which has been shown to support immunity and eye health.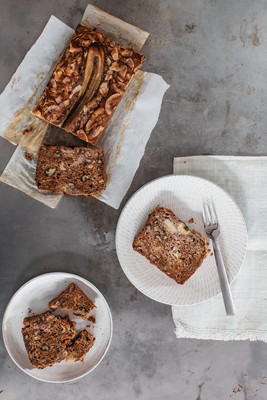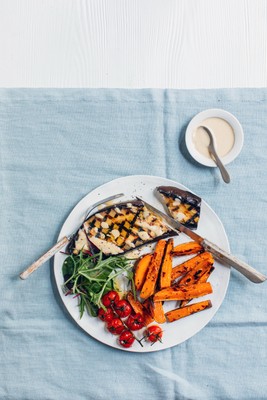 THURSDAY
Breakfast: I am in clinic all morning, and want to make sure I have something filling but easy to make without having to resort to a sugar-overloaded breakfast bar. I made a yoghurt pot with raspberry compote, which has the perfect balance of tang and sweetness. For the compote, I put some frozen raspberries into a pan along with a splash of water and a chopped date. Simmer gently for five minutes and then stir in one tablespoon of chia seeds and simmer until it starts to thicken. I spoon this onto live yoghurt, granola and an additional handful of berries.
Lunch: I've been proofing my new book this morning so I need some brainpower. On the menu today is my quinoa sushi, which contains double the amount of fibre as shop-bought sushi. I add red onion, which is a great source of the polyphenol quercetin, known for its antioxidant properties. 
Supper: I fancy cooking something fun this evening for the family so I make homemade pizza. Homemade pizza dough sounds complicated but it's easier and quicker than you think. I like it thin and crispy, and always topped with lots of veg and ricotta cheese.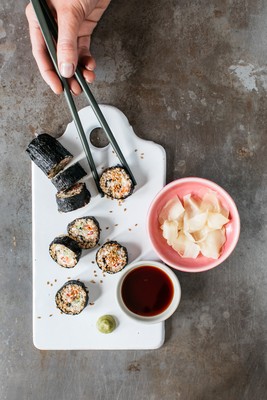 FRIDAY
Breakfast: It's feeling wintry this morning, so breakfast has to be a bowl of warming porridge. Creamy chocolate porridge is a great way to start the day. I use my Bio&Me Super Seedy and Nutty Porridge Oats, and start by blending 40g of this with two dates in a food processor until it creates a thick paste. At the same time, I mash a banana, which I then add to a pan along with the oat mixture as well as 40g of oats, 250ml of oat milk and one teaspoon of cacao powder. Cook for five to ten minutes, stirring every now and again until it's thick and creamy. Top with sliced banana and coconut chips.
Lunch: I had some time for lunch today so I made one of my favourite autumnal lunches – roasted red peppers and garlic with feta on two slices of thick, wholegrain seedy bread. I top it with a handful of rocket, balsamic and a sprinkle of mixed seeds. 
Supper: I try and have at least one fermented food every day – whether it's kefir, kimchi or something else. Korean BBQ squash tacos with kimchi are made with butternut squash, gochujang and lots of herbs and spices. We topped ours with kimchi, live thick yoghurt, avocado and fresh coriander. I serve these with wholewheat tortillas.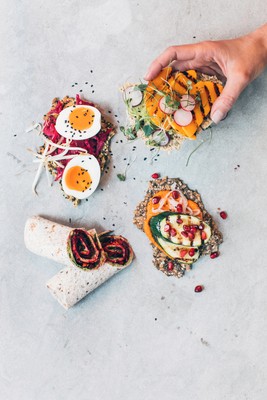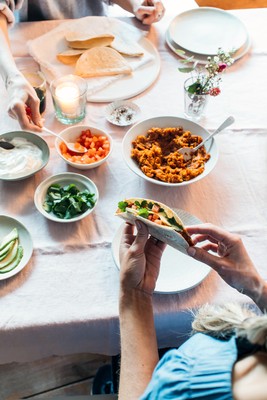 SATURDAY
Breakfast: I'm having some friends over for breakfast today so I'm making mini shakshuka egg pots. They look and taste great, filled with smoky tomato, butterbeans, peppers and topped with an egg. After this, I head out to the local park for a walk with the whole family, my puppy Pistachio included. 
Lunch: I wanted something packed with greens for lunch so I whipped up my sautéed Brussels sprouts with tenderstem broccoli, pesto and wild rice. I love making a batch of pesto and using it to spice up meals and add in a few extra plant points – every week, you should aim to eat 30 different plant-based foods. The 5-a-day rule is a good place to start, but totally ignores the trillions of microbes that live in our gut. They all need different types of plant foods to flourish.
Supper: We had some leftover BBQ squash tacos from Friday, so I heated those up while reading some interesting new research on the role of gut health and skin health.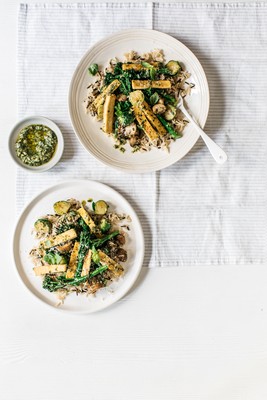 SUNDAY
Breakfast: Sunday mornings were made for pancakes. Chickpea crepes with creamy feta and mushrooms are a firm favourite in my household – they're so easy to make and full of flavour. Mushrooms are a great source of vitamin D, which is important in the winter months. I keep mine on the windowsill, exposed to sunlight, which increases their vitamin D content.
Lunch: We're out for lunch today with friends at an amazing restaurant. I had cauliflower rice with Idiazabal cheese (a semi-soft smoked sheep's milk cheese with a rich, nutty flavour) and lemon aioli. I was too full for dessert but had some of my chocolate bark when I got home – the perfect Sunday treat. 
Supper: On a Sunday evening, I tend to make recipes I can make in large batches so I'm covered for the week ahead. Tonight, it was all about the spicy bean burgers. These combine the prebiotic goodness of legumes with the polyphenols from the herbs and spices. I make double the amount so we can have them for lunch later in the week.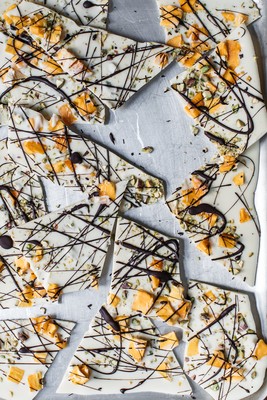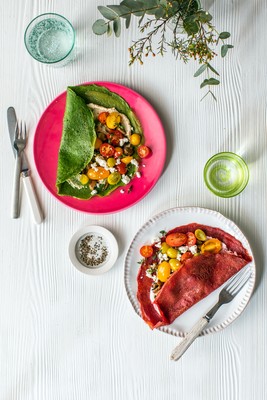 For more information visit TheGutHealthDoctor.com and follow @TheGutHealthDoctor on Instagram.
 
DISCLAIMER: Features published by SheerLuxe are not intended to treat, diagnose, cure or prevent any disease. Always seek the advice of your GP or another qualified healthcare provider for any questions you have regarding a medical condition, and before undertaking any diet, exercise or other health-related programme.
DISCLAIMER: We endeavour to always credit the correct original source of every image we use. If you think a credit may be incorrect, please contact us at info@sheerluxe.com.