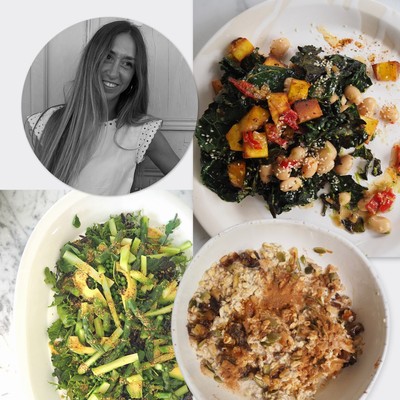 My Week On A Plate: Nina Parker

Chef, entrepreneur and author of three best-selling cookbooks, Nina Parker is the woman-of-the-moment on London's foodie scene. After working in some of the capital's top restaurants, Nina now counts Donatella Versace and Stormzy among her private clients, but still finds time to create daily recipes for her drool-worthy Instagram account. Here, she shares her weekly food diary…

MONDAY
BREAKFAST: Most weekday mornings start with a 20-minute meditation, cold shower and a fruit smoothie. I use a combination of banana, frozen berries, nuts, oats, cinnamon, kefir and water. I make smoothies year-round and vary the fruit according to the seasons. This is my main time of the day for eating fruit and I really look forward to it. Later that morning, I pick up a coffee on my way to buy ingredients for food I'm shooting that week. 
LUNCH: Today's lunch is a fridge forage of blanched cima di rapa (from the broccoli family), walnuts, radish, lentils, spinach, avocado, pumpkin seeds and coriander. I try to eat a good bowl of veggies like this for lunch a few times a week and always pair it with a punchy dressing to bring everything to life – today's is my go-to tahini dressing with soy sauce, apple cider vinegar, maple syrup and lime juice and zest. I indulge a lot at the weekend, so this type of lunch really balances things out – plus, it's delicious. 
SUPPER: Tonight, I want something healthy and comforting, so I make my staple spicy aubergine chickpea curry. I top it with lots of coriander, which is one of my favourite ingredients. It might be in my head, but I get this wonderful feeling every time I eat it – I can almost feel the immediate result of it doing good. I joke that my latest cookbook, Saucy, could have been named the 'aubergine and coriander cookbook'.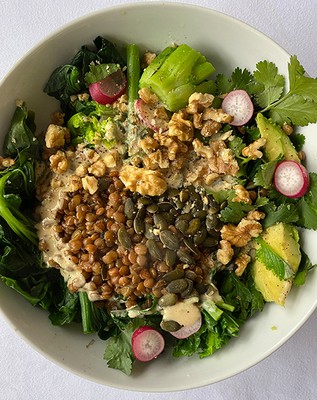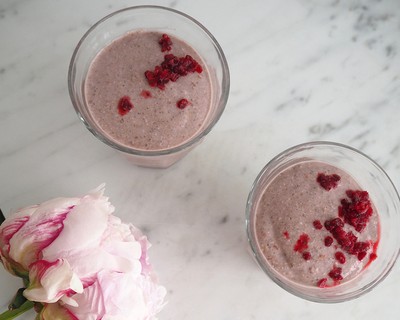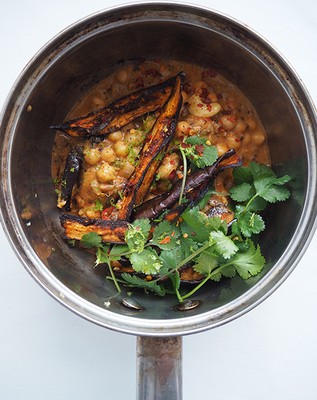 TUESDAY
BREAKFAST: Every Tuesday I shoot a live Instagram and today I'm also shooting some pancake dishes for a magazine spread, so it's a busy morning. For breakfast, I end up snacking on the pancakes – which are banana oat protein pancakes. I keep the toppings seasonal with pink rhubarb, pomegranate, blood orange and coconut yoghurt. I also used Hermosa's vanilla protein for these pancakes, which is one of the nicest pea proteins I've tried.
LUNCH: It's another salad for lunch today. I popped by the famous Newington Green greengrocer for some radicchio (this is the most fantastic place to find speciality fruit and veg and photogenic produce for photoshoots) and mix this with leftover lentils and grated carrot. I make one of my favourite dressings – a chilli oil dressing with white miso.
SUPPER: After filming my IG live, I eat a third portion of my cacio e pepe pasta. This is the most perfect bowl of comfort food, using pecorino and Grana Padano.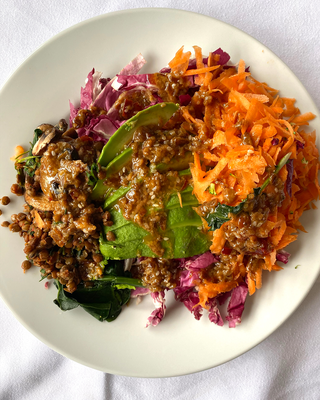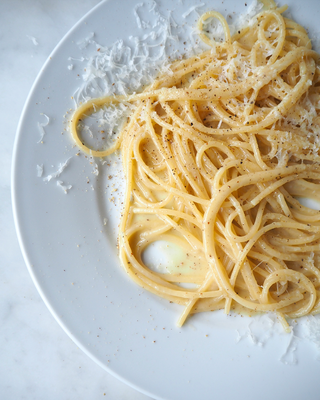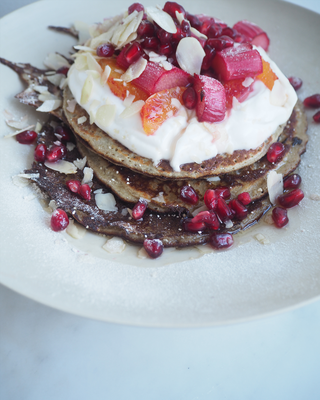 WEDNESDAY
BREAKFAST: Before I went to bed last night, I soaked some oats in almond milk, and this morning I mix in some grated apple, nuts, seeds and cinnamon. It has such a creamy texture and it's so filling – it keeps me full until lunchtime. Cinnamon is one of my vices, and I love adding it to sweet dishes. Before breakfast, I managed to sneak in a 20-minute yoga class with @YogaGlo. I try and do a couple of these sessions per week. 
LUNCH: I'm all about leftovers and always make a concerted effort to use everything up. Today, I finish off the radicchio and add a fried egg, brown rice, raw mushrooms and avocado, which I dress with chili oil blended with a salsa mix using smoked garlic, which I'm looking to start selling later this year. It's an unreal combination.
SUPPER: I am lucky to get the night off cooking this evening as I received a food delivery from Bubala London, a vegetarian restaurant. Once we're out of lockdown, I highly recommend heading to Shoreditch to try out their Middle Eastern fare. They've sent me a mezze platter of labneh, confit garlic, potato latkes, fried honey halloumi and laffa bread. Their chef, Helen Graham, is so creative and a flavour master.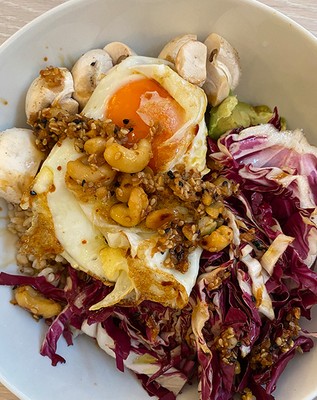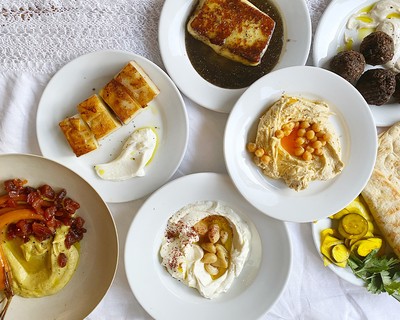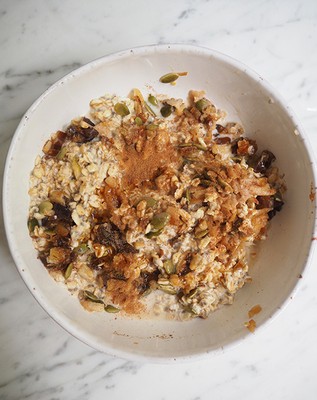 THURSDAY
BREAKFAST: Yesterday afternoon, I was practicing making doughnuts for another IG live and ended up having one this morning with a coffee. I also make a butterscotch sauce for dipping, which is too hard to resist. I'm a bit of a coffee snob these days – I love Ozone Coffee, The Dusty Knuckle and Climpson & Sons. 
LUNCH: More recipe testing today – roast cauliflower florets dressed with a mixture of black tahini, lime juice and garlic. I always use Belazu tahini as it's the best quality. When I roast cauliflower, I always include the leaves as they are particularly delicious. I also make a miso sesame dressing and an aged balsamic white truffle vinaigrette. The truffle version is a very simple dressing that I learnt to make when I worked at Bocca Di Lupo – we used to have it with the staff food, paired with lots of radicchio and blanched almonds.  
SUPPER: This is a very quick supper of butterbeans, roasted squash and cavolo nero with chilli oil. Sometimes just three ingredients and a good sauce is all you need. For a speedier dish, be sure to cut the squash into small cubes so it cooks more quickly. You can also do this with kale, and then squeeze over citrus juice and zest as it comes out of the oven.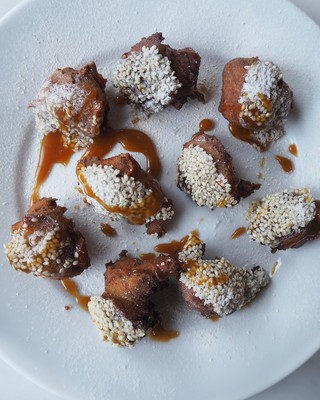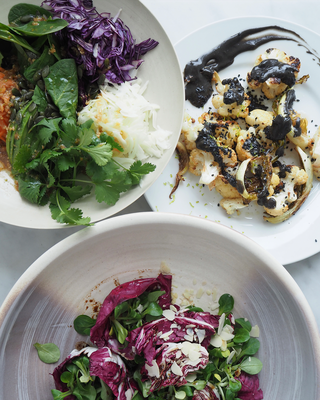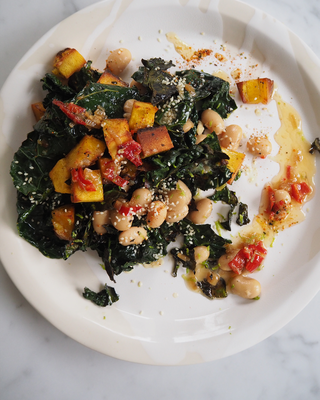 FRIDAY
BREAKFAST: I worked with Ekte, a Nordic restaurant, last year, and they showed me how to make their spectacular cinnamon buns. They have a little sea salt in them and a tonne of butter – what's not to love? I couldn't resist making some this morning and had one with a cup of coffee. 
LUNCH: Recently, I've been working one day a week from a space in Ladbroke Grove, which has been a total blessing for my mental health. Today, I brought a mixed rainbow salad with me, and I had to trial a Victoria sponge for a Zoom tutorial for Tory Burch, so brought a slice or two of this, too. It was a spelt cake with strawberry, raspberry and brown sugar jam.
SUPPER: I was too tired to cook this evening and wanted something easy to eat while watching Call My Agent. I had a defrosted vegetarian lasagne that I made with a vegan bolognaise from my Saucy cookbook. Friday evenings always feature a cheeky margarita, which tells me the weekend has started. It's these small rituals that differentiate the week from the weekend right now.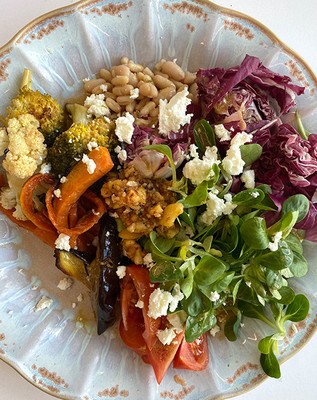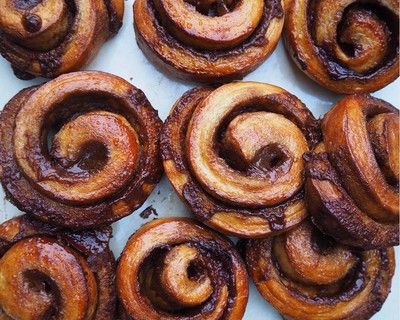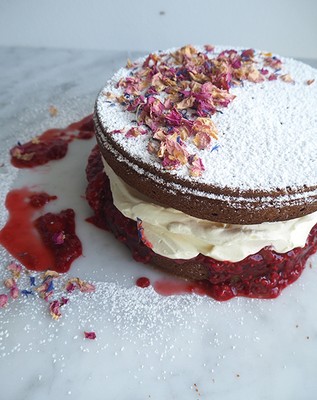 SATURDAY
BREAKFAST: Saturday morning calls for banana clafoutis with brown butter – a seriously indulgent breakfast but it's so easy to make. It's essentially a pancake batter, made using spelt flour, that's baked in the oven. I tend to go for a run on Saturday mornings in Clissold Park, and this is my reward afterwards.
LUNCH: Another salad is on the menu today, topped with a classic French mustard dressing. I eat this before heading out on a cycle ride to Epping Forest. When the weather is good, I always try and get out when I can. It's exciting to see the daffodils out, too.
SUPPER: This evening's dinner was a collection of dishes I'd made for a vegan dinner party drop-off – teriyaki soba noodles with caramelised pak choi, cauliflower tempura with black tahini and mixed winter leaves with soya seed mix, crispy shallots and shichimi dressing. The mains were miso aubergine and crispy rice and a vegan chocolate cake for pudding.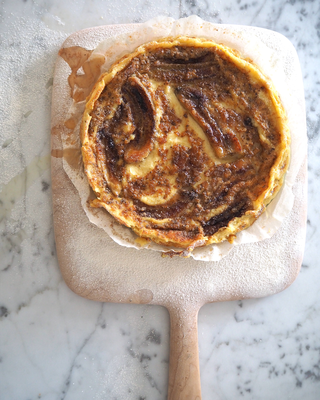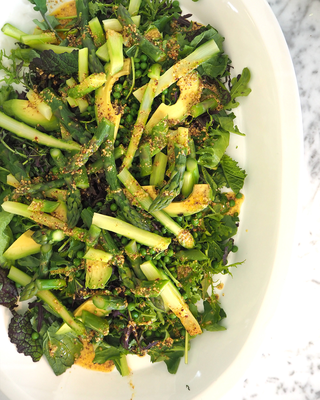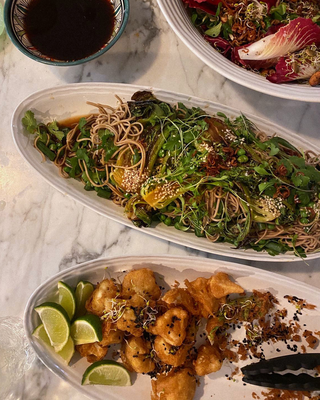 SUNDAY
BREAKFAST: After quite a bit of cooking last night I want something quick and cheesy. I'm a huge fan of kimchi and love adding it to a grilled cheese sandwich – just be sure to butter both sides of the bread when you fry it. There are lots of good kimchi brands, but my favourite is The Cultured Collective.
LUNCH: Lunch was more leftovers from Friday's dinner party. Earlier in the week, I was sent some amazing chocolate from Montezuma and had been dreaming of creating a cake made with olive oil instead of butter, so made one this afternoon. At tea-time, I had a slice of this creation, which I also made using buttermilk to cut through the richness and add a wonderful tang. Total heaven.
SUPPER: I mainly eat vegan and vegetarian food but in lockdown I have been eating some good quality fish every so often. For years I have been inspired by the LA food scene and my food takes ideas from their incredible fusion of Mexican meets Asian meets Italian. Tonight, I take inspiration from a shrimp burger I had at La Tostaderia in LA and recreated my own using a chipotle mayo, pickled jalapeños and crispy onions. I always buy my fish locally – Steve Hatt Fishmongers, Fin and Flounder and Jaines & Son Fishmongers are my go-tos. There was also a slice of cake lurking around for pudding – life is for living, after all.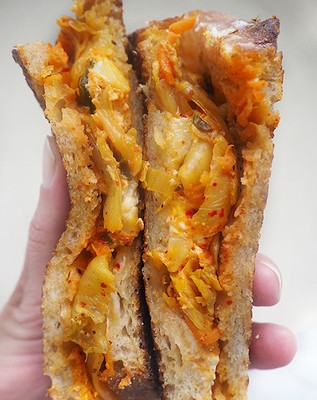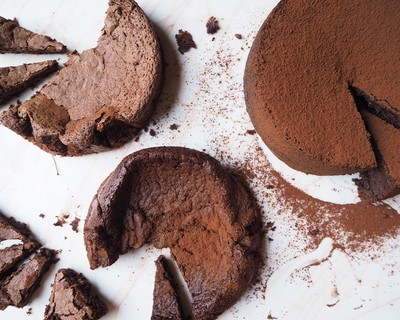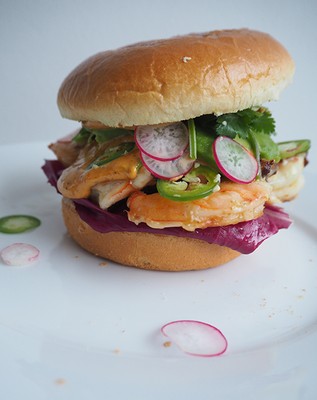 Visit NinaFood.com and follow @AntoninaParker. Saucy, Nina's latest cookbook, is out now. 
DISCLAIMER: Features published by SheerLuxe are not intended to treat, diagnose, cure or prevent any disease. Always seek the advice of your GP or another qualified healthcare provider for any questions you have regarding a medical condition, and before undertaking any diet, exercise or other health-related programme.
DISCLAIMER: We endeavour to always credit the correct original source of every image we use. If you think a credit may be incorrect, please contact us at info@sheerluxe.com.