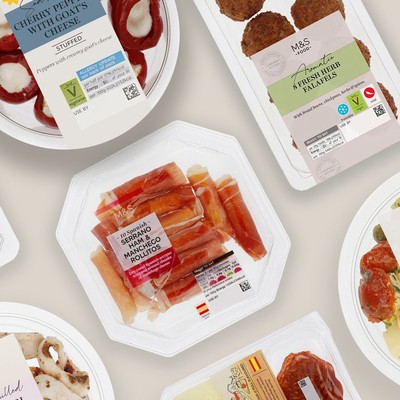 A Nutritional Guide To The M&S Deli Range

Whether you need nibbles for a last-minute get-together or an on-the-go snack, the deli range at M&S takes some beating. But how healthy are your favourites? We asked two nutritionists to break down the bestsellers.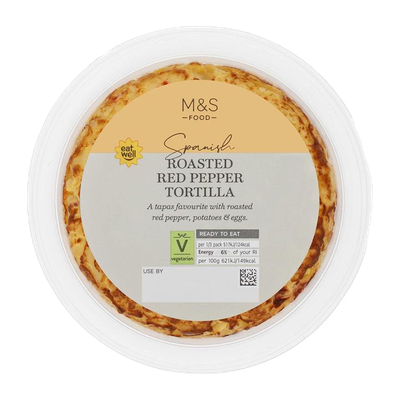 Roasted Red Pepper Tortilla
VERDICT: On paper, this Spanish tapas staple is relatively healthy, says nutritionist Sophie Trotman. "It's made with wholefoods, which is great. Regular potatoes have been overshadowed by the sweet potato in recent years, but we mustn't forget white potatoes are still rich in potassium, vitamin C and folate." Sophie also approves of the inclusion of eggs, which she says lessens the white potato's impact on blood sugar and provides extra vitamins B12, folate, iron and protein." However, registered dietitian and nutritionist Sarah Schenker says the tortilla is lacking in fibre, so it may not keep you full for very long.
MAKE IT HEALTHIER: Sarah recommends serving the tortilla with a portion of fibre-rich veg, while Sophie says it would be even better if it was made with an alternative oil. "It's made with sunflower oil, which can be inflammatory – if it was made with olive oil, I'd give it a thumbs up. To make it even healthier, serve it with a bitter leaf salad and a source of protein."
RATING: 8/10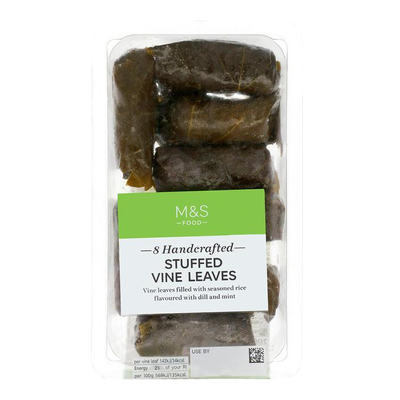 Vine Leaves
VERDICT: Vine leaves may look healthy, but they're essentially disguised rice balls, says Sophie. "This makes them high in refined carbs, which can spike blood sugar, causing cravings and low energy." However, all is not lost, as vine leaves are rich in vitamin A, which is beneficial for skin, bones and eye health, she adds. "Nonetheless, these are fairly high in salt – nearly 3g per pack – which can negatively affect blood pressure." 
MAKE IT HEALTHIER: If these are on the menu, pair them with a source of good-quality protein to lessen the blood sugar spike. 
RATING: 6/10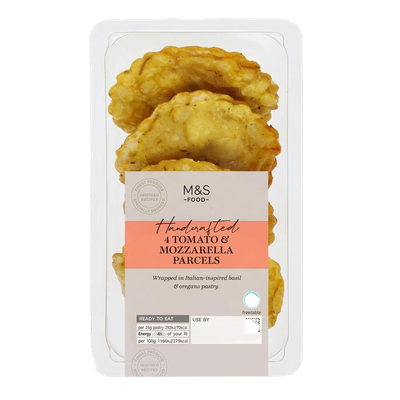 Tomato and Mozzarella Pastries
VERDICT: Handcrafted basil and oregano pastries with a tomato and mozzarella cheese filling, these Italian-inspired morsels are an M&S bestseller. "These may be delicious, but they're made with inflammatory oils – sunflower and rapeseed – so this dish isn't as healthy as it looks," Sophie says. "They are also relatively high in carbs, although this is balanced out by a relatively high protein content," she adds. Sarah also gives them a low rating. "High in fat, carbs and calories – albeit relatively low in saturated fats – there are far better options in the M&S deli range."
MAKE IT HEALTHIER: "The amount of pastry means these really aren't the healthiest option, but if it's all that's on offer, be sure to serve them with a good portion of roast vegetables and a source of protein, such as chicken or fish," Sophie recommends. 
RATING: 3/10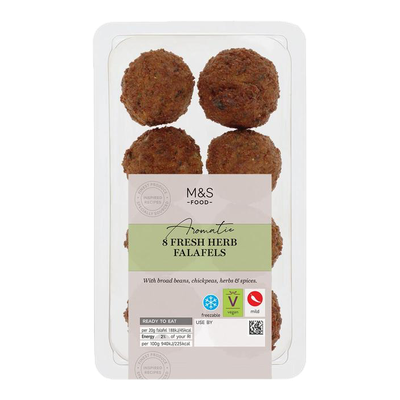 Fresh Herb Falafels
VERDICT: A perennial favourite, these falafels are rich in magnesium, iron and potassium. "They are also made with chickpea flour, which is higher in protein and fibre than white flour," says Sophie. "The inclusion of broad beans also boosts the plant diversity of this dish, which is great for gut health. However, as with all processed foods, these are fairly high in salt. It's also worth noting that falafel isn't a solid source of protein – half a pack contains only 6g. Lots of women believe they are rich in protein, but you can't rely on falafel as your sole source of protein in a single meal."
MAKE IT HEALTHIER: Sophie recommends pairing the falafel with a salad packed with dark green, leafy vegetables as well as an additional source of protein, such as other legumes (lentils or black beans) and a source of healthy fat, such as tahini or extra virgin olive oil. 
RATING: 9/10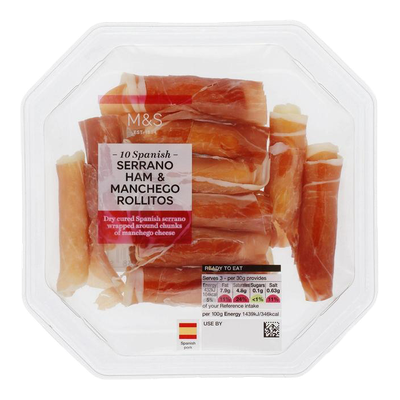 Serrano Ham & Manchego Rolls
VERDICT: "High in protein and low in carbs, these rolls are great if you're trying to control your carb intake," says Sarah. However, Serrano ham is a processed meat, which shouldn't form part of your daily diet, Sophie adds. "Processed meats contain compounds which can negatively impact our health. Having said that, if you eat these in the recommended amount (around three rolls), these can form part of a healthy diet. Manchego is rich in calcium, vitamin A and iodine which – with the explosion of plant milks – can often be deficient in modern diets. As a snack, this is much healthier and more nutrient-dense than a biscuit, crisps or an overly processed protein bar."
MAKE IT HEALTHIER: Stick to the recommended amount and you're good to go. Even better, enjoy cheese as a snack without the processed meat, advises Sophie. 
RATING: 6/10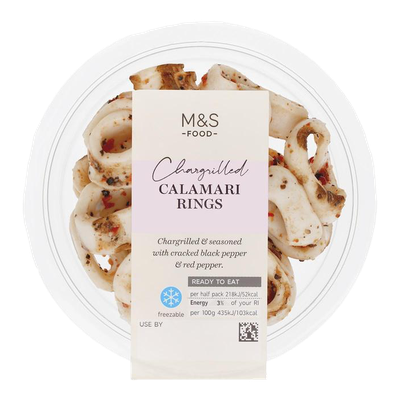 Chargrilled Calamari Rings
VERDICT: With 20g of lean protein per serving, and flavoured with cracked black pepper and a red pepper seasoning, these calamari rings are a guilt-free snack. "Squid is very nutritious, as well as being rich in selenium, vitamin B12 and protein," says Sophie. "The cooking method of chargrilling as opposed to frying is far healthier too. However, this product loses a point as it's paired with sunflower oil as opposed to healthy olive oil."
MAKE IT HEALTHIER: Serve them with some vegetables, complex carbs like quinoa or buckwheat, and a drizzle of extra virgin olive oil for the perfect Mediterranean-inspired lunch, says Sophie. 
RATING: 9/10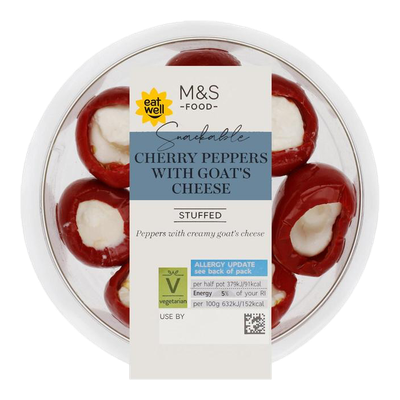 Cherry Peppers With Goat's Cheese
VERDICT: With 10g of sugar and 4g of saturated fat per 100g, you'd be forgiven for thinking these peppers stuffed with goat's cheese aren't a wise choice, but they're healthier than they appear on the nutrition label, says Sarah. "The sugar they contain comes from the fructose in the cherry peppers and lactose from the cheese, and there's only a tiny amount of added sugar. They're also fairly low in salt and have a good balance of fat, carbs and protein." Sophie, meanwhile, rates the addition of goat's cheese. "Goat's cheese is rich in vitamin A, calcium and magnesium. It also contains less lactose than cheese made from cow's milk and is therefore easier to digest."
MAKE IT HEALTHIER: These are pretty well balanced as they are, says Sophie, but pair them with a big green salad for bonus health points.
RATING: 8/10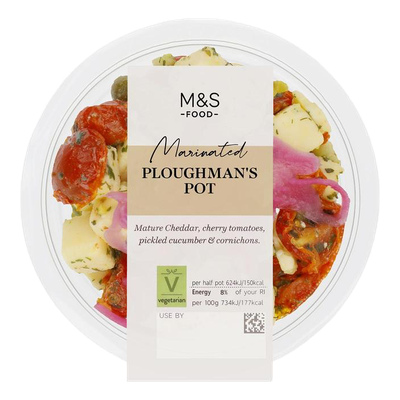 Marinated Ploughman's Pot
VERDICT: Mature cheddar cheese with pickled gherkins, semi-dried cherry tomatoes, pickled cucumber salsa and pickled red onions in a lemon and garlic marinade, this is a nutritious snack in the right portion, says Sophie. "However, it is fairly high in sugar for a savoury option and it's clear from the ingredients list that sugar has been added. Having said that, pickled gherkins are rich in vitamin K, which aids blood clotting and is thought to have protective effects on your bones."
MAKE IT HEALTHIER: If you're picking this up for lunch, make it part of a rounded meal and have it on a bed of vegetables to boost the fibre content, Sophie recommends. 
RATING: 6/10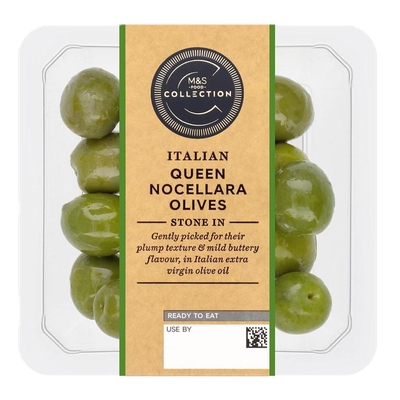 Giant Nocellara Olives
VERDICT: Olives are a great source of healthy fats, which are essential for brain, skin and heart health, says Sophie, as well being high in fibre. "They are also packed with antioxidants, which reduce inflammation in the body. However, olives are high in salt and these olives contain nearly 2.5g per 100g. Considering that the RDA is 6g per day, this is high and a potentially unexpected and unaccounted-for source of salt in the diet."
MAKE IT HEALTHIER: Olives may be a healthy fat but being high in salt means you should monitor your intake. "Consume these mindfully every now and then, not every day," advises Sophie.
RATING: 7/10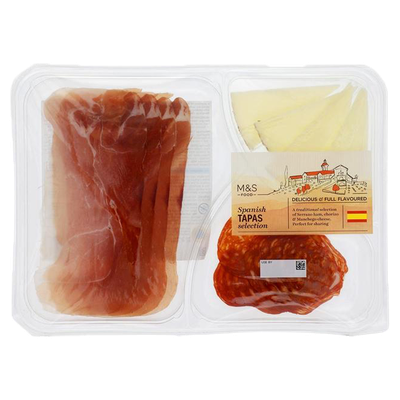 Spanish Tapas Selection
VERDICT: "This low-carb option may look healthy on the surface, but these hams are processed, which can have negative health consequences," says Sophie. "This shouldn't be something you eat on a daily basis. On the other hand, manchego cheese is nutritious, providing vitamin A, calcium and protein."
MAKE IT HEALTHIER: "In an ideal world, this should be enjoyed every now and then due to the dominance of cured meats. If you really fancy a Spanish-inspired snack, you'd be better off choosing just manchego, or a similar type of cheese, or alternatively a leaner meat such as chicken," says Sophie.
RATING: 3/10
For more information visit MarksAndSpencer.com, SophieTrotmanNutrition.com and SarahSchenker.co.uk
DISCLAIMER: Features published by SheerLuxe are not intended to treat, diagnose, cure or prevent any disease. Always seek the advice of your GP or another qualified healthcare provider for any questions you have regarding a medical condition, and before undertaking any diet, exercise or other health-related programme.
DISCLAIMER: We endeavour to always credit the correct original source of every image we use. If you think a credit may be incorrect, please contact us at info@sheerluxe.com.