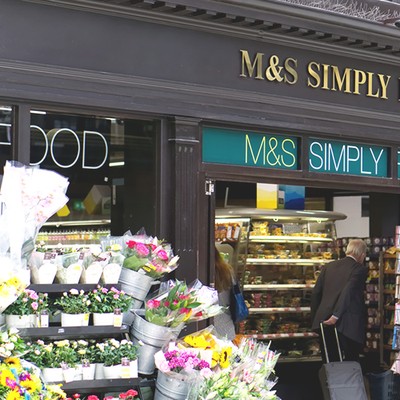 Ocado & Marks & Spencer Team Up For A New Delivery Service

Thanks to a mammoth deal with online delivery service Ocado, fans of M&S will finally be able to order their underwear alongside store cupboard essentials, as part of a new home delivery service between the two big brands.

What's happened?
Marks & Spencer are due to pay Ocado a whopping £750 million in a new deal for 50% stake in a joint venture with Ocado.com which will see the food brand take its goods online for the first time. And we won't wait long for the deal to deliver – M&S will begin trading through Ocado in September 2019, when its deal with Waitrose expires.
 
It's been long time in the making Ocado chief Tim Steiner admitted at a press conference to announce the deal, revealing he has been trying to get Marks & Spencer on board for nearly 20 years: "I first started talking to M&S in 2000… we got there in the end!"
 

What does this mean for the brands?
Steve Rowe, M&S' chief executive who took the helm of the struggling retailer three years ago, has been trying to revamp both the retail and food branches of the business. It's almost certain the brand has been held back by not offering online shopping, but Rowe is ready to bring the brand up to speed in the digital era – he said he "always believed M&S food should be online," and teaming their upmarket food range with Ocado's technology would be a "win-win" deal for both parties.
 
Negotiations could have been thwarted after a huge fire broke out at Ocado's newest facility in Andover, Hampshire, last month, with flames ripping through the warehouse. It took more than 300 firefighters over two days to put it out, and there were fears it could have been sparked by the high-tech machinery the company relies on. Steiner was quick to dismiss these claims, however, and the deal went ahead as planned.
What does this mean for shoppers?
As part of the arrangement, shoppers will be able to order more than 4,500 M&S products, alongside Ocado's own-label goods. Those who were fans of their deal with Waitrose will be able to switch to Waitrose's own online delivery system, which is already up and running. Rowe believes sticking with Ocado would be more beneficial, however, as he says M&S products are, on average, cheaper than Waitrose.
 

Are there any dowsides?
The fear with the new deal is whether customers will order enough M&S food to bring in a profit. When Rowe previously tested an M&S delivery service, he found shopping baskets only totalled about £60 – but needed to be in the region of £100 to be profitable. "I've been consistent in saying we would only do food online if it was profitable, sustainable and scalable. We realised we couldn't do it on our own."
 
As a relatively upmarket store, the average physical basket price is just £13 – more of a top-up than a weekly shop – whereas Ocado shoppers tend to stock up for the week or the month. Plus, M&S's core demographic is women over 35, who might be reluctant to shop on the internet. Will Marks and Spencer be able to push enough of its products in order to justify the price they paid for the deal?
 
Steiner remains optimistic about the deal ­­– signed at the crack of dawn (6.05am) on 27th February – describing it as a "transformative moment in the UK retail sector," which would combine "two iconic and much-loved retail brands". He was also confident the joint venture would allow Ocado to "grow faster, add more jobs, and create more value".
DISCLAIMER: We endeavour to always credit the correct original source of every image we use. If you think a credit may be incorrect, please contact us at info@sheerluxe.com.