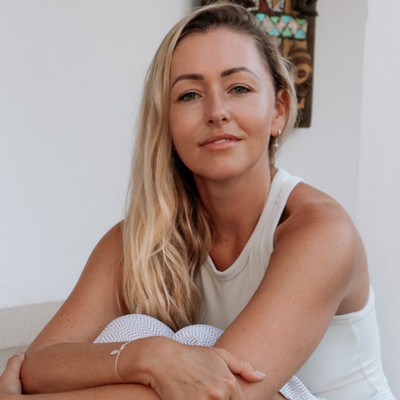 Phoebe Greenacre: My Food & Fitness Regime

A holistic therapist specialising in somatic therapy, yoga and meditation, as well as the co-founder of luxury activewear brand Silou, Phoebe Greenacre is the definition of a wellness guru. Having started practicing yoga when she was just 15, self-care is at the heart of everything she does, including The Self Care space, the wellness platform she launched during lockdown. Currently living and working in Kenya after the pandemic forced her to change her life plans, we sat down with her to find out what keeps her health on track…

Mornings are sacred for me. I live for my morning rituals and always carve out time for self-care first thing. I try to wake up without an alarm and immediately make a matcha tea before finding a place to meditate. Depending on how I feel, some mornings I meditate for five minutes, other days it's half an hour. I then do some mindful movement via my online library, The Self Care Space, usually yoga or Pilates, and then go for a walk. My new Kenya routine includes meditation by the water and a long walk along the beach before it gets too hot. 
Most days I crave green foods in the morning. I go through periods of having the same breakfast every day and then mix it up after a week or so. At the moment, I'm loving eggs with a side of spinach, but other weeks I crave porridge with coconut milk, chia seeds and berries. During the warmer months I'm also a fan of smoothies – they're the best way to pack nutrients into a meal.
I try to buy organic food where possible. I was raised buying organic produce and buying from markets, so it feels normal to me to follow this own pathway for my own home. Every week, without fail, I buy baby spinach, oat milk, chocolate, sweet potatoes and avocados. I try to avoid dairy as it makes my skin breakout, but I will have a little milk chocolate here and there. 
Eating close to nature is important. I was brought up vegan, and spent most of my life either vegetarian or pescatarian. But now, living near the sea, seafood and local produce makes sense, so I go with the flow. I'm conscious of what I put in my body and know that my body reacts well when I eat more plant-based foods. 
Buddha bowls are a household staple. I love the challenge of using what I have in the fridge to create a meal, and during the recent lockdowns, this became part of our routine. Buddha bowls are easy to throw together and work with whatever you have – vegetables, grains, greens, salads and protein. I also love making Asian food – think stir fries, soups and sushi. 
Jackfruit is a great meat substitute. One of my failsafe recipes to cook for friends is jackfruit and lentil tacos. I treat jackfruit like chicken, seasoning it with onion and garlic, and it cooks just like meat, too. Serve this with guacamole, hot chillies, coconut yoghurt and lime juice for a guaranteed crowd pleaser.
Before the pandemic, I used to eat out three or four times a week. I tend to gravitate towards a healthier meal as I genuinely love vegetables. Some of my favourite dishes in London include the Jerusalem artichokes at Gold Notting Hill, Dishoom's gunpowder potatoes, Seabird's beetroot tartare and the entire menu at The Barbary.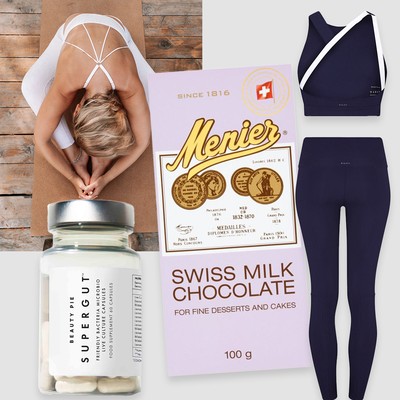 Self-care is more important than ever. It may be that you're better off doing some yoga instead of HIIT – it's this delicate balance that's kept me sane throughout the pandemic.
Deliciously Ella's snacks get my vote. Her oat bars, energy balls and baked vegetable crackers are particularly delicious, although here in Kenya, the nearest shop is over an hour away, so my 3pm snack habit has quickly disappeared.
When it comes to alcohol, it's all about moderation. My mum used to say that it's what you do 90% of the time that makes you who you are, so I don't mind indulging a little at the weekends. I love an Argentinian Malbec or a spicy bloody Mary with brunch. I used to drink a lot more when I was in my 20s, but now I am in my 30s, I've learnt I am more emotionally stable and feel better in my body without alcohol. It's all about balance. 
Supplements are a good way top-up your diet. I always take probiotics before bed – my tummy feels so much better when I do – and make sure I swap up the brand every few months to ensure I'm getting a variety of bacterial strains. As I exercise most days, I find taking magnesium before bed helps and during the pandemic, I started taking vitamin D. I'm also a fan of adding a green superfood powder to my smoothies – WelleCo's Super Elixir Greens is my go-to. 
The science of Ayurveda helps dictate my workouts. In Ayurveda, I'm a Pitta (one of the three doshas) so use a combination of yoga, walking, swimming and resistance training to keep my body in balance. At the moment, I am particularly enjoying Xtend Barre classes, which are fantastic for lengthening and toning the body, and with the beach now so close by, I try to fit in a long beach walk a couple of times a week. 
These days, I dedicate more time to recovery. I won't scrimp on an hour of sleep to workout, as this sends my cortisol levels soaring. I used to think that if I didn't exercise every day I'd put on weight, but I've now realised that the more rest I have in between workouts, the better my body responds. I also regularly practice yin yoga, which is a great way to re-set the body.
Self-care is now more important than ever. It's all about listening to your body and understanding what it needs. Some days, it may be that you're better off doing a yin yoga class instead of a HIIT session, or that it could be beneficial to start your day with some breathwork exercises to banish fatigue. It's this delicate ebb and flow that helped keep me sane throughout the chaos of 2020. 
A massage is the first thing I'm booking post-lockdown. As I work with people's energy and emotions as a somatic therapist, I tend to absorb a lot of energy that's not my own, which can take its toll. Massage and body work is therefore essential to keep me feeling balanced and light. Prior to the pandemic, I was having a deep tissue massage once a month as well as a lymphatic drainage massage to help with excess fluid. I also use acupuncture, cranio-sacral therapy, cupping and osteopathy.
Shop Phoebe's Must-Have Items Below...
SheerLuxe readers can get 50% off their first month at The Self Care Space, visit PhoebeGreenacre.com
DISCLAIMER: Features published by SheerLuxe are not intended to treat, diagnose, cure or prevent any disease. Always seek the advice of your GP or another qualified healthcare provider for any questions you have regarding a medical condition, and before undertaking any diet, exercise or other health-related programme.
CREDITS: INSTAGRAM.COM/CATSHARKS
DISCLAIMER: We endeavour to always credit the correct original source of every image we use. If you think a credit may be incorrect, please contact us at info@sheerluxe.com.