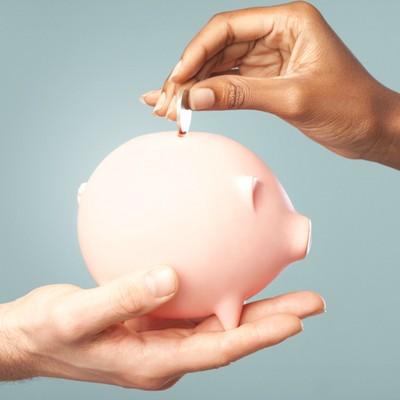 Piggy Banking Is The New Money-Saving Trick You Need To Try

When it comes to summer, there are so many things we want to do and not enough time – or money – to do them all. Ask any cash-savvy saver how they manage to pay their rent, bills, gym membership, train fare, car insurance and still have money to go for drinks at the end of the week, and they'll no doubt point you towards the 'piggy banking' method.

What is it?
No, it doesn't involve a big china pig to carry all your coins – but it has the same principle. And with online banking, it's become a lot easier to do. It revolves around the idea that you budget yourself by setting up numerous accounts created for different purposes, and then you make a standing order for each account. Then, next time you've got an unexpected bill or sudden tax payment, you've got the money to cover yourself.

How do you do it?
If you're going to take your piggy banking seriously, a Monzo card is a great place to start. Previously just a pre-paid card, Monzo is now a fully-fledged bank, where users get accounts with sort codes and support for direct debits and standing orders. It'll instantly update your balance as soon as you spend, sending you handy notifications (whereas your normal bank account will miss out a lot of payments for that day, meaning you could easily overspend). They also provide you with a handy breakdown of your monthly payments, separating them into categories such as 'groceries', 'bills' and 'transport'.
This is essentially the backbone of piggy banking. Choose the areas of spending you think apply to you the most. According to MoneySavingExpert.com, such categories could be holidays or weddings for summer, Christmas for winter, and anything else in between – birthdays, hobbies, buying a house, a tax account if you're self-employed, or an emergency fund. They advise picking a maximum of five.
Once you've identified what categories are most important to you, you can set up your accounts accordingly. Some banks will let you open a number of different banks accounts for free – but beware, because some may charge. Or you can set up different accounts with different banks. It sounds complicated, but this will help you to avoid spending what you save. Otherwise, for people who don't want the faff, a Monzo card is ideal – just organise your money into 'pots' on your phone.
Next, you need to work out how much money to allocate to each account. And be realistic – there's no point in putting aside just £50 for bills when you know that you have gas, electric, council tax, phone bills and a gym membership to pay for. If you can afford it, try and put a tiny buffer in your account so that when the money's taken out, if for whatever reason the amount goes over what you were expecting, you're not going to get penalised by the bank for it. Plus, make sure you prioritise the right accounts – don't sort out your holiday account before your rent account, because you could become unstuck. Make sure you work out what you can save first before attempting to piggy bank spare cash.

Why should I try it?
The whole point of piggy banking is you know exactly what amount you have in your main account to spend for the rest of the month. That way you'll know your limits, and you're not going to get caught short when it comes to unexpected payments. Plus, you're not going to get confused about what money goes where, or what's coming out on what date – it'll all be there, and you can spend the rest of your hard-earned cash on a well-deserved drink or two.
Visit Monzo.com
DISCLAIMER: We endeavour to always credit the correct original source of every image we use. If you think a credit may be incorrect, please contact us at info@sheerluxe.com.