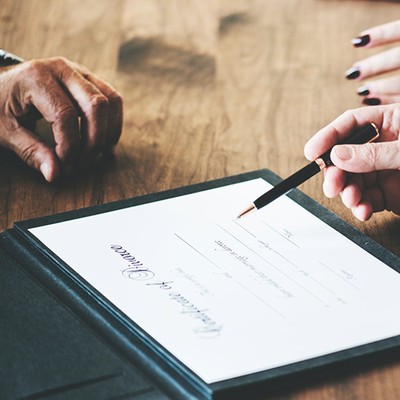 Could Outdated Laws Block Your Divorce?

Tini Owens hit headlines recently when English courts ruled she couldn't divorce her husband – despite judges describing her marriage as 'loveless'. Even after three years of separation, English law has supported Hugh Owens in trapping his wife in an unhappy union – so we're asking, how can this still happen in 2018? Does England need a divorce law update?

What are the current grounds for divorce?
In England, you must have been married at least a year to be able to pursue divorce proceedings. Anyone who wishes to divorce their partner must demonstrate one of two things – either a long-term separation, or proof that the other person in the marriage is 'at fault'. Basically, if you want a divorce you must show the court that the relationship has broken down irrevocably – giving evidence of one of the following: adultery, unreasonable behaviour, or desertion.
Those living apart from their partner can also use this as proof their marriage has broken down. If you've lived separately for two years, and your partner agrees to proceedings, you can legally divorce. If your partner does not agree to the divorce, you must be living separately for at least five years to be granted a divorce – which leads us to Tini Owens case.
Why was Tini Owens refused a divorce?
After 40 years of marriage, Tini Owens left her husband in 2015 and filed for divorce. Three years later, judges have rejected her case – leaving her stuck in her marriage until at least 2020. So, what went wrong? In basic terms, Hugh Owens is standing in the way of the couple's divorce, refusing to give his consent. This has left Tini with two options – convince a judge her husband committed adultery, unreasonable behaviour, or desertion – or remain married for a further two years.
When the divorce went to court, Tini testified that her husband behaved in such a way that she couldn't reasonably be expected to live with him – citing 27 examples of Hugh's distant, unaffectionate, confrontational treatment. The case was labelled exaggerated and dismissed, so Tini tried again, this time at the Court of Appeal. Again, she was dismissed – albeit reluctantly by the appeal judges. The case ended up at the Supreme Court. Though the judges deemed the situation "very troubling", they also said in the eyes of the law Tini could not divorce her husband.
What's happened since then?
If there's one positive to be taken from the Owens' situation, it's that Tini's plight ignited fresh debate on the state of England's divorces. Even the Supreme Court judges suggested the law was in need of change, describing their "uneasy feelings" in having to apply the current rules to Tini's case.
In 2018, the British public seem to agree that it's archaic that a woman can remain locked in an unhappy marriage at the demand of her husband. It may be an unsurprising fact however, given our current laws on divorce were written in 1969, seven years before proper legislation against domestic violence, and more than 20 years before the criminalising of marital rape. It's fair to say our idea of marriage – and of divorce – has changed considerably over the last 40 years. Indeed, the government has now claimed it's looking into the problem – prompted by Tini's case hitting headlines.
How should we reform the divorce law?
If the Owens' case isn't evidence enough, you only have to look to our international neighbours to see England's law is in need of reform. Canada, Australia, Spain – even China, known for its 'leftover women' label for those single and over 30, all permit a no-fault divorce. For families, divorce is already difficult enough. There is no need for separating parents to embark on fault-finding missions to prove their relationship is over – in the words of the Ministry of Justice, the system is creating "unnecessary antagonism in an already difficult situation".
The best thing to do would be to reform the law, adopting legislation that drops the requirement of 'fault' - both for amicable separations, and cases like Tini's. In Sweden, spouses have the option for no-fault divorce – and if one partner does not agree to the process, there's a six-month reconsideration period. If they've lived apart for two years, no reconsideration is necessary. It's about time England considered a similar system. 
The bottom line?
Not only would most people now deem it fair for couples to legally divorce if one of the partners is unhappy, it's now widely accepted that relationship breakdowns are not always the fault of one person. Sometimes couples can't prove what went wrong in a marriage – there's not an obvious way to quantify falling out of love. Claims that reforming the divorce system would see everyone rushing to the courts to end their marriage are scaremongering. The change would merely mean people are not trapped in unwanted legal relationships for years on end, or forced to play the blame-game as a mandatory requirement.
For free, confidential advice on legally ending your marriage, contact the Citizen's Advice Bureau CitizensAdvice.org.uk or Rights of Women RightsOfWomen.org.uk
DISCLAIMER: We endeavour to always credit the correct original source of every image we use. If you think a credit may be incorrect, please contact us at info@sheerluxe.com.