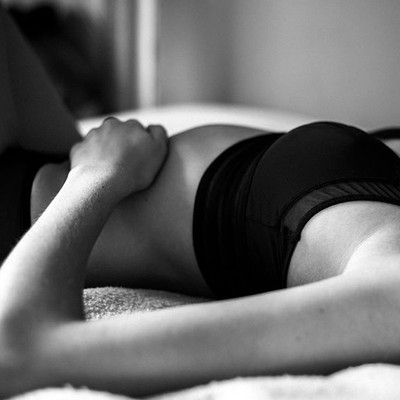 An Experts' Guide To Dealing With A Low Libido

While it may seem like everyone's having more sex than you, recent statistics show just a third of British adults are satisfied with their sex life, with one-in-five blaming a low libido. And while it's women who are more likely to suffer with a low sex drive, it needn't take a toll on your relationship. We went to the experts to find out what can be done…

How common is a low libido?
"Low sexual desire – also referred to as hypoactive sexual desire disorder (HSDD) – is the most commonly reported sexual problem worldwide, with data suggesting it currently affects 20-30% of the female population. The prevalence of HSDD ranges from 6-13% in Europe to 12-19% in the US. The most important advice to give is that low sexual desire isn't normal and shouldn't be seen as such. We've been socially taught to not validate our sexual desire, and to believe we should have less of a sex drive than men, but this isn't the case. Every woman deserves a decent sex life." – Dr Mafe Peraza Godoy, co-founder of The Intimology Institute

What are the most common causes of a low sex drive?
"Our sex drive is massively influenced by hormones. Therefore, factors that impact our hormonal balance will also impact our sex drive. For example, consuming a lot of stimulants like caffeine, tobacco or alcohol, because of their impact on our stress levels, will negatively affect our libido. Stress is also one of the most common causes of a low libido. Studies have shown that giving women testosterone implants increases their sex drive. But stress triggers our body to secrete cortisol, which, like testosterone, is derived from progesterone. So, when we get stressed, our body produces more cortisol and less testosterone, leading to a decrease in libido." – Cecile Gasnault, marketing director at Smile Makers and creator of Vulva Talks
 
"In my experience, the use of antidepressants is a huge cause of low sexual desire. Other factors that increase the risk of reduced sexual desire include taking the contraceptive pill, postpartum and pregnancy. Combined pills which contain ethinylestradiol (a synthetic oestrogen) can be a particular problem – they increase the production of some proteins that can hijack the active blood form of testosterone, overriding libido."– Mafe

Are there any other reasons why you might have a low libido? 
"Menopause, and the subsequent decline in hormone production, can affect our sex drive negatively. It can lead to less sexual reactivity, meaning the vagina may lubricate less. The menopause can also happen at a time of life that is stressful (for example, it you have children, the menopause may happen around the time they move out). These changes can also contribute to stress, so we should be looking at the bigger picture. However, menopause isn't a death sentence to our sex lives – it's actually a moment of transition for our bodies. Consider exploring more 'outercourse' to facilitate lubrication if you do want penetrative sex, or focus on other erogenous zones." – Cecile 
"Various diseases have also been associated with low sexual desire. Thyroid problems have been shown to influence both lubrication and orgasm, which can have secondary consequences on sexual desire. Diabetes has also been linked with low desire, although this appears to be more related to depression and the relationship problems of diabetic women, as well as lubrication problems. Anxiety disorders such as OCD, panic disorders and depression can all take their toll on your sex drive. In fact, depression has been found to have a clear relationship with sexual desire, linked to low self-esteem and body image." – Mafe

How much of your sex drive is psychological? 
"Science tells us that long term monogamous relationships bring with them the most challenges for maintaining desire – especially for women – and there are many reasons for this, one of which is the dilution of our roles as sexual partners by the prevalence of other less sexy roles like being housemates or co-parents. Many of us currently find ourselves seeing an increase in the amount of childcare in our day, or by the introduction of a new role at-home together as work colleagues. These changes are necessary and temporary, but risk squeezing out of any time we might have left to relate to each other as sexual partners." – Karen Gurney, Harley Street psychosexologist
What are your top tips for speaking to your other half? 
"In cases of secondary female sexual dysfunctions (i.e. not related to medication or illness), it's important to remember that no one single person is responsible. For example, a low sex drive could be the result of a specific situation related to the partner or even to a partner's sexual dysfunction. In any case, verbalising the situation with kindness and empathy is imperative and relieving feelings of doubt, guilt and shame is important. You may decide as a couple to seek professional help – this can help you assess the condition from a different point of view, and ascertain if it's something situational, primary or secondary." – Mafe 

How can you get your sex drive back?
"A lot of it comes down to understanding what desire really is. Only when there's a sexual stimulus – such as a passionate kiss – might desire make an appearance. You need to have that desire triggered, but the problem is we've been socialised to believe that lust will come out of the blue, so many people sit and wait for this feeling, which rather frustratingly, never appears. Try to increase the moments of your day when you relate to your other half as a sexual partner – I call this 'sexual currency'. Sexual currency can be defined as anything that's not 'sex' but you would only do with a partner. It might be a lingering kiss rather than a peck on the cheek or a suggestive glance. Sexual currency not only marks out and reminds you both of your role as sexual partners, but can also be a stepping stone to a more natural transition to more sexual ground, should you wish to. Also think about how you're spending time together. Instead of an evening watching Netflix, try cooking together or playing a game. Research tells us that couples who engage in exciting or fun activities together report higher levels of desire." - Karen
 
"Try to reconnect with your sensual self without your other half. For example, do a series of nude selfies or photographs just for you; read, listen or watch some erotica; write down some of your favourite sexual memories; or do some breathing exercises where you focus on your vulva and vagina, breathing slowly 'through' them. With your other half, take the pressure off and say no to performative sex. Instead, try to reconnect physically with each other with the challenge of not having sex. Explore touch, explore sensation play, and just be physically with each other without having sex. It could also be worth trying adaptogens, supplements which can support your sexual health – these include panax ginseng, ashwagandha, astralagus, cordyceps mushrooms, holy basil, rhodiola and maca." – Cecile 

At what stage should you seek professional help?
"Your GP can deal with basic medication that could help issues relating to your condition but can't offer specific treatment for low sexual desire. Instead, look to a subspecialist – a gynaecologist, urologist or sexual medicine expert will be able to help. When it comes to the timing of seeking professional help, try not to wait too long – when you feel your low libido is affecting your quality of life and relationships it's definitely time to get help. While it's totally normal for a person's sex drive to fluctuate, if you have noticed absent or diminished feelings of sexual interest or absent sexual thoughts and a lack of responsive sexual desire, then it's worth investigating why this might be happening." – Mafe 
 
Visit TheIntimologyInstitute.com for more information and visit SmileMakersCollection.com to discover more about Vulva Talks. Mind The Gap by Karen Gurney is available now.
 
 *Features published by SheerLuxe are not intended to treat, diagnose, cure or prevent any disease. Always seek the advice of your GP or another qualified healthcare provider for any questions you have regarding a medical condition, and before undertaking any diet, exercise or other health-related programmes.
DISCLAIMER: We endeavour to always credit the correct original source of every image we use. If you think a credit may be incorrect, please contact us at info@sheerluxe.com.