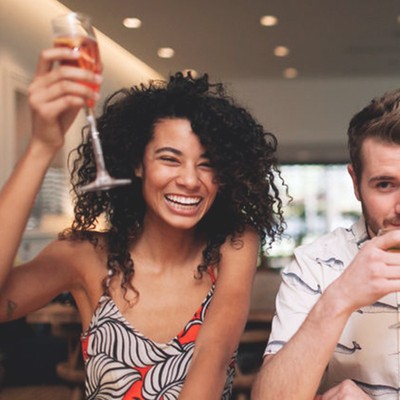 Sick Of Singledom? You Can Now Hire A Wingwoman

When it comes to dating in the 21st century, it can be hard to keep up. In-between ghosting, kittenfishing and phubbing, we're not quite sure where we stand on the dating scene. That's why there are now services who want to make it easier for you to find a significant other – for a small fee, you can hire your very own wingwoman to get you guaranteed dating success…

What is a professional wingwoman?
Generally speaking, a wingman/woman is a friend that you normally take with you to singles events or on nights out, who will help and support you on your mission to find a sexual or romantic partner.
Sociologist David Grazian collected data on male students' dating habits and concluded that the role of the wingman is as follows: "He provides validation of a leading man's trustworthiness, eases the interaction between a single male friend and a larger group of women, serves as a source of distraction for the friend or friends of a more desirable target of affection, can be called on confirm the wild (and frequently misleading) claims of his partner and, perhaps most important, helps motivate his friends by building up their confidence. Indeed, men describe the role of the wingman in terms of loyalty, personal responsibility and dependability". The role of a wingwoman is exactly the same – they help you attract the guys you like and get rid of the ones you don't – and then keep their friends occupied whilst you get to know them.
And now, if your friends aren't wingwoman material and your dating life is going down the pan, you can hire your own professional wingwoman to help you find a guy. Services like Bark.com provide those who are unlucky in love with a little help – and if you think you're a great wingwoman, you can sign up to be one yourself; the company pay professionals a minimum of £30 an hour.
Is it really a career?
Professional wingwomen are far more common that one might think. Social Concierge, a dating club for 20 and 30-year-olds, employs 'crowd mixologists' to help singletons make connections. The group holds monthly dating events in London, where professional wingpeople work hard to introduce potential couples, making introductions and setting up potential flirty chat by bringing up topics of mutual interest.
Erin Davis is a real-life Hitch who helps to set couples up for a living, starting her own dating business, Erin Davis Wingwoman, in 2014. Unlike typical matchmaking services, Davis charges an hourly fee of $150 (£116) and actually accompanies her clients to events, personally introducing them to eligible singles from her database of over 1,200 people. Her fee includes an hour-long in-depth consultation where she takes a list of past lovers, insecurities and deal-breakers and takes them to two events, which can be anything from an elegant dinner to a raging bar party.
Erin said her line of work is about creating sparks between people that might not have otherwise been visible: "The dating scene today is really sad. The magic is gone, and I'm really trying to bring it back. I really want people to be excited and realize that every single day that they wake up is a real opportunity to bond with another human being."
She also feels that it's important for all of us to be supportive wingwomen to our friends: "We should be introducing our friends to people. You can't connect with a device. You can connect with a human being. So, go out there and make eye contact, be optimistic, start up conversations with complete strangers. Just have the time of your life. What's the worst that can happen?"

How can I become one?
If you think you've got what is takes to become a professional wingwoman, then Bark are currently hiring. Obviously, in order to go pro there are some rules you must stick to - you must be:
Over 18 years old (you have to be able to accompany clients into pubs and bars)
Confident in introducing people and talking to potential dates
Able to provide advice and demonstrate some good chat-up techniques to clients
Must not flirt or bag dates for themselves whilst out with the clients
Kai Feller, co-founder of Bark.com, said: "We've received hundreds of requests this year looking for dating professionals on the platform. The main reason we've seen is that online dating isn't working for them and/or their friends are all coupled up and can't help them anymore."
If you think you've got what it takes to help singletons find a significant other, you can sign up at Bark.com
DISCLAIMER: We endeavour to always credit the correct original source of every image we use. If you think a credit may be incorrect, please contact us at info@sheerluxe.com.