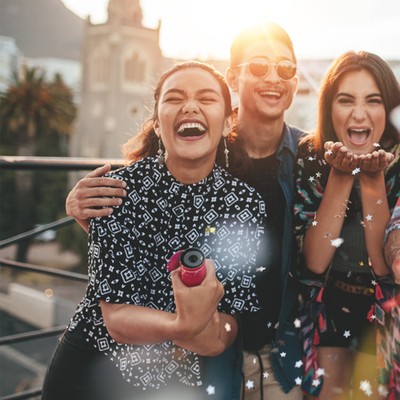 Should You Swap Your Hen For A 'Hag Do'?

As more young couples are shunning conventional wedding celebrations, mixed stag and hen dos are on the up. But what exactly does a 'hag' or 'sten' involve? And are they really a good idea? SL finds out…

It's long been said that millennials are ripping up the rulebook when it comes to planning their weddings and honeymoons, eschewing age-old traditions and clichéd blow-outs for more personal and budget-friendly touches. And, it seems, the same is happening with their pre-wedding parties.
In theory, mixed-sex 'hag' and 'sten' dos (portmanteaus of stag and hen) make a lot of sense. Firstly, there's the convenience factor – younger generations are working longer hours, contending with lengthier commutes and paying higher rents. Their social lives and bank accounts are suffering. As Robein Weil, CEO and Founder of WeddingPlanner.co.uk explains, when time off work and holiday spending are becoming increasingly more valuable, guests who are coupled-up often push for hag and sten dos so that they can get a holiday with their own partner whilst also taking part in the celebrations.
"Couples tend to share more friends than ever before and are looking to party as one big group rather than splitting out the guys and the girls," he told the Independent, revealing he's seen a large increase in couples planning hag and sten parties on his site. He notes that couples usually separate during the day, enjoying different activities, then meet up for an evening meal, drinks or night out.
Hamish Shephard, founder of the UK's most-downloaded wedding planning app Bridebook, also agrees that mixed celebrations are on the rise, putting it down to the abolishment of archaic gender stereotypes. "A generation ago, society was more male-dominated and gender-segregated, meaning couples were less likely to have friends of the opposite sex," he said. "But the roles of gender have evolved over time, and hence wedding traditions evolve. It is rightly so therefore that the single-gender pre-wedding ritual of the stag and hen do also evolves to match the reality of modern society."
So what are hag and sten dos really like? SL Fashion Editor, Charlotte Collins, attended her first hag do earlier this year; thrown by her male cousin. "The most surprising thing about attending a hag was that it hardly differed from a traditional hen at all," she said. "The hag in question was very happy to be subjected to all the girly stereotypes – from tutus and glitter to toilet paper wedding dress games. I think the idea was to give him a typical hen experience, and he certainly got that."
But Collins, who recently got engaged, won't be throwing her own sten when the time comes around. "I think in order to make a hag or sten worthwhile, you need to have a really close group of friends of the opposite gender," she said. "If you're just inviting a few wider-circle pals, everyone's less likely to get stuck in."
As all of her closest friends are female, she'll be sticking to a girls-only do instead: "The whole point of a hen is the last hurrah with your nearest and dearest, and as far as I'm concerned, that's a format that ain't broke." But in a piece for the Telegraph, journalist Lucie McInerney also detailed her first ever hag experience – and revealed she'll be doing the same when it comes to her pre-wedding party.
"At the beginning of your hen career, it's a thrill to have a whole weekend of group activities and penis paraphernalia with your closest friends," she wrote. "But fast forward several years and it starts to become exasperating." Citing "the organised fun, the politics, the personalities, the power struggles", McInerney said she found hen parties to often be a "powder keg of tension and passive aggression" – something she's keen to avoid.
"In contrast, a hag or sten do felt different from the outset. In our case at least, there was less pressure: men seem to have much lower expectations than women," she added, noting that the groom-to-be would consider the event a triumph as long as he went home with both his eyebrows still intact.
 
Considering mixing things up? Read Hitched.co.uk's dos and don't of throwing a sten or hag…
 
DO: It for the right reasons, and not because of trust issues. It should be to double the fun, not to keep an eye on your partner.
DON'T: Make a rash decision because you're excited about throwing a joint party. Will you regret not spending that special bonding time with you and the girls? If you don't see them as much as you used to, it could be the right time to.
DO: Make sure it's something you and your partner are both happy with. If one of you is pushing the other, it will only end up in resentment.
DON'T: Plan a hag or sten do in a rush. Joining forces often means a larger group, which requires more organisation and makes spontaneity much more difficult.
DO: Take your friends feelings into consideration. Will your maid of honour be upset at not being able to make the plans and surprise you? Are your partner's friends really looking forward to a boys' night out?
DON'T: Forget some traditions, just because you're going for an untraditional celebration. If you want a fake veil and bride-to-be sash, or if the groom's friends fancy playing some pranks on him, then let your guests know they still have free reign to make it happen.
DO: Consider group dynamics, and sleeping arrangements if you're staying in a rented house or hotel. Do any of your hens and stags have a history together? Are some of them in relationships? This is key for avoiding awkward situations (or an evening cut short by all the couples sloping off to bed early).
 
DISCLAIMER: We endeavour to always credit the correct original source of every image we use. If you think a credit may be incorrect, please contact us at info@sheerluxe.com.