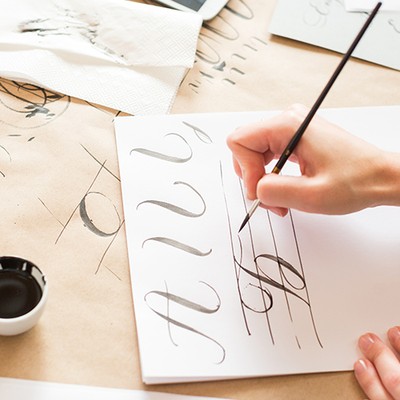 The SL Guide To Finding A Hobby: Calligraphy

Perhaps it's been a long time since you put pen to paper, or maybe you already dabble in handwritten letters or invitations. Either way, now might be the time to get to grips with modern calligraphy – here's how to get started, the handy tools out there and some advice from the pros...

THE BASICS…
Understand The History
The earliest forms of ancient calligraphy found their roots in Asia, specifically in Chinese (shufa), Japanese (shodo) and Korean (seoye) cultures. By contrast, western calligraphy uses the Latin alphabet with the earliest recorded use around 600BC. Finding real popularity in Europe from the 15th century onwards, styles have since expanded to encompass three main categories: Western, Arabic, and Oriental. Within each style, there may be several lettering sub-styles or hands.

Assemble A Starter Kit
Most experts agree that a beginner's kit needn't be extensive, nor expensive. According to founder of Quill London, Lucy Edmonds, in her book Modern Calligraphy: A Step-by-Step Guide to Mastering the Art of Creativity, beginners should get their hands on:
Once your confidence and experience grows you might look to add any number of additional materials including, but not limited to layout paper, coloured inks, brush pens, dust free erasers, watercolour paper and a range of different nibs. 

Learn The Alphabet
Those looking to perfect a western-style calligraphy will be relieved to know there isn't a whole new alphabet to learn. But practicing drawing the letters of the alphabet can be the best place to start. There are plenty of free templates available in PDF format to download online, as well as the appropriate practice paper here. If you're still not sure, watch a YouTube tutorial or start following inspiring Instagram accounts to get going.
Here are some of our favourites…
@quilllondon
@lhcalligraphy
@ciao__chiara
@plumecalligraphy
@jlcalligraphy
@palepresslondon
@Lalettrekalligrafie 
@thestyledwritingco

SOME PRO TIPS…
Lucy Edmonds, founder of Quill London, says…
"Always clean and dry your nibs after every practice session. You can do this with water most of the time but you may have to rely on a specialist pen-cleaning fluid to remove some of the stubborn stains that build up over a long period of time. Drying your nibs after cleaning will stop them from rusting. Store your nibs in a clean, airtight container, and ideally don't leave them in your penholder after practicing."

Chiara Perano, artist and author of Nib & Ink, says…
"If you're left-handed you'll fall into one of two types of writers: 'under' (you hold the pen out in front of you), or 'over' (you curl your wrist over the page). For underwriters you can simply mimic how righties work – the nib is symmetrical. For overwriters, you'll need to work in the opposite way, because you'll be putting pressure onto the nib as you pull the pen upwards. Move and turn the paper as you see fit – some find it easier to work with the paper at 90 degrees to their body. Have a play around to see what works for you – either way lefties can use a straight penholder with ease – so no excuses."

Brenna Jordan, author of The Lost Art Of Handwriting, says…
"Handwriting in a journal can offer a wealth of self-care benefits. James Pennebaker, a psychologist at the University of Texas, researched the effects of daily journaling by hand. He discovered that journaling, even just for a few minutes a day, built up T-lymphocytes, cells in the immune system and reduced the symptoms of arthritis and asthma. Further research suggests that writing in a diary about life events also relieves stress and promotes emotional well-being. Keeping a journal is also a great way to practice handwriting while simultaneously sorting out thoughts."
 

ESSENTIAL READING…
Modern Calligraphy: A Step-by-Step Guide to Mastering the Art of Creativity by Lucy Edmonds
Written by Lucy Edmonds, the founder of Quill London, this book will guide readers through the first steps of pointed pen calligraphy, encouraging you to spend an hour a week developing and practising the new skill. Designed for complete beginners, the book offers tips, tricks and techniques on the materials required and how to use them properly, how to approach the modern calligraphy letterforms, and most importantly explores ways to develop your own modern calligraphy style. You'll learn about inks and how to make your own, brush calligraphy, and what you can do with your new skill – from envelope addressing and event stationery to beautiful dinner party menus and gift tags.
Available here 
Nib + Ink: The New Art of Modern Calligraphy by Chiara Perano
From the founder of calligraphy studio Lamplighter London, this book allows readers to play with type, get creative with letterforms and fall in love with handwriting. Taking you letter by letter through the modern calligraphy basics, information includes the four essential pieces of equipment and how to use them, a modern calligraphy alphabet with a variation of styles to practise with, guidance on joining letters, spacing and pacing, as well as how to create flourishes, finishes and decoration. There are even simple project suggestions, from chalkboards and framed quotes to setting an envelope, and stationery ideas for weddings, parties and table settings.
Available here
The Lost Art of Handwriting: Rediscover the Beauty and Power of Penmanship by Brenna Jordan
For a more practical choice, this book explores the history of writing longhand, and reintroduces proper stroke sequences, letter forms, and techniques for evaluating and improving your handwriting. You will discover how the variety of letter forms provide endless opportunities for making these alphabets your own, and how to choose alternatives that fit your preferences while keeping your writing neat, consistent and unique to you. You'll learn how to connect letters in cursive writing to help you write more smoothly, and with practice, more efficiently. Learn how easy it is to apply what you've learned into your everyday life with tips for integrating handwriting practice into a busy life. 
Available here 
 
THE BEST COURSES…
Quill London
Join London's original Modern Calligraphy workshop to learn how to write beautifully using ink and nib. Unlock your creativity and explore how to put a modern twist on the classic art form in your own unique style, with workshops suitable for left and right-handers. While dates for future workshops have currently been suspended as per government advice, beginners are usually more than welcome - no experience is necessary. There are also classes for improvers, with all materials included, so there's nothing to prepare or bring.
Visit QuillLondon.com 

Alice Gabb
Spanning a range of different locations across London, most of the classes on offer from stationary designer and master calligrapher Alice Gabb are strictly for beginners, with others designed to develop your skills further. Albeit on hold for now, dates are currently bookable from early May, with a full refund on offer if current advice doesn't change. Don't fancy joining a big group? Alice also offers private one-to-one tuition, at her studio in London. 
Visit AliceGabb.com
DISCLAIMER: We endeavour to always credit the correct original source of every image we use. If you think a credit may be incorrect, please contact us at info@sheerluxe.com.