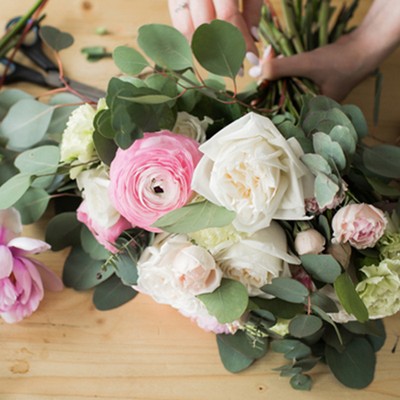 The SL Guide To Finding A Hobby: Flower Arranging

When it comes to brightening up your home, few things are more instantaneous than fresh flowers. So, if you have time on your hands, now might be the time to get a grip on the basics and bookmark one of these courses for another day. Here's how to get started, the handy tools out there and some advice from the pros...

THE BASICS…
Prep
Depending which kind of arrangement you want to put together, you'll have probably tracked down the right flowers, as well as some handy equipment such as gloves, pinking shears and twine. It's at this stage you want to ensure the condition and preparation of the stems is correct. Begin by cutting the bottoms of the stems at a 45-degree angle. To work out how much needs to be cut off, place the uncut stems inside the vase and mark the point at where the stems should be cut so they are the appropriate height. After the stems have been cut, remove all of the leaves from the flowers that fall below the waterline of the vase. Finally, to extend their life, try adding a packet of flower preserve to the water. 
Arrange
True arrangement skills are probably best honed in a class or workshop, but there are some basic guidelines to follow when arranging flowers at home. Start by adding larger flowers in the centre and small flowers around the perimeter. If you are using more than one type of flower, add in odd numbers. You may find you need to trim some of the stems again – and bear in mind that the small flowers around the perimeter should be cut shorter than the large flowers in the centre. After using all the flowers, step back and examine where the arrangement might look a bit sparse. Rather than cramming in more flowers, try using greenery or filler flowers (which are smaller and inexpensive) instead.
Secure
Flowers don't always hold their arranged shape inside a vase, so be sure to secure them in place. You could use a rubber band, floral tape or twine, depending what you want to be visible through the vase. Start by wrapping the tape, twine or band around the middle of the stems. Keep going until you find the right balance between too loose and too stiff (the arrangement should ultimately still look 'relaxed' at the top). If you're struggling, use floral foam at the bottom of your vase. Cut to the right fit, the foam will help to hold the stems in place.
Care
Once perfected, keeping your arrangement fresh for as long as possible is a top priority. Ensure the arrangement is placed out of direct sunlight and away from any other sources of heat. Then, check the water daily; if you see debris such as leaves or petals, remove them immediately. If necessary, change the water completely and rinse out the vase to get rid of any build up. If you do change the water, add another packet of flower preserve to keep the flowers healthier for longer. You can also trim the ends of the stems every few days to keep things looking fresh. 
 
WHERE TO FIND A COURSE…
McQueen's Flower School
One of the most well-known florists in London, McQueen's offers workshops across multiple disciplines, from flower crowns to wreath-making, history courses to wedding specials. 
Prices from £130
Visit McQueens.co.uk
Petersham Nurseries
Known for it's stunning restaurant and event spaces, Petersham Nurseries also has come of the most coveted floral displays out there. A series of evening courses throughout the year allow you to tap into some of their expert knowledge.
Prices from £65
Visit PetershamNurseries.com 
Wildwood London
From intimate sessions to larger corporate events, Wildwood London offers masterclasses and experiences for individuals, groups and corporate clients. Whether it's a one-to-one session or a terrarium masterclass, there's something for everyone here. 
Prices on request
Visit WildwoodLondon.co.uk 
Philippa Craddock
Join Philippa Craddock at her own flower school to learn how the expert puts together some of her most striking arrangements. From a wedding masterclass to an informative business course, there's something for beginners and advanced students alike. 
Prices on request
Visit PhilippaCraddock.com 
 
SOME PRO TIPS…
"It is a case of 'practice makes perfect'. Make a point of going to your local flower shop once a week and enjoy the process of arranging flowers at home. Start small – little bud vases and vessels are ideal when you're starting out as you can keep them super simple, using just a few flowers or sprigs of foliage, but the overall aesthetic is still impressive. Be creative and don't shy away from making mistakes, there's always beauty to be found in chaos. Stick with seasonal blooms and use British grown wherever possible (availability is obviously dependent on the weather, but generally it runs from March – September). And buy locally – support local businesses, the florists on your high street or growers at your local farmer's market – rather than supermarkets. If you want to broaden your horizons, offer your services to friends and family. Maybe there's a dinner party you can help out with, and working to a brief will challenge you and help you grow."
Writer and floral stylist Willow Crossley says:
"Use Instagram and Pinterest for inspiration – you can collate images and then us those platforms to show off your work, too. Workshops are another great place to start – I do four a year with Daylesford but loads of florists do their own. If you want to kick it up a notch and start taking on professional work, apply for work experience with a florist or become a freelancer for them. You'll be able to work out which areas interest you most – after all, floristry is not just floristry. I'm an events florist for instance, but others specialise in weddings and so on. It's a fascinating thing, because I'm always learning from people who freelance for me but have worked for someone else – it's all intertwined."
Andrea Bassoli from McQueen's says:
"Remember to practice, practice, practice. But make sure you're able to do a proper medium/big-sized spiral bouquet in under 15 minutes – until you arrive at that point don't move on to practice with a different design. If you don't have access to a course or the chance to work with a professional, refine your skills at home with bought flowers or even go foraging. Finally, subscribe to inspirational social media accounts or watch YouTube demonstrations. Once you've developed your own style join classes where you can learn something different – always be hungry to learn something new."
 
READ UP ON THE SUBJECT…
Living With Flowers: Blooms & Bouquets for the Home – Rowan Blossom
Ideal for those looking to bring seasonal blooms into their home, make your way through 25 of Rowan's own favourite floral masterpieces for every occasion. Learn how to make a floral chandelier or hang a curtain of flowers, fashion a festival crown or tie a simple bouquet. Rowan's love of everything bohemian, vintage and natural makes this a great choice for first-time flower-arrangers.
Flourish – Willow Crossley
Following her enthusiasm for natural and original arrangements, from cabbage rose to cow-parsley, this book ranges from glorious garlands and pretty posies to centrepieces suitable for dinner parties and weddings. Willow demonstrates how easy it is to transform a handful of fresh cuttings into arrangements to decorate your home throughout the year.
In Bloom – Clare Nolan
Keen to grow your own? Pick up some helpful tips as Clare Nolan reveals her secrets for growing a bountiful crop of flowers, as well as styling spectacular home-grown displays. From choosing the plants to suit both your garden and home, to planning ahead so you get your perfect palette of colour, texture and shape – consider this your ultimate guide.
Seasonal Flower Arranging – Ariella Cheazar
This lavishly photographed book from renowned floral designer Ariella Chezar provides step-by-step instructions for 39 seasonal floral arrangements and projects that celebrate the splendour of flowers, the bounty of the changing seasons and the wild beauty of nature in your home. From a charming spring bouquet for Mother's Day to a bold garland for a summer wedding, there's something to suit every taste.
DISCLAIMER: We endeavour to always credit the correct original source of every image we use. If you think a credit may be incorrect, please contact us at info@sheerluxe.com.