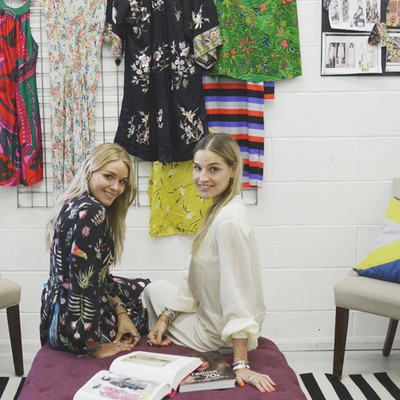 SL Meets: Rixo London

Once upon a time, designer dressing meant splashing out a small fortune on quality pieces. Luckily the fashion landscape has now changed, thanks in part to Rixo London, the label founded by friends Henrietta Rix and Orlagh McCloskey and adored by fashion girls the world over.

With dresses starting at £235 and tops at £165, it's the relatively affordable high-end name putting prints, patterns and silky fabrics back on the agenda. We caught up with the co-founders to get their insider info on making waves within the industry…
SL: Where did the idea for the brand come from?
Henrietta: Orlagh and I were at university together and both of us had a real passion for vintage. We'd spend a lot of weekends going to vintage fairs and would naturally be drawn to the same things. We saw quickly that there was a gap in the mainstream market for something.
 
SL: What was that gap?
 
Henrietta: When we were shopping for vintage, we'd always go back to printed silks and really flattering shapes. Pieces that would last, as well. We wanted to create something that was accessible, the kind of thing we'd see in a vintage fair but still quite wearable. We almost wanted to design future vintage but with the exception that, unlike in thrift stores, it wouldn't always be the wrong size or the wrong fabric.
 
SL: That's quite ironic in a way, that you were trying to do something that wasn't trend-led, but the brand's become so of-the-moment.
 
Orlagh: We just designed what we liked. Because we were the customer, it was easy to do that because we weren't trying to put ourselves into the mind of someone else. We set up the business in our living room and all our friends used to come over, girls of all different shapes and sizes, and everyone would try on all the pieces and tell us what they liked and what they didn't. So from the very beginning we were catering for normal women. 
We wanted to create something that was accessible, the kind of thing we'd see in a vintage fair but still quite wearable
SL: How does it work now as a business? How collaborative is it - do each of you take on very different roles?
 
Orlagh: We used to do everything together, and then we had to split up because the business was expanding so much. I focus more on the design, and Henrietta more on the marketing - heading up different areas is what's helping us grow; I now have more time to design because Henrietta is focusing on things like Instagram. But it's still pretty collaborative - there's an overall creative vision, and because we live together, we're always talking shop.
 
SL: You mentioned Instagram – Rixo had what feels like a stratospheric rise to fame. How much of it was planned? Has it been quite organic?
 
Henrietta: We're really lucky, it has all been pretty organic. We've now reached 100k followers, and if someone would have said that to us this time last year, we would never have believed it. But I do think part of the success is that the brand is so personable – we're the co-founders and we sit and write each Instagram post from our bedroom ourselves. For other brands, there's more of a strategy, but ours is so natural; we're not trying to be someone we're not, or alienate a certain customer, or create a facade of who we want to be, and people connect with that.
 
SL: Does that explain the business growth too? What do you think it is about your designs that have really captivated people – do you think it's because there was nothing else similar out there?
 
Orlagh: It's multi-faceted. The prints are all hand-painted, so that gives us such a strong, personal brand identity. I design every print and so, because it's always my hand and my handwriting, it will look like a Rixo piece. You couldn't go into a high street shop and identify a print as unique to that brand, whereas with our products you can just tell. I also think the shapes are really flattering - again, because we are the people wearing it, I'll be thinking, "Where would I wear that to? What material would I want if I was wearing that? Who would wear that? Could I wear that to work and then wear that after?". So I think that actually living and breathing the lifestyle helps create the right product.
 
I think that actually living and breathing the lifestyle helps create the right product.
SL: Do you think the price point also makes a difference?
 
Orlagh: Definitely. That's one thing we felt strongly about when we first started. We were sick of reading in magazines about things being accessible when they really weren't because of their price point. Growing up in London we'd see dresses we loved all the time, but we weren't going to drop four or five hundred pounds on something, especially if it wasn't silk or a lovely fabric.
Henrietta: Another factor is our personal engagement. We are the face of the brand – Orlagh and I do all the sales (we don't have a sales agent) and we meet all the press, which really helps us convey our passion and our dream. There's no one else who could sell Rixo the way we do, because we know the collection inside out and we know the inspiration. Plus, we're lucky we're not the type of designers who can't talk to people. We're pretty normal!
Orlagh: Because we go to sales meetings ourselves, we get the chance to hear feedback. It's not that common that the designer will also be selling the brand, and agents will probably disagree with that setup, but for us it works because we have an open mind and don't mind someone making suggestions about what could work better. Hearing constructive criticism helps me design and think about it from another angle, which is really beneficial.
 
SL: Any real 'made it' moments?
 
Henrietta: Getting stocked on Net-A-Porter was an amazing moment.
 
SL: How did that come about?
 
Henrietta: We had an Excel spreadsheet featuring every bricks and mortar boutique and all the online players - everywhere we could see Rixo being featured. Every morning we would call the names on that list, and eventually some retailers bit. Before we knew it, our stockists were selling out, and I think it was when we were getting those calls, from small, independent boutiques in London, that we started to believe it could work.
 
SL: These days who are you designing for? I know you said it's for yourselves, but presumably you've now got a wider customer base now…
 
Orlagh: We try not to restrict ourselves to one demographic. We have three customers – the twenty-something who's in university or her first job, the young professional who is just starting a family, and the more mature woman who is still into fashion and has loads of confidence.  Even though we are a British brand, we don't feel like our brand is typically in that camp. Customers all over the world wear it because the pieces are versatile; you can wear them on holidays or layer up for winter.
 
SL: That's really what fashion is nowadays, isn't it - people don't want to buy pieces they can only wear as a one-off…
 
Henrietta: A lot of people come to us and say they're going to a wedding or an occasion and want a special dress, but I think the reason they fall in love with Rixo and keep coming back is because they can wear the dress to that event but then they can equally wear it to the office, or on vacation. It's fitting into their lifestyle.
 
SL: What about ideas or attempts that haven't worked so well? Is there anything – any print, any launch - that was more of a learning curve?
 
Henrietta: With a lot of our pieces it can take a season or two for the customer to see how it's worn and come around to it because our designs are quite out there. Some of our long, black pieces in particular spring to mind – they were so different from our early embroidery. We have so many customers who use our social media as reassurance that they can actually pull something off - having such global exposure to how people wear things has just changed fashion completely – like trainers with dresses. Instagram is exposing our clientele to combinations they would never have thought of in the past.
 
Having such global exposure to how people wear things has just changed fashion completely
SL: Presumably early on it was challenging convincing people to try a new way of dressing? That really busy, colourful look wasn't around so much before you came along…
 
Orlagh: Definitely. One of the girls in the office said that when she joined Rixo she'd always worn neutrals, but now her friends can't believe she loves head-to-toe print.
 
SL: What's next for the brand?
 
Henrietta: The next big thing for us is our London fashion week presentation. It's the first time we're showing so that's pretty nerve-wracking, but we're really excited too. During that, we'll show accessories for the first time. That means bags and belts and jewellery – there was such demand, our customers love how we style up our dresses. Swimwear launches then too. We've also got a collaboration coming up with Laura Jackson for Spring/Summer '19, but we'll also have an edit of the Laura Jackson collaboration, which will go live on Net-A-Porter the day after the September presentation, so that will be really exciting.
 
DISCLAIMER: We endeavour to always credit the correct original source of every image we use. If you think a credit may be incorrect, please contact us at info@sheerluxe.com.