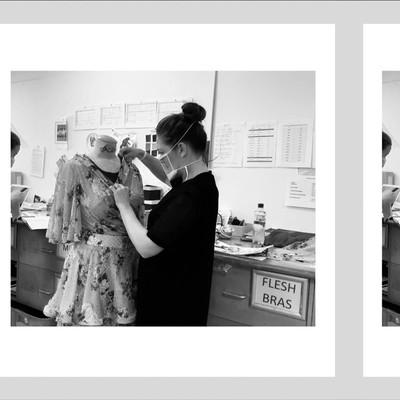 SL Meets… Strictly Come Dancing's Costume Designer

Regular readers will know we're huge 'Strictly' fans here at SL, so we jumped at the chance to chat to the show's head costume designer, Vicky Gill. Speaking to us exclusively on Saturday morning as preparations for the live show get underway, she told us what a normal day looks like, her favourite Strictly looks of all time and what it takes to make it in the world of television…

My background is actually in fashion, not costume design. I didn't want to limit my options too early on, and because costume courses tend to be quite technical, I knew I wanted to take a more of a cross-section approach. I then did work experience with some high-street brands, as well as high-end names like Jenny Packham. In this world, it's so important to just get stuck in and get working as soon as you can – people in this industry recognise hard work and will recommend you if you're any good. That's how you get the wheels turning.  
My transition into costume started with friends – most of whom were in the theatre or television – calling me up to ask me to do the costumes on an ad-hoc basis. Then, a costume company at the time, Choice London Ltd., was looking for someone to set up their manufacturing base and develop performance garments. It was my first proper job in that world.
My Strictly predecessor Su Judd approached it like a stylist. She was an accomplished designer in her own right, but she would mostly source garments from the professional dance world, talk to the cast and build the wardrobe around that. She did a fantastic job, but as the show grew, she felt ready for a change. I'd already been a bit of a side partner to the team to help bridge the gaps, which probably explains why the programme bosses offered me the Head of Costume job when Su left around 2011-2012.
My work with celebrities is what really put me on the map. I'd previously worked as a stylist with bands like Girls Aloud and pop stars like Kylie Minogue and while I wouldn't call any specific moment my 'big break' – I just viewed everything that came my way as a good opportunity – it explained why the Strictly bosses knew me. I'm quite driven, even competitive, but I'm never going to push people out the way to get to where I want to be. My thinking is usually just, "That sounds like fun."
We make the heavily embellished pieces first – they have to be cut immediately, because they often require the most work.

We normally work ten days out at a time. The lead time is a bit longer at the beginning of a series – there's more we can prep for because there aren't eliminations and there tend to be more group numbers to work on. But by this stage in the run, we're working on a seven-to-ten-day turnaround and despite what people say, we have no idea who's going home. 
All the creative concepts for the next week are confirmed on Saturday evening. I then give our whole team Sunday off so we're as fresh as possible come Monday morning. We have a manufacturing arm, a studio arm and the girls who work with me directly. It means there's a three-pronged approach to wardrobe, which proves just how big the show is and how prepared we have to be. I often feel quite sick on a Monday morning because anything can happen – people are always ill, or life just gets in the way. If it does, we all need to be able to adapt at the last minute. 
We make the heavily embellished pieces first. They have to be cut immediately, because they often require the most work. This priority list then runs from that, down to perhaps a simple pair of men's dress trousers which won't require much work at all. A lot of my job comes down to managing this list as the week progresses, handing out tasks depending on what's needed. This week, for example, we cut Nadia and AJ's dresses on Monday morning, to give us the most time. We also have other members of the studio team 'de-rigging' i.e. washing all the garments that were worn on Saturday night and placing them back in storage. 
On a Monday, I'm usually sketching and prepping the manufacturing element. The creative vision is really down to me, although I try to make everyone (from the cast to the executives) as happy as I can. My assistant Ezra also starts the buying process around the same time to track down and secure garments which we can adapt for the next weekend's performances. 
The dress Kara Tointon wore in the final was one of my favourites – that classic silhouette and nude colour really stick in my mind.

Tonight's show [13th November] includes a group number for Remembrance. These sorts of numbers require a great deal of thought because the show is known for being outlandish, but events like these have a certain tone. We've also had to match some of the garments to a robotic element this week, which has been slightly stressful. But as Saturday goes on, we'll build up to the show by refining the costumes and watching the dress rehearsal. I know AJ's Paso Doble costume will be controversial – it isn't that traditional – but her physique and energy more than make up for it. There are lots of moments like that throughout a series. Sometimes you just have to go for it.
Inspiration comes from anything and everything. Maybe it's my daughter drawing a picture and I think certain colours look pretty together or walking past an amazing window in a shop. I'm always absorbing the world around me and subconsciously taking on board multiple elements as I go about my day. Creativity drying up isn't something that stresses me out – Jason Gilkison (who is head of the creative dance team) often gives me a starting point or general direction to work with. Then Ezra and I talk it all through to understand what we have already, what we need to cut new and what we need to buy. 
Mishaps are an inevitable part of live television. While we always take steps to prevent what we can, if anything unexpected happens it only reinforces that this is a live show every week. Like when Tom's mic popped out during Halloween week, it proves we're only human. No one wants it to happen, but there's generally something to be learnt from these kinds of events. We're also very disciplined when it comes to prep – people sometimes get sewn into their costumes – so there haven't been that many disasters over the years. 
Costumes get repurposed all the time. We just don't want the audience to realise. It's so important now, in this climate, to think about what we already have and what could be used again in a different way, so it doesn't feel repetitive. Everything is really expensive, so re-using something stretches the budget, too. The budget is set at the beginning of the season, and some of my friends working with renowned celebrities would think it's peanuts. From my perspective, it's a healthy budget based on what we have to produce. There tend to be around 400 looks per series, so it's a bit of a juggling act as the run continues. Half-way through tends to be the point where we have more conversations with finance about what we need for the rest of the series!
The dress Kara Tointon wore in the final was one of my favourites. It was a long time ago now, but that classic silhouette and nude colour really stick in my mind. There was a lot of embellishment and she looked fantastic in it. It was probably more about the point in time – it was the year it was decided I would be taking over and was given more influence when it came to the costumes. I have to say, I'm one of those people who tends to remember the bad more than the good, though. I always know when we've done a good job or not, but I tend not to dwell either way. It's always onwards and upwards…
That said, Scott Mills as Sebastian was not our finest hour. As much as my team likes to think we have the final say, that just proves we don't – we take direction from lots of people, whether it's the celebrity, the pro or the executives. It will forever be one of those moments we didn't plan and had to suck up. Let's face it, we're working in light entertainment – sometimes you just have to laugh…
When I took the job at Strictly in 2012, I was pregnant. As a mother already, I knew I would probably suffer with lots of morning sickness. Funnily enough, our wardrobe supervisor Jane was also pregnant, so we felt like we were in it together. I knew I had to get on with the job, but I'm not going to pretend that first year wasn't tough! Now, I'm very aware of trying to support the women on my team balancing careers with a family. It's all about being flexible so women can feel valued beyond their roles as mothers. Thankfully, women are great multi-taskers.
For anyone wanting to get into this world, I would say it's hard, but don't be put off. If you love it, you'll only regret not trying. It's such a privilege to be creative on an everyday basis, and if you're looking for a change of direction, don't delay. Just remember no gig is 100% secure – I never think of my job at Strictly as guaranteed. We all hope to come back next year, but it isn't my right. In this world, it's so important to go with the flow. 
Strictly Come Dancing is on BBC 1 every Saturday and Sunday. Follow @VickyGillDesign on Instagram.
DISCLAIMER: We endeavour to always credit the correct original source of every image we use. If you think a credit may be incorrect, please contact us at info@sheerluxe.com.