The Veg and Herbs You Can Grow At Home

You don't need an allotment to grow your own produce – there are many fruits and vegetables which will grow happily in containers or window boxes. Whether you have a border in a small garden or just a few pots on a windowsill, here's what you need to know to add some homegrown goodness into your cooking.

HERBS
What to know before you start…
April is the best time of year to create the perfect herb garden, according Amanda Brame of Petersham Nurseries. So, whether you want to use ready grown plants, or start completely from scratch, now's the time to get going.

In the current situation, you may not be able to find herb plants in your local garden centre. If this is the case, you can (with a little extra care) use supermarket grown herbs. A word of warning though – they're not hardy, and are only suitable for keeping indoors – so before you plant them, keep them inside for around three weeks, and only harvest them sparingly. Afterwards, harden them off outside for around five to seven days (simply place the plants outside during the daytime and bring them back in at night). This gets them acclimatised to the outdoors and ready to be placed into containers where they will grow quicker. You will need to follow this process again during late summer time to ensure a good succession into the autumn. 
What to choose…
The fastest herbs to grow are parsley, chive, coriander, spring onions and mint, according to Isabelle Palmer, aka The Balcony Gardener. Woody plants, such as rosemary and lavender are slower growing, and therefore best bought as plants. 

Borage, sage, thyme, rosemary, basil and Moroccan mint are top of the chef's list at Petersham Nurseries. Out of these, borage is best grown from seed, sown directly where you want it to grow – it requires a little more room than the others but it's the one chefs love most. The pretty blue flowers are also edible and can be sprinkled over pasta and pastry, alike.

Sow basil indoors and plant out during May after the last frosts, then water daily. If ready (or once they are hardened), plant out small plants of chives, rosemary, thyme and sage straight into the garden – keep watered until established.

Remember to pop plant labels next to each herb so you don't get muddled, advises Louise Golden, resident expert at Dobbies Garden Centres, and position your window box in the sunniest spot you have. 
How to maintain your herbs…
Generally, herbs aren't too fussy and will cope quite well in containers as long as they are around 40 cm deep, have drainage holes and are filled with a soil-based compost, such as John Innes No. 2. Failing that, a good organic water retaining compost will also work.

Regular watering is really important and if you are able to place them out of the midday sunshine this will be much easier to manage and also encourage a strong steady growth. 

Every two to three weeks, add an organic seaweed fertilizer to help speed up growth for a regular supply.

Keep containers simple by filling each one with a single herb type and grouping them together for stylish impact.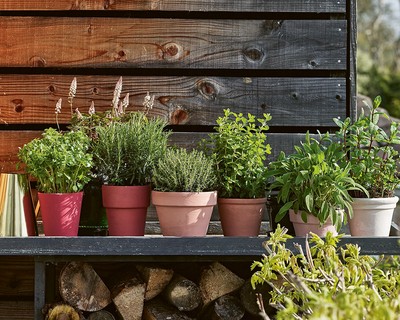 VEGETABLES
What to know before you start…
You don't need an allotment or vegetable patch to grow vegetables. Many will work in containers on a balcony or patio – this also gives you the advantage of being able to move them if a cold frost comes or if they're getting too much sun.

Buy the largest container you can, says Isabelle. Not only will this aid the plants but reduce the number of times you water. Clay pots are the best as they don't overheat and allow the soil to breath.

Make sure the window box has drainage holes, and if not, make a few with a nail and hammer or a drill. You don't want your plants to become waterlogged which will drown the roots and kill them.
What to choose…
Seeds to sow now include mixed salad leaves, radish, and spring onions, either directly outside or plant out small plants. Lettuce, rocket and bok choy are a good starting point for easy-growing vegetables, says Isabelle. 

Courgettes and french beans are a must. Leave it a couple of weeks, then sow two or three seeds planted into individual pots; keep watered and plant out after the last of the frosts.

This month is also the best time to plant soft fruits, such as blackcurrants and blueberries, which will be ready for your summer time harvest – ideal for morning smoothies, acai bowls and seasonal puddings. Strawberries also grow well in at-home containers on your balcony, terrace or window box. 

Shallots, onions and early potatoes also grow well in an outdoor container on your patio or balcony, providing you with staple, fresh ingredients come summer.
How to maintain your vegetables…
For all newcomers to veg growing, check on seedlings or plants every day, says Amanda, watering little and often until you learn their requirements. Remember containers need daily watering.

Most veg needs a period of sunshine, but you can grow salad leaves and French beans in a shadier spot.

A good organic multipurpose soil and a weekly fertilizer of organic liquid seaweed is best.

In terms of pest control, the best advice is to keep plants watered and well fed because healthy plants are less likely to have problems. Keep watch and remove slugs and snails.
DISCLAIMER: We endeavour to always credit the correct original source of every image we use. If you think a credit may be incorrect, please contact us at info@sheerluxe.com.