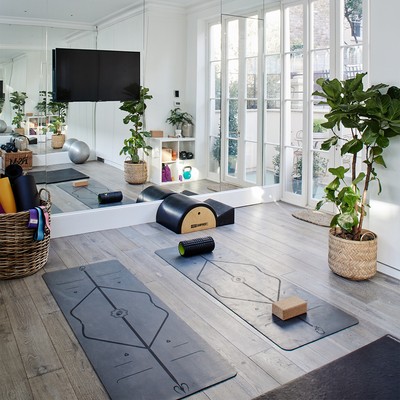 What To Consider When Planning A Home Gym

Thanks to the pandemic, we've had little choice but to exercise at home – and you may have found you actually quite enjoy it. Now, as restrictions start to lift, it seems the working-out-at-home trend is here to stay – especially when you consider sales of Peloton bikes are up 172%. If you're not too short on space and are thinking of turning a storage cupboard, a corner of your living space or even a garage into a workout area, we asked two interior designers and a home gym expert for their advice.

Do… assess your space
Your space and budget will largely determine what you can create at home, but you can do a lot – even in a small room. "As long as you can fit in an exercise mat and maybe some hand weights and bands, possibly a TRX machine, then you can create a great basic set-up, even when space is limited," says interior designer Alison Henry. 
"Garages are an ideal place to set up a home gym," adds Ed O'Donnell, co-founder of interior design firm Angel O'Donnell. "Alternatively, you could consider transforming somewhere in your home where there's plenty of natural light, ventilation and views. It's bound to make for a more inspiring workout." 
Don't… ignore the walls
When designing a home gym, it's worth thinking about how to use the walls, as this could save valuable floor space. "If there simply isn't the room to install full equipment, look at installing 'fitness walls', which sit flush to the wall and close away, so no one knows the equipment there," says Mark Reynolds, owner of WeMakeGyms.com.
"This is a good option if you're transforming a spare room which, when you want to work out, can unveil a host of equipment. We can incorporate hooks or bars to attach resistance bands, a TRX or other suspension training apparatus, as well as 'in-built' equipment like cable pulleys or medicine ball rebounders. Alternatively, you can install simple apparatus, such as dumbbells, skipping ropes, resistance bands and a medicine ball, with some wall-mounted audio vision so you can work out as part of a virtual class or with PTs."
In the past, Mark has fulfillled some elaborate requests, including an indoor climbing wall and equipment that retreats into a wall recess when out of use. Ed is working on a similar project right now: "We're creating a home gym for a client at the moment where we're introducing a climbing wall for the kids. There will be a mirrored wall along one side and the space will also house the client's collection of gym equipment, including two bikes and a running machine."
Do… think about the floor
Ideally, experts recommend installing a padded, rubber floor to absorb some of the noise and keep the equipment stable. "One thing you should to take into account in built up areas, such as London, is that your neighbours are usually only a thin floor or wall away, so you should insulate and sound-proof the space as much as possible," says Mark. "A typical rubber composite floor can be installed quite easily, as long as the underfloor is level." 
"It's important to make sure the floor is re-inforced, too, to take the weight – particularly if you're using heavy weights and machinery upstairs or in a flat," adds Ed. 
For those converting an existing room, Alison has this to say: "It's always nice to have a good floor finish, but this really depends on budget and how the space is going to be used. For example, while a timber-sprung floor is perfect for ballet workouts and general gym sessions, you can also have wall-to-wall mats or lay mats directly onto the existing floor to achieve a similar feel."
Don't… forget about ventilation
One of the most important factors is ensuring there's a steady flow of fresh air or to install air-conditioning – not only to keep you at an optimal temperature while working out, but to ventilate the space, too. "A lack of free-flowing air can cause your gym to become musty over time – which is not ideal," says Mark. "Keep the air circulating with an air conditioning unit or open the windows and get some fans – keeping your equipment clean and well maintained will help, too." 
Alison adds: "It's important to have decent air flow, but if you don't have a window or door to allow fresh air in, then a fresh air inlet or vent will work – depending where the space is located, it could be air bricks or ducted. You can also enhance the scent of the air with candles or scented air diffusers." Some spaces such as a converted garage can also get cold, so invest some freestanding heaters if needed.
Do… use mirrors & lighting cleverly
Whether you have a garage, outhouse or entire floor to dedicate to your home gym, or just a small corner of a living room or spare bedroom, mirrors are the ideal finishing touch. "Mirrors can create the illusion of more space, while ensuring you keep an eye on your form and perform your exercises correctly," says Mark. 
"They also reflect more light around the room," adds Alison. "Consider direct lighting and indirect lighting, too. Where possible, you should look to introduce recessed up-lights in the floor in the corners of the room, so that when you're doing yoga, you don't have to look up and have light glaring in your eyes." Mark adds: "We would recommend installing a dimmer light or smart bulbs, so you can lower the light and colour to create a relaxed and immersive feeling when needed." 
Don't… disregard the finishing touches
"A wall-mounted flat screen will allow you to tune into online classes and Zoom PT sessions, while good built-in speakers or standalone wi-fi speakers with bluetooth will help you connect with your home network and/or wireless headphones," says Mark. 
"Neat storage solutions will mean whoever uses the gym space next can set it up to suit their own needs," says Alison. "Simple baskets are an easy way to store mats and bands. Also, add plants for some decoration, and make the space feel more personal with artwork or family photos."
Do… enquire about professional pricing 
According to Mark, a basic custom-designed set-up (one cardio machine, dumbbells, adjustable bench, flooring) will cost anywhere between £2,500-£5,000. For a custom-designed luxury set-up with two or three cardio machines, a squat rack, free weights, a cable machine, adjustable bench, combat fitness equipment, a feature wall, custom flooring, audio, visual equipment and air conditioning, you're looking at a figure closer to £30,000.
Visit WeMakeGyms.com, AngelODonell.com and AlisonHenry.com for more information. 
DISCLAIMER: We endeavour to always credit the correct original source of every image we use. If you think a credit may be incorrect, please contact us at info@sheerluxe.com.