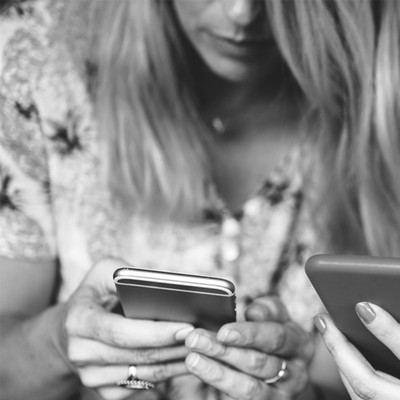 What Is Nomophobia?

Separation anxiety used to be a phrase used to describe how parents felt leaving their children for the weekend but now it's being used more to describe the feeling we get when we're separated from our phones. Coined 'nomophobia', it's the 21st-Century anxiety that's hitting teenagers and adults alike.

We use our smartphones for everything these days: to find our way round new cities; catch up with our friends on social media; to track our calories burned during gym sessions. In fact, phone calls feature relatively far down the list of things we do use them for. So when we lose or even just forget our phones, it can feel as if we've lost our connection to the world. This anxiety has been christened nomophobia (short for no-mobile phobia), and you can even take an online test to see if you have it.
A 2017 study from Hong Kong found that nomophobia is becoming ever-more present in the lives of people today, and revealed that those who use their phones to store and share personal memories suffer the most. Meanwhile, an American study noted that separation from our smartphones can lead to increased heart rate and blood pressure in some people.
"The findings of our study suggest that users perceive smartphones as their extended selves and get attached to the devices," said Dr Kim Ki Joon, the leader of the Hong Kong study. "As smartphones evoke more personal memories, users extend more of their identity onto their smartphones."
Nomophobia was coined in 2010 by the UK Post Office in a study commissioned by YouGov. In their research they spoke to 2,163 people and found that nearly 53% of phone users in Britain tend to be anxious when they "lose their mobile phone, run out of battery or have no network coverage." Interestingly, more men suffer from the condition than women (58% to 47% respectively). The study compared stress levels induced by the average case of nomophobia to be equivalent to "wedding day jitters" or trips to the dentist.
As technology continues to evolve, we become more reliant on its features.
And, although the Hong Kong study used a relatively small group of 300 students in South Korea for their study, they still believe smartphone separation anxiety will continue to become an ever-expanding issue for people in the future – as technology continues to evolve and we become more reliant on its features.
But this dependence can have significant psychological consequences. "Research on transactive memory finds that when we have reliable external sources of information about particular topics at our disposal, then this reduces our motivation and ability to acquire and retain knowledge about that particular topic," says the Scientific American. "In the past, the primary sources of information on which we could depend to outsource our knowledge have been other people. But now we have a source of near omniscience in our pockets. Why bother remembering anything when you can always just ask Siri?" Which is a good explanation for why we get so panicked when we can't feel our phones in our pockets.
Plus, there is the element of FOMO – many people, especially teenagers, tend to use social media platforms like Snapchat, Instagram and Twitter to keep up-to-date with what's happening in their lives of their friends and favourite public figures. People tend to panic when they're not sure what's happening in their social circle.
This dependence on our phones can have significant psychological consequences.
So, how to combat this separation anxiety? Professor Mark Griffiths, chartered psychologist and director of the International Gaming Research Unit at Nottingham Trent University, told the Guardian that deliberately leaving your phone at home or turning it off for periods of time can ease the dependency. E-safety expert Ava Savage believes that adults need to set special times and 'No-go zones' for smartphone usage, particularly if they have teen children as it can set boundaries for them, too. 
DISCLAIMER: We endeavour to always credit the correct original source of every image we use. If you think a credit may be incorrect, please contact us at info@sheerluxe.com.