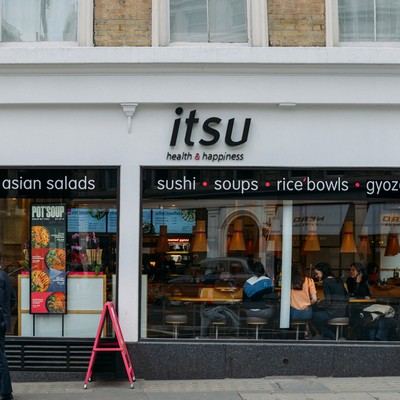 What To Order At Itsu, According To A Nutritionist

We're mega fans of Itsu here at SL. From classic sushi rolls to sashimi, Asian-inspired soups and noodle salads, it's always high on our list for a quick and easy lunch. To find out which of its dishes are healthiest, we asked nutritionist Clarissa Lenherr to analyse the menu…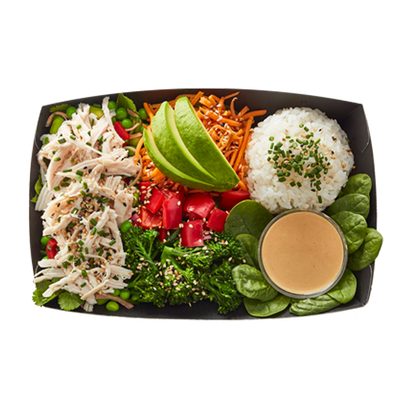 The Sesame Chicken Salad
What's Inside Lean chicken, vegetable salad with broccoli, spinach, pickled carrot, avocado, red pepper with sushi rice, sesame dressing and sesame seeds.
Calories 397
Verdict This is a well-balanced dish, thanks to the combination of lean chicken, a variety of vegetables and rice. With an impressive 35g of protein and nearly 13g of fibre, it also provides almost half your RDA of fibre in one meal. Sesame seeds – used in the dressing and sprinkled on the dish – are a great source of plant-based calcium, which makes this dish a good option for those who don't eat dairy. The high dose of protein will keep you full and help you maintain muscle mass, although it would be made even healthier by swapping the white rice for a brown or wholegrain variety. 
Rating 8/10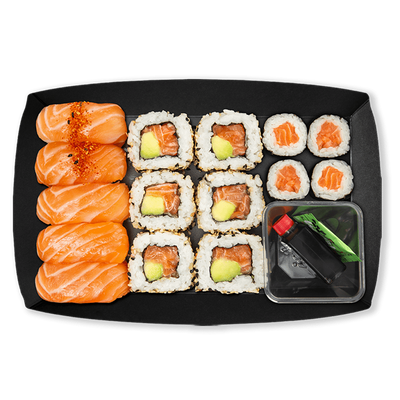 Salmon Full House
What's Inside Salmon nigiri, salmon and avocado maki and baby salmon rolls.
Calories 637
Verdict This meal is based on salmon and rice, with the seaweed wraps and the small amount of avocado in the maki rolls being the only vegetables present. However, the salmon makes it a great source of omega 3, which can contribute to brain health and mood. If you're watching your weight, it's worth noting the carb content of this dish, which comes in at just over 80g, which is pretty high for a lunchtime meal. If weight loss is your goal, opting for something more veg heavy could be a better option.
Rating 6/10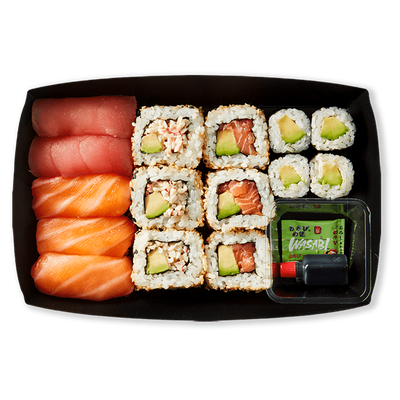 Itsu Classics
What's Inside Yellowfin tuna and sashimi-grade Atlantic salmon nigiri, California rolls, salmon and avocado maki, and two baby avocado rolls.
Calories 590
Verdict With a good variety of protein sources – think tuna, salmon and crab – this is a great option for building and maintaining muscle. Crab contains vitamin B12 and selenium, which is good for general health, and salmon is packed with omega 3s, which the body can't make itself. With over 80g of carbs per portion, it's a good post-workout lunch option, but I would prefer to see more wholegrain carbs used to bring up the fibre content. If this is your go-to, pick up a side salad or portion of veg to ensure you're getting in your five-a-day.
Rating 6/10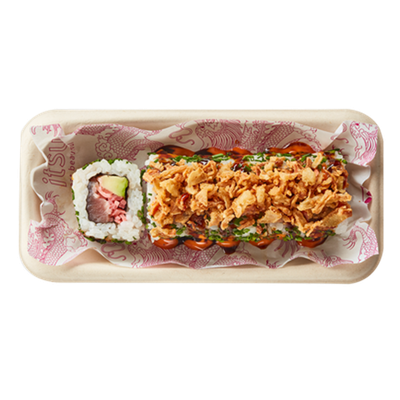 Spicy Tuna Dragon Rolls
What's Inside Yellowfin tuna, avocado and red ginger maki, crispy shallots, spicy sriracha sauce and teriyaki sauce.
Calories 320
Verdict Tuna is a good source of protein and B vitamins, although it's recommended we only eat tuna around three or four times a month due to its high mercury content. Considering these maki rolls are filled with tuna, this dish only contains 12g of protein, and a very low 3g of fibre. It's a good lower-calorie option for those not wanting something too heavy, but try to incorporate a side portion of veg to boost the fibre and vitamin content. 
Rating 6/10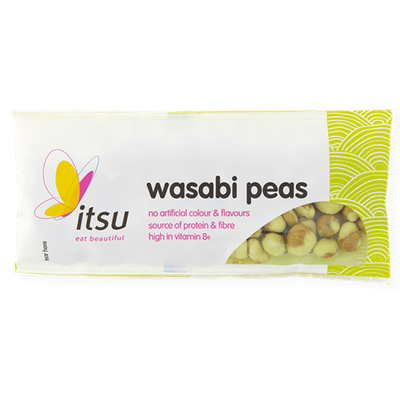 Wasabi Peas
What's Inside Dried not fried peas coated in wasabi.
Calories 111
Verdict Wasabi peas have a reputation for being a healthier snack thanks to their low-calorie content, but each serving only contains 1.5g of fibre and nearly 4g of sugar, so although peas are a source of nutrients such as iron, the serving size will give you minimal numbers. However, wasabi peas are a better option than a packet of crisps as they are much lower in fats, including saturated fats. Thanks to the moderate amount of protein from the peas, this snack may help to tide you over between meals. 
Rating 6/10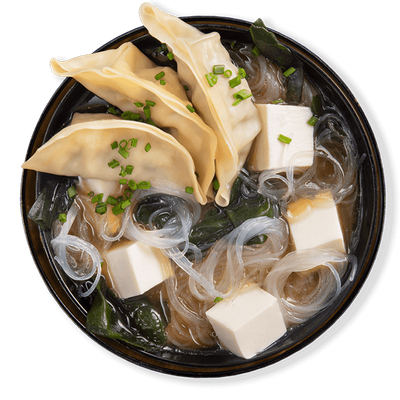 Detox Miso Noodle Soup
What's Inside Three steamed vegetable gyoza, crystal noodles, wakame, tofu and miso soup.
Calories 177
Verdict A low-calorie noodle soup option, this is a good source of plant-based protein thanks to the addition of tofu, which contains all nine essential amino acids. The use of wakame in this dish also gets my vote. Wakame is a type of seaweed, which is a rich source of nutrients, including iodine. Just two tablespoons of wakame can give you over 200% of your recommended iodine intake, which is important for thyroid hormone production. Just be wary of the salt content, which packs a third of your daily salt allowance. This also may not be substantial enough for one meal, so think of it more as a snack option or pair it with something else for a more satiating meal. 
Rating 7/10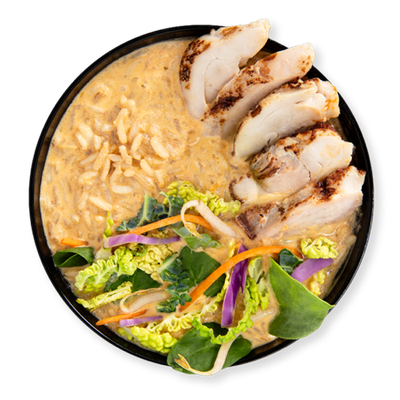 Famous Coconut Chicken Soup
What's Inside Miso marinated chicken, wholegrain brown rice, seasonal greens, Thai spiced coconut soup.
Calories 382
Verdict This coconut chicken soup contains a healthy balance of protein, carbs and seasonal greens. The addition of dark, leafy green vegetables is also great – these tend to be nutrient-rich, containing minerals such as magnesium, copper and B vitamins. With 382 calories and 16g of protein, this dish will keep you full, but be mindful of the saturated fat content. This soup contains just over 16g of saturated fat from the coconut milk, which is almost 80% of your recommended daily allowance. Diets high in saturated fat have been linked to increased cholesterol levels.
Rating 8/10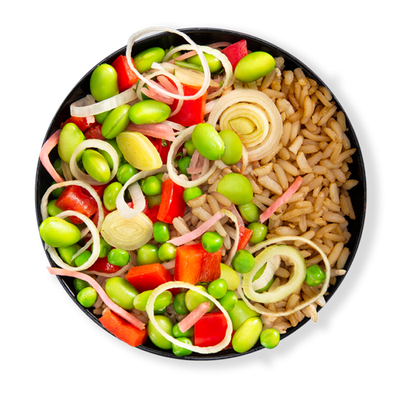 Paradise Rice
What's Inside Wholegrain brown rice, ginger and greens. 
Calories 278
Verdict This is a simple yet delicious dish, which contains an impressive 8g of fibre and is also low in fat, saturated fat and sugar. Although there is no meat or fish, it still contains nearly 9g of protein thanks to protein-rich brown rice and edamame beans. Edamame beans are also packed with iron and calcium, two nutrients that can be tricky to obtain on a vegan or plant-based diet. To take this dish to the next level, I'd love to see some marinated tofu or tempeh as well as a sprinkling of omega-3 rich seeds.
Rating 7/10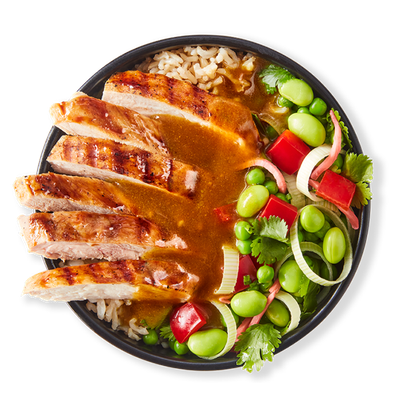 Klean Katsu
What's Inside Miso marinated chicken, wholegrain brown rice, ginger, greens and signature katsu curry sauce.
Calories 574
Verdict This is a healthier version of the traditional katsu curry, thanks to chicken that's grilled not breaded and fried, and wholegrain rice over sticky, white rice. Miso features in this dish, which is a healthy addition. Miso paste is made from fermented soya beans, a source of live bacterial cultures which can contribute to better gut health. This dish also packs in a good amount of veg as well as 10g of fibre. It contains 7g of saturated fat, which is slightly higher than other Itsu options, but far lower than typical katsu curry dishes.
Rating 7/10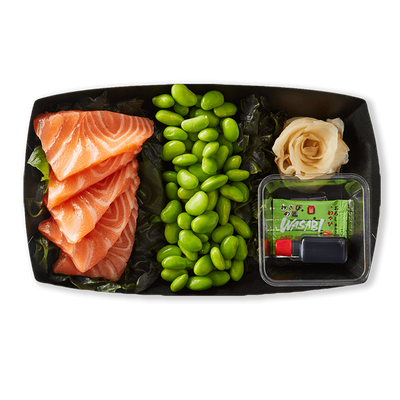 Salmon Sashimi
What's Inside Sashimi-grade Atlantic salmon sashimi on wakame, muki beans and pickled ginger.
Calories 240
Verdict This is a great option for those on a low-carb diet, and the rich protein content will prevent hunger and keep you feeling fuller for longer. Salmon packs in your omega 3 essential fatty acids that can contribute to skin health, while edamame are a good source of vitamin K and fibre. Vitamin K is fat soluble, so pairing the edamame with the fatty acid-rich salmon can help boost vitamin K's absorption. 
Rating 8/10
For more information, visit Itsu.com and ClarissaLenherr.com. 
DISCLAIMER: Features published by SheerLuxe are not intended to treat, diagnose, cure or prevent any disease. Always seek the advice of your GP or another qualified healthcare provider for any questions you have regarding a medical condition, and before undertaking any diet, exercise or other health-related programme.
DISCLAIMER: We endeavour to always credit the correct original source of every image we use. If you think a credit may be incorrect, please contact us at info@sheerluxe.com.