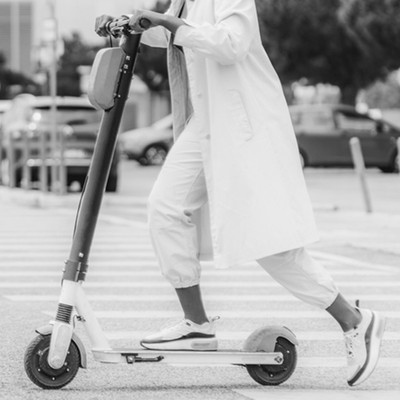 What You Need To Know About Electric Scooters

Electric scooters are big news – on the one hand, they're an eco-friendly and efficient way to travel, on the other hand, they're often seen as a hazard. It proves you need to know what you're doing if you're interested in getting one – from safety features to speed range. Here are some of the main need-to-knows, as well as the top models, recommended by experts.

All products on this page have been selected by our editorial team, however we may make commission on some products.
Electric Scooters Are Legal… Sort Of
There's a lot of discussion about whether or not electric scooters (e-scooters) are legal. While electric scooters are legal in the UK, there are restrictions surrounding them. For example, it's legal to buy an e-scooter, but it's not yet legal to ride it on a public road, cycle lane or pavement across most of the UK (more on that later). Just because you see people doing just that, doesn't mean they're doing so legally. On private land, anything goes. Right now, the government is running trials of e-scooters, but for the moment, riding one illegally could land you with a fine or even penalty points on your licence. Yikes.
It Can Be An Investment
True, e-scooters could help you cut down the amount of time you spend commuting and parking, but the upfront cost isn't to be ignored. Even an entry-level e-scooter can cost you £100 while a top-end version can go for as much as £2,500-£3,000. Prices may drop as it becomes more mainstream, but at the moment they're not proving any cheaper than a season ticket or car insurance.
You Can Rent If You Don't Fancy Buying
From 7th June 2021, e-scooters have become available to rent in a small number of London boroughs. Londoners can now legally use e-scooters on public roads – but only slowly. E-scooters will be limited to a maximum of 12.5mph, 3mph slower than in the rest of the UK, and the scheme will only operate in a few parts of central, south and west London. Three operators – Tier, Lime and Dott – were chosen by Transport for London (TfL) to run the trial service. As well as having a lower speed limit, the scooters will also have to have their lights permanently on, with users asked to complete a safety lesson before their first rental.
Speed Isn't As Important As Power
An underpowered e-scooter won't be able to cope with even slight slopes – so it's worth doing some research on power, not just speed range. Think of it this way: no-one buys a car according to its speed, but rather the motor capability. Similarly, the heart of any e-scooter is its motor, which can range from an output of 250W to 350W. The more powerful the motor, the more easily you'll be able to tackle different terrain.
They Can Be Heavy – And Not All Are Waterproof
Just because a scooter collapses down doesn't mean it isn't heavy. Many weigh around 15kg – the equivalent of more than 10 laptops – so carrying them more than just a short distance might be too much work. Finally, almost all e-scooters claim a 'splash-proof' IP54 rating, which is designed to make them rideable in the rain. However, the UK weather probably calls for something a little more robust. Cue the IP65 rating, which is more suitable for riding in heavy rain. Just bear in mind you will pay more for an e-scooter with an IP65 rating. Plus, it won't make riding it in the rain any easier.
A quick buyers' guide from the team at Halfords…
Some of the key factors to consider when buying an e-scooter.
A fun, low-speed scooter will likely require less high-spec kit than an off-road e-scooter with chunky tyres and full suspension, so have a think about where the scooter is going to be ridden.
Price
"You can expect to pay a little more for an e-scooter than a conventional push one, although you can still pick up a decent e-scooter without breaking the bank. The price ultimately depends on what level of features you're looking for. An all-out off-roader with a higher top speed, long battery life, brakes and suspension is going to set you back more than a basic model that just focuses on a battery and motor."
Range
"The capacity of your scooter's battery and where you're planning to ride will influence how far you can travel on a single charge. If you're only going to be making short journeys, then a smaller and more cost-effective battery may meet your requirements. On the other hand, if you want to ride for hours without having to recharge, or your route includes a lot of hills, then it may be worth investing in a larger battery."
Motor Power
"If you want to zip along and tackle hills with ease, then go for an e-scooter with a powerful motor. Many of the scooters that we stock can reach speeds of 15mph, although it's important to bear in mind that faster speeds require greater concentration, and it may be sensible to invest in more protective equipment than just a helmet."
Weight
"If you're going to be carrying your scooter for any length of time, then it's worth taking the weight into consideration. Some models are more lightweight and easier to fold than others, making them more suited for transporting and storing."
Suspension, Brakes & Tyres
"Just like normal scooters, choosing an e-scooter should involve checking over the specs. A fun, low-speed scooter will likely require less high-spec kit than an off-road e-scooter with chunky tyres and full suspension, so have a think about where the scooter is going to be ridden – decent brakes could be the difference between stopping in time, especially if you're going for a higher-powered motor."
 
Interested? Here are some of the top models worth considering
Power A2 Lithium Electric Scooter, Razor, £279.99
BEST FOR: Entry Level
Max speed: 10mph
Range: 7.5 miles/12km
Weight: 6.46kg
 
"Thanks to its folding mechanism and collapsible handlebar stem, the Razor Power A2 is one of the most compact, lightweight and portable e-scooters available today. Despite its diminutive size, the A2 has a top speed of 10mph thanks to its high-torque motor and 22-volt lithium-ion battery pack, and the battery life is enough for up to 40 minutes of continuous use (around 7.5 miles). The total weight of the scooter is just 6.46kg and when assembled, making it the ideal commuter tool." – the team at T3
 
Buy it here
 X7 Foldable Electric Scooter, Decent, £315
BEST FOR: Lightweight & Durability 
Max Speed: 15.5mph
Range: 15.5 miles/25km
Weight: 12kg
 
"The Decent X7 is a premium yet affordable e-scooter that's designed to be strong and durable. Unlike most e-scooters, the X7 has a unique design with the battery located in the stem so that it can be removed with ease. It also benefits from large 10-inch pneumatic tyres that provide a smooth ride and an enhanced ride quality. Despite its premium build, the X7 is also lightweight, only registering at 12kg." – the Halfords team
 
Buy it here
Impel IS-1 Electric Scooter, Carrera, £399
BEST FOR: Security
Max speed: 15.5mph
Range: 18.6 miles/30km
Weight: 17kg
 
"The Impel is-1 is the ultimate e-scooter. With an impressive IPX5 waterproof rating, you don't need to worry about getting caught in a rain shower – making it perfect for British weather. Every aspect of the scooter is designed with performance in mind, including the powerful double-disc braking system that supplies dependable stopping power, the shock-absorbing air-filled pneumatic tyres, and a powerful motor that provides unrivalled hill climbing ability. The Impel is-1 even has an in-built electronic alarm, immobiliser and cable lock – making it the complete package." – the Halfords team
 
Buy it here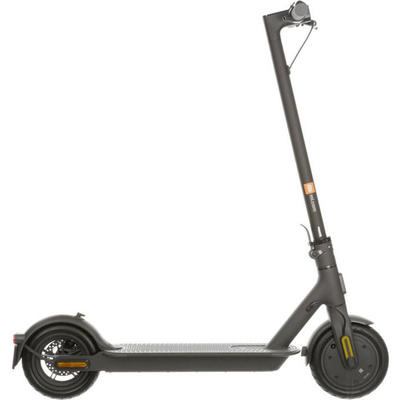 Mi Electric Scooter 1S, Xiaomi, £449
BEST FOR: Technology
Max Speed: 15.5mph
Range: 18.5 miles/30km
Weight: 12.5kg
 
"Although Xiaomi might be better known for its affordable smartphones, the Mi 1S proves the company is equally adept at creating smart electric scooters. While the top speed isn't the highest out there, this folding e-scooter has some of the best app connectivity features we've seen. As well as tracking your journeys and just how fast you've barrelled down those hills, you can get a quick look at how much of the massive scooter battery still remains. We found the Xiaomi Mi 1S speed and acceleration controls incredibly simple, anyone can learn to ride in minutes. The light, aluminium construction means you can quickly fold it down for carrying and storage." – the team at T3
 
Buy it here
Ninebot Segway Air T15 Electric Scooter, Segway, £599 (was £679)
BEST FOR: Compact Design
Max speed: 12.4mph
Range: 7.5 miles/12km
Weight: 10.5kg
 
"The Ninebot Segway Air T15 certainly looks the business but it is smaller, and therefore slower and lacks the range of similarly priced rivals. For those who want to easily stow it in the boot of a car or wheel it on to public transport, it's absolutely perfect, and delivers a perfectly acceptable ride, so long as the surfaces are smooth and you haven't got too many steep hills to contend with. The lightweight body, diminutive package and clever stowage solution means there is a trade-off in performance, but the Ninebot Segway Air T15 majors on clever additional features and a classy smartphone app." – the team at T3
 
Buy it here
Pure Air Pro Electric Scooter, Pure Electric, £599
BEST FOR: Performance & Range
Max speed: 15.5mph
Range: 31 miles/50km
Weight: 16.5kg
 
"The second-generation Pure Air Pro is one of the best all-around e-scooters you can buy. Pure has taken its existing market-leading and award-winning scooter, taken user feedback and discovered actually useful ways it can be improved. Thanks to the new 500W motor, performance and range are outstanding and this, combined with the build quality, safety, comfort, and ease-of-maintenance make it one of the best electric scooters you can possibly buy.  Just like the original Pure Air Pro, the real highlight is, of course, the guaranteed IP65 water resistance, which, if you're planning on using your scooter in all seasons in the UK, is a necessity." – the team at T3
 
Buy it here
Ninebot Max G30 Electric Scooter, Segway, £729
BEST FOR: Top Of The Range
Max Speed: 15.5mph
Range: 40 miles/64km
Weight: 19kg
 
Segway Ninebot G30, £729
 
"Segway's premium model kick scooter has a sleek design and a range of up to 40 miles. The full colour dashboard displays indicators like speed and ride models, while the one-touch folding system makes carrying and transporting the scooter a breeze. A cruise control setting, and customisable front and rear lights, are just some of the additional features of this top-of-the-range model." – the Halfords team
 
Buy it here
DISCLAIMER: We endeavour to always credit the correct original source of every image we use. If you think a credit may be incorrect, please contact us at info@sheerluxe.com.