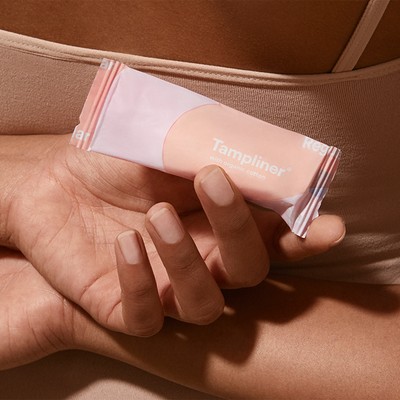 What You Need To Know About Organic Period Products

Organic beauty and personal health products are more readily available than ever before, but does it really matter? We asked British organic period brand Callaly to explain more about how and why to make the switch.

CREATED IN PARTNERSHIP WITH CALLALY
First – what's the difference between regular and organic period products?
These days, we have more options than ever for dealing with our periods, from tampons and reusable sanitary towels to menstrual cups and period pants. But throw organic products into the mix and the choice is even greater. What sets organic sanitary products apart is that they are typically made with 100% organic cotton unlike their non-organic counterparts. This means that they are free from hormone-disrupting chemicals (like those used to bleach non-organic tampons) as well as other synthetic materials used for absorbency, pesticides, and GMOs used in cotton production.
Callaly, one of the UK's leading clean period brands, says its organic products go one step further: "The cotton we use in our products – from tampons to pads – is free from dioxins, dyes, chlorine, pesticides and fragrances. All our products are also hypoallergenic," says founder Ewa. "Plus, having the 'organic' label on a box of tampons means the cotton had to be grown, manufactured and treated in a very specific way, including non-GMO seeds, not using pesticides, and whitening with peroxide not chlorine," she says.
So, does using organic products really make a difference?
If you have an inkling that organic hygiene products are better for you but you're not quite sure why, it all comes down to biology. Your vagina is one of the most absorbent parts of your body; it has a thin, mucous membrane that absorbs toxins and chemicals more readily than your outer skin. The average woman uses upwards of 10,000 tampons in her lifetime, which, when you consider the number of chemicals contained in non-organic tampons, adds up. If you've ever experienced rashes, chafing or itching when using tampons and pads, it could be worth making the switch to organic.
Ewa explains that plastic-heavy, fragranced products can trigger irritation down below, and studies show that 55% of people who have tried organic cotton-based products experience less skin rashes and irritation. Plus, organic pads are more pleasant to wear thanks to a softer feel, ideal if you are frustrated with the plastic, crinkly feel of conventional pads. "Moreover, protecting your vagina is one thing, but most of us would rather that didn't come at the cost of the planet's health," says Ewa. "Organic cotton crops are grown without the use of pesticides, insecticides, herbicides and GMOs that can be damaging to ecosystems. Organic crops also use significantly less water, making organic cotton a win-win for your body and the planet your body calls home.
The average woman uses upwards of 10,000 tampons in her lifetime, which, when you consider the number of chemicals contained in non-organic tampons, adds up.
The average woman uses upwards of 10,000 tampons in her lifetime, which, when you consider the number of chemicals contained in non-organic tampons, adds up.
Are there any other benefits to using clean period products?
The experts say making the switch to organic products could also reduce your chance of toxic shock syndrome (TSS). TSS is an illness caused by bacterial infection that infects the entire body – symptoms include sudden high fever, feeling faint or dizzy, nausea, muscle aches, vomiting and clammy skin. Around half of all TSS cases are tampon related. When it comes to the risks of organic versus non-organic tampons, it comes down to absorbency and length of use more than specific ingredients, although non-organic tampons are more prone to shedding their fibres, which can get left behind in the vagina, becoming a risk factor for infection.
"Ultimately the risks are small either way, but it's better to be safe than sorry," says Ewa. She also says organic products can reduce your chance of complications such as endometriosis. "The majority of feminine care products contain surfactants, adhesives and additives, and are bleached with chlorine, in turn creating traces of dioxin. These traces of dioxin, while small, can be cancerous and lead to other health conditions such as endometriosis, which in itself can lead to painful periods and even infertility. Making the switch to organic products takes away this risk."
What makes Callaly different?
As well as offering 100% clean and toxin-free period products, Callaly is also the brainchild of the world's first-ever tampliner, an all-in-one alternative for those days when your flow is a little heavier and you need a tampon and a liner. Designed to be cleaner and more comfortable, this forward-thinking innovation is the product you didn't know you needed.
Wearing a tampliner feels quite different from using a normal tampon – the mini-liner is worn between your labia, providing extra protection from leaks, while the tampon and mini-liner are connected by a breathable virtual applicator. This is made from a medical-grade, ultra-thin film that you wear inside your vagina, keeping the mini-liner in place. The tampliner also provides a more natural silhouette than a standard liner, which is useful when you want to wear tight-fitting clothes, too. It's clever stuff, especially if you have a heavier flow or like a little extra protection when working out.
What else is on offer?
If the tampliner isn't for you, Callaly ticks all the other boxes when it comes to organic feminine hygiene, too. The range also includes regular tampons, pads and liners, all made with organic cotton and in customisable absorbencies. There's the option to buy products separately or build a box that works for you, and all products can be set up as a subscription. Plus, there's a misconception that organic period products are more expensive than conventional products, but with Callaly this isn't the case. Prices for a small subscription box start from £7.30, and SL readers can get 50% OFF their first box. 
Anything else?
If that wasn't enough, Callaly is a registered B-corp and has committed to donating at least 1% of its annual sales to charity. "We look for non-profits that improve the lives of people with periods, especially women without access to affordable femcare products," says Ewa. "Recently, we've been supporting Days for Girls, Red Box Project and Bloody Good Period. Plus, everyone who works at Callaly spends 3% of their time working for charities. To date, we have donated 136,000 period products to support those with limited access." 
Shop Callaly's bestselling products here – from the cult tampliner to organic cotton liners…
Visit Calla.ly
DISCLAIMER: Features published by SheerLuxe are not intended to treat, diagnose, cure or prevent any disease. Always seek the advice of your GP or another qualified healthcare provider for any questions you have regarding a medical condition, and before undertaking any diet, exercise or other health-related programme.
DISCLAIMER: We endeavour to always credit the correct original source of every image we use. If you think a credit may be incorrect, please contact us at info@sheerluxe.com.