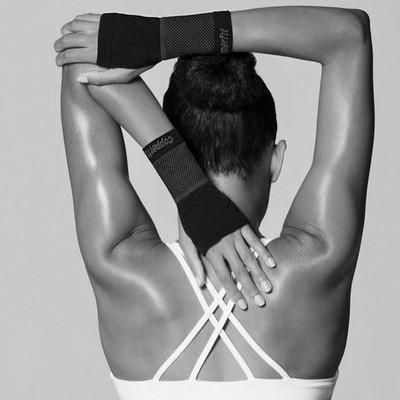 Why Compression Gear Is The Ultimate Workout Companion

Be it a pair of leggings or socks, compression garments provide targeted support for muscles to alleviate soreness and reduce recovery time. Here's how this clever tech could help you get more out of your workout.

All products on this page have been selected by our editorial team, however we may make commission on some products.
Tell us more…
A pair of leggings that promises to supercharge recovery from strenuous exercise may sound too good to be true, but that's exactly the premise behind compression garments. Used for years by professional athletes, compression clothing is designed to increase blood and lymphatic flow to a specific part of the body to improve performance and shorten recovery time. 
"Compression therapy is nothing new, but fitness and wellness junkies are increasingly tapping into the benefits to help align muscles and boost circulation," Kimberley Morrison, professional triathlete and CEP ambassador, tells us. "Compression can be used for a few different things when it comes to sports, fitness and rehab. For example, if you're suffering from an injury, it can help reduce swelling and inflammation, reducing the potential severity of an injury. And when it comes to sports performance, compression is proven to improve oxygen delivery to different muscle groups, which in turn enhances your performance." Even Gwyneth Paltrow is a fan – she's often seen using wrist and knee supports for running, yoga and strength training.
So, how exactly does it work?
Whether it's a pair of leggings or socks, compression garments add pressure to your muscles and support some of the strain induced by activity. This pressure helps blood circulation, which supports the recovery process as you exercise. Some studies show wearing compression garments can also speed up the removal of lactic acid from working muscles, helping you perform better for a longer duration, as well as preventing delayed onset muscle soreness (DOMS). And by boosting blood flow, compression garments can also provide support and recovery to injuries, nerve pain and circulation issues.
Compression is proven to improve oxygen delivery to working muscles, which enhances performance.

What does the science say?
"There are several studies looking into compression therapy and all of them conclude that it does work," says Kimberley. "One study from 2020 found that wearing compression socks could benefit muscle function and perceived muscle soreness during both a workout and the recovery period, meaning you'll feel less sore after a workout and recover more quickly. A separate study looked at the effect of compression clothing on endurance, strength and power and motor control, and observed reductions in muscle swelling and perceived muscle pain." By improving perceived exertion – i.e. how hard you find a workout – it can mean less effort is needed for a workout, ideal on those days you don't feel like training or need to clock up the miles when training for an endurance event.  
Who's it for?
If you're into running, the experts agree compression gear is worth a try. As Josh Davies, personal trainer at Aimee Victoria Long, explains, "Pretty much everyone can benefit from compression therapy, regardless of your preferred form of exercise, but given it's particularly effective for the lower half of the body, it's one to try if you're into running – whether you like a 5k on a Saturday morning or you're training for a longer run. The more strain your form of exercise puts on the body, the more benefit you're going to feel from using compression." Kimberley agrees, adding that compression gear is best suited to higher intensity workouts. "Any workout that will fatigue you quickly and cause soreness is one that could benefit from compression gear. This means that it's great for running, high intensity sports and HIIT training, but less suited to low-impact activities such as yoga and Pilates." 
Where should you start with it?
Compression socks and leggings are the best entry-level pieces, says Kimberley. "Compression socks are hugely popular due to the fact that calf, ankle and foot injuries are very common among endurance athletes. Compression socks provide support in these potentially weak or vulnerable areas, reducing the risk of injury and enhancing performance. Leggings, meanwhile, can make a huge difference when it comes to enhancing a workout, and when worn post-workout can help you recover more quickly." 
At the same time, there's also a market for specialised compression gear – think wrist supports for resistance training and yoga, sleeves for boxing, and back supports for cycling. Some brands also offer leggings that are specifically tailored to different sports. For example, 2XU's Run Shorts use clever tech that adjusts the support depending on the dynamics of movement in different sports, while Lululemon's run socks hug lower leg and foot muscles to boost energy and support the achilles.
Any workout that will fatigue you quickly and cause soreness – think running and HIIT – is one that could benefit from compression gear.

Any other tips?
When buying a pair of compression leggings, it's important to note the difference between a genuine pair versus a pair of very tight leggings. "If you're buying compression leggings for the sports recovery and performance benefits, make sure they're from a tried-and-tested brand with a reputable track record, and ideally have graduated compression throughout," says Kimberley. Brands to try include 2XU, CEP Sportswear and Skins. And if you're a keen runner looking to try compression socks, Kimberley recommends looking for a pair that are tighter around the ankles and then loosen as they move up the calf. "This style encourages lactic acid to move back up the legs and balances oxygenated blood in the lower extremity of the foot, which is particularly important during long endurance events."
The bottom line?
If you're prone to injuries, training for an event or are looking to bounce back more quickly between workouts, compression gear could well be worth a try. 
Shop These Expert Approved Products...
DISCLAIMER: We endeavour to always credit the correct original source of every image we use. If you think a credit may be incorrect, please contact us at info@sheerluxe.com.