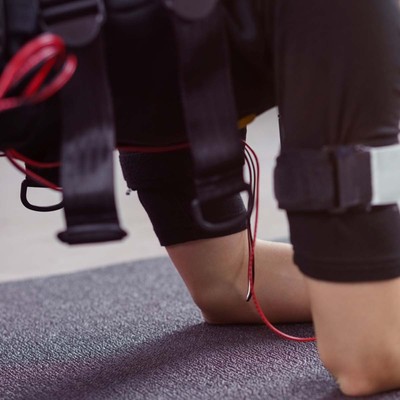 Why EMS Is The Workout To Try

The same results as a 90-minute workout in under half an hour? Many believe electro muscle stimulation (EMS) is too good to be true. But those in the know will tell you it's highly efficient and effective – not to mention backed by real science. Here, two of London's leading trainers explain what it could do for you…

What exactly is EMS?
Electrical muscle stimulation (EMS) uses electrical currents to heighten the contractions in your muscles to supercharge your workout. If you had a Slendertone back in the day, you'll already be familiar with the technology behind EMS. "It's the same technology, but different," explains personal trainer and EMS guru Christina Howells. "Electrical muscle stimulation stimulates 90% of your muscles (as opposed to around 50% with regular training) using an impulse current, which enables you to access deep muscle layers that are usually tricky to reach via your average workout." Using this technology, EMS has the potential to work your muscles up to ten times harder than a regular workout. "In short, more of the muscle is put to work, achieving a larger training stimulus in a shorter timeframe. In fact, 20 minutes of EMS is equivalent to 90 minutes in the gym," says Christina. 
What happens in a session?
EMS has long been used by pro athletes, but classes are now popping up left, right and centre in London, bringing this training method to the masses. "The majority of classes combine EMS with HIIT," Christina explains. Once you're strapped into an EMS device (connected to an EMS machine), which places electrodes on different muscle groups, you'll be put through your paces in a HIIT-style, strength-focused workout. The electrode pads are placed on the bulkiest part of your muscle and are secured by Velcro straps, or a vest. "During a session, which usually lasts around 20 minutes, you'll perform a series of exercises – think lunges, squats and bicep curls – at the same time as the impulse, creating a near total muscle contraction and activating slow and fast twitch muscle fibres. Each muscle group is controlled individually by your PT via the machine, making your session completely bespoke every time." Take, for example, a regular bicep curl, which would typically provide two muscle contractions. Throw in EMS and you'll get around 40 of them, without having to do anything differently.
What does the science say?
Countless studies have shown that not only does EMS offer serious toning benefits, but it can also help with injury rehabilitation and problems such as back pain, adds Fraser Smith, co-founder of Vive Fitness. "EMS has been extensively researched. Research has focused on how it can increase lean muscle mass, reduce and remove back pain, and aid with weight loss. One recent study found EMS can have a significant impact on strength, power and muscle mass as well as cardiovascular fitness." Christina is also a strong advocate of using EMS to build a stronger body. "Research has shown it can notably reduce lower back pain in as little as four sessions and improve posture." In another study, which followed results after a six-week training programme with EMS, 88% tested reduced their back pain, 69% improved fitness levels, while 85% reported improved muscle definition and tone.
A regular bicep curl typically provides two muscle contractions. Throw in EMS and you'll get around 40 of them, without having to do anything differently.

Is it painful?
EMS should never be painful but you should prepare to be challenged. As the power of the waves increases, even simple movements become harder to perform – be warned, it's a short but very sweet workout. If you're just starting on your fitness journey or have taken a break from strength training, be prepared for DOMS in the days following a session. However, if muscle soreness lasts longer than a couple of days or is agonising, this could be a sign you've pushed it too hard. 
How often should you do it?
Due to the intensity of EMS, the experts recommend keeping things short and sweet. "Start with one session a week for the first eight to ten weeks, building up to a maximum of twice per week thereafter," says Christina. "Within four sessions you'll see improvements in posture and feel stronger with a reduction in lower back pain. After ten sessions, you'll see and feel significant benefits to strength, aesthetics and overall wellbeing." And it goes without saying that EMS isn't something you can do at home. "EMS should always be done alongside a trained expert," adds Fraser. "The best way to find an expert near you is to head to EMS-Training.com and type in your postcode. This will then list the closest EMS studio or qualified PT to you."
EMS is a win-win for everyone. Use it to build strength and fitness or when recovering from an injury.

Who's it for?
"EMS is a win-win for everyone," says Fraser. "There are huge benefits for everyone on the fitness spectrum. Athletes can improve muscle activation and performance, and use EMS when returning from injuries, likewise people who are less active can use it to build strength. It's no wonder EMS is becoming increasingly popular with those who want to get fit but are time-deprived and don't wish to spend hours in the gym each week, as well as with those who need to avoid high-impact training. All of these reasons explain why EMS is also great for anyone starting out on their fitness journey, as you hit all the major muscle groups each time you train, while also getting expert guidance." 
Anything else to know before you get going?
Before you jump in, remember EMS won't be a walk in the park. "One of the most common mistakes I see beginners making is pushing too hard for their first session," says Fraser. "Remember it's a form of training like no other and it can take a couple of sessions to get used to it. As EMS pushes your muscles harder than you realise, people are always surprised at how quickly they fatigue during a session. Fortunately, trainers are good at judging the required intensity and will always work with you for the best results."
Keen to give EMS a go? These are the studios to know…
E-Pulsive: Frequented by the likes of Poppy Delevingne and Amelia Windsor, E-Pulsive recently relocated to Repose on High Street Kensington. 
Visit E-Pulsive.co.uk
 
Surge: Reach your fitness goals faster at Surge thanks to industry-leading EMS trainers and three central London locations. 
Visit Surge.co.uk
 
Vive Fitness: With a handy central location, Vive Fitness offers a PT-led experience – classes are capped at two people and 1-to-1 sessions are also on offer. 
Visit ViveFitness.co.uk 
 
Exerceo: Opened London's first EMS studio back in 2015 and now has studios in Blackfriars, Monument and Belgravia. With some of the best trainers around and the latest tech, expect real results. 
Visit ExerceoTraining.co.uk
 
BodyWorksWest: A stone's throw from Hyde Park, BodyWorksWest is a luxe gym that offers EMS training. 
Visit BodyWorksWest.co.uk
 
Christina Howells: If you're looking for a private experience, leading EMS trainer Christina will come to your home and train you from the comfort of your living room. Visit ThatGirLLondon.com or call 07968824166.
 
 
For more about our contributors, visit ThatGirlLondon.com and ViveFitness.co.uk
DISCLAIMER: Features published by SheerLuxe are not intended to treat, diagnose, cure or prevent any disease. Always seek the advice of your GP or another qualified healthcare provider for any questions you have regarding a medical condition, and before undertaking any diet, exercise or other health-related programme.
DISCLAIMER: We endeavour to always credit the correct original source of every image we use. If you think a credit may be incorrect, please contact us at info@sheerluxe.com.