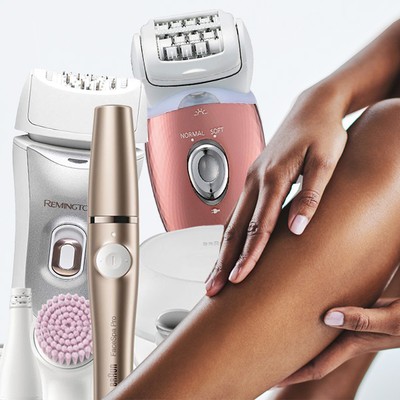 6 Of The Best Epilators

Epilators have had a resurgence – and not just because they're effective at speedy hair removal. They give long-lasting results, keep ingrown hairs to a minimum and are more time efficient than the alternatives. Here, we share their key benefits, how to use them properly and six of the best to try…

They Provide Similar Results To Waxing
Epilation is similar to waxing in that it removes each hair from its root. The difference is that epilation doesn't pull or stretch your skin, making it a gentler option. "The devices grab even the tiniest of hairs, removing body hair directly from the follicle, so you get smoother skin for longer," says Dr Anita Sturnham, a GP and skin health specialist. "Used correctly, they provide you with much better results than a razor could and you'll find skin stays smooth for at least four weeks. The other benefit is, because epilators work from the root, you can reach shorter hairs more effectively." 
They're Not As Painful As You Think
As with any hair removal, you're pulling out multiple hairs at a time, so some discomfort is to be expected. But newer tools and formulations mean pain is now decreased each time you epilate. "The best way to keep pain to a minimum is to epilate in warm water to make it a more comfortable experience," explains Anita. "The warmth of the water hydrates the epidermis, providing a smoother surface for the epilator to glide against, reducing the risk of friction. Keep the skin held taut and your device perpendicular to the skin, gliding against the grain of hair growth." 
They Don't Just Remove Hair 
"Newer formulations of epilators come with a whole host of multitasking benefits," says Anita. "They can help optimise the condition of your body skin before and after epilation – some even come with a body massage tool to improve the skin's microcirculation. Braun's Silk-Epil 9 tool also uses 'micro-tweezing' technology to capture hairs as small as a grain of sand, so there's no awkward regrowth stage as seen with waxing. Many tools now come with sensor guides, so you can sense the optimum amount of pressure on the skin to ensure you're never increasing irritation or unnecessary friction." 
They're More Cost-Effective
Upfront, epilators can seem expensive but, in the long run, epilating is more cost-effective than regular wax appointments. Plus, you get your money's worth as most include everything from bikini combs to gentle heads and body buffers, so all bases are covered. Epilating is also a more sustainable option than disposing of razors on a regular basis. 
They Keep Cuts & Nicks To A Minimum
You may still get a few post-epilation bumps but, unlike razors, epilators don't cut into the skin, so there are fewer nicks and grazes. "To keep irritation at bay, epilate at night; that way your skin can recover while you sleep," says Anita. "I find using an aloe vera-based cream or gel afterwards also keeps redness and bumps at bay. Most devices come with 'starter heads', which contain razor blades and epilator heads together – always start with these if you can to ease yourself in. You can then switch over fully to an epilator head when you're ready."
 
Keen to try an epilator yourself? These six are suitable for every skin type…
Braun Silk Epil 9 SensoSmart, £259.99
If you're serious about epilation, look no further than this device from Braun. Loved by the experts, it uses SensoSmart technology to keep pressure to a minimum. The inclusion of a body massager, skin contact cap and bikini trimmer make it a no-brainer investment. The head is surprisingly gentle too, taking out smaller areas of hair at a time for a less painful experience. 
Available at Boots.com
Braun FaceSpa Pro Facial Epilator Bronze, £169.99
One of the first devices created for facial epilation, this can remove hair that's up to four times shorter than waxing can, making for a smoother, clear complexion. It contains a separate head that helps to apply your skincare, stimulate the skin and ease tension with gentle vibrations. The small head gets to all those hard-to-reach areas (upper lip, eyebrows and ears) while the chic packaging is a crowd-pleaser. 
Available at Boots.com
Panasonic Wet & Dry 6-in-1 Epilator, £62
This go-to multitasker has six attachments – including a shaver, gentle epilator head and pedicure buffer – so you can cover more than just hair removal. It's also waterproof, so you can take it in the bath or shower for ease. A swivel top head means you can reach every area and hair easily – from knees to elbows – for maximum smoothness. 
Available at Amazon.co.uk
Philips Satinelle Compact Epilator, £70
It may be small, but don't be deceived. This dinky epilator has 21 tweezers to ensure no hairs remain. Two speed settings let you epilate at your own pace and comfort level, so it's great for even the most sensitive of skin types. It's designed for underarm use, but you can use this on the bikini line and legs too, when time is at a premium. Great for on-the-go and travelling.
Available at Philips.co.uk 
Remington 7-in-1 Wet & Dry Cordless Epilator, £59.99 
Affordable and effective, this is a great option for first-time epilators. Its seven attachments can effectively remove hair all over your body, while the aloe vera-soaked massage cap keeps irritation and soreness at bay. You'll also love a little flashlight that helps ensure you don't miss a single hair. The small size is great for chucking into travel bags and for a good grip
Available at Boots.com
Philips Satinelle BRE360 Wet & Dry Epilator, £61.29
With a sleek design and two speed settings, this Philips epilator lets you up the ante as you become more comfortable. With specific attachments for legs, body, face, underarms and the bikini, you can expect smoothness that lasts at least four weeks. There's also a gentle epilator cap for sensitive skin types, allowing you to remove hair with less pulling and pain. 
Available at Amazon.co.uk
DISCLAIMER: We endeavour to always credit the correct original source of every image we use. If you think a credit may be incorrect, please contact us at info@sheerluxe.com.