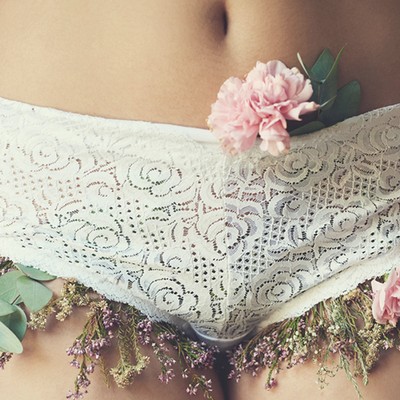 Goodbye Brazilians, The Full Bush Is Back

With Vogue declaring the full bush is back, and a whole spate of celebrities professing their love of the natural look, could Brazilians soon be a thing of the past? SL investigates…

Earlier this summer, US Vogue made global headlines when they announced "the full bush is the new Brazilian"; giving readers a list of reasons to give up waxing for good. And they're not the only fans.
The likes of Gwyneth Paltrow (who revealed she works a "70s vibe") and Cameron Diaz (who dedicated an entire chapter in her health and beauty tome, The Body Book, to public hair – aptly titled 'In Praise of Pubes') have been advocates since the early twenty-tens, and more recent years have seen even more famous faces join the no-waxing movement – everyone from supermodel Ashley Graham to actress Emma Watson and singer-songwriter Janelle Monáe have publicly expressed their penchant for pubes (with Watson even sharing the all-purpose body oil, Fur Oil, she uses on her pubic hair in a beauty interview with Into The Gloss).
And we need more women to speak up on the subject. Despite the body positivity movement growing ever stronger in the media – this June saw the first ever razor advert showing female body hair air on TV – there's still a long way to go; as model and feminist activist Amber Rose discovered when she Instagrammed a nearly-nude photo of herself with a part of her pubic hair on show. The image – captioned #BringBackTheBush – was removed from the social media platform for violating community guidelines, and sparked an intense debate about how controversial a few tendrils of hair really can be.
"I feel like as women, we always feel like we need to shave or wax – and if we don't, then we're considered unkempt or unclean or we're gonna smell funny," Rose told Refinery29 after the backlash. "I believe that it's natural and we shouldn't be ashamed of it."
Last year a study revealed that more than 49% of women hate the idea of hair removal, yet on average will spend around £23,000 on waxing, or £6,500 (and eight entire weeks of their life) shaving unwanted hair over the course of a lifetime. So just why do we do it?
Pressure from partners appears to be a major factor – especially for millennials. Cosmopolitan, Esquire and AskMen surveyed over 4,000 people aged 18 to 35 and found that while the majority of men and women undertake some form of public hair grooming, men not only expect their partners to take off more (46% of men prefer their partners to go bare, while only 6% prefer a natural look), but are more likely to ask their partners to change their pubic hair (40%), and are also likelier to say that a partner's pubic hair might make them reconsider dating someone (19%).
 
When asked why they prefer a partner with little to no pubic hair, the majority of men in the survey said they 'just like the way it looks'. And many experts believe porn is to blame.
As Vice reported, up until the 90s – when the online porn industry exploded – it wasn't commonplace for women to completely remove all their pubic hair. Some industry veterans say the trend for Brazilians in porn was purely a practical choice, as "shaving allows the camera to capture more of the purely mechanical ins and outs of genitals that porn thrives on", others argue was "an extension of a wider infantilisation of women and fetishisation of youth", and some say it was down to perceived hygiene reasons.
The latter myth – that removing public hair is more hygienic – has since been debunked. Shaving or waxing, while good at preventing the transmission of crabs, is actually linked to a higher rate of STIs. While extreme grooming alone won't cause STIs, researchers have theorised grooming may cause microtears in the skin, which increase the risk of contracting viral diseases.
Today, just as pubic hair is making it into our fashion magazines, it's back in porn too. One industry veteran told Vice that over the past 15 years he's seen a drastic change in the number of girls opting for hairlessness, with only a third of girls now choosing to completely remove their pubic hair; a quarter going for all natural and the rest for "basic grooming". Adult performer Dolly Leigh added that that younger performers appear to be especially fond of having full bushes, suggesting a trend that will grow with time.
It's a shift that New York–based gynaecologist Dr Eden Fromberg has observed in her patients over the past few years too. "Women are becoming increasingly aware that our bodies are a lot more than the visual or sexual playthings that past cultural norms implied," she told Vogue. "We want to express our diversity and power, live our preferences, and feel comfortable in our own bodies without judgement."
And just as important to Fromberg as shattering stereotypes is getting the point across that pubic hair isn't dirty or unhygienic: "Pubic hair exists to protect our delicate areas and encourages a diverse and often quite healthy microbiome, which keeps us in balance while preventing infection."
DISCLAIMER: We endeavour to always credit the correct original source of every image we use. If you think a credit may be incorrect, please contact us at info@sheerluxe.com.